This week I killed it at CrossFit. I felt so strong and ended up using a dead lift weight of 135lbs for a WOD. My back wasn't even a tad sore the next day. Perhaps I should've used more!
Before I get into the CrossFit WODs re-cap from last week I wanted to give you a heads up and let you know that Reebok officially released its Fall/Winter 2013 Women's Fitness and Lifestyle apparel and footwear collections in Canada, as of August 1. The collection was designed by women, including Reebok partners Alicia Keys and "rebel yogi" Tara Stiles. Crazy right? Here's a preview of what's to come in stores. So excited.
I had the opportunity to have a peek at all of the collection but I'm just going to post my favorites and what is more appealing to me (ie: not wedge sneakers).
I really love these orange 'sweat pants'. I live in sweat pants come winter time. Plus orange is my favorite color. They look like a nice cut with straight legs and not so constricting ankles. Not sure of the cost of this one.
I buy anything that has stripes on it. There's a lot of stripey clothes in my wardrobe. But not so much my workout clothes. The racer back is a nice touch to show off those muscles. Not sure of the cost of this one.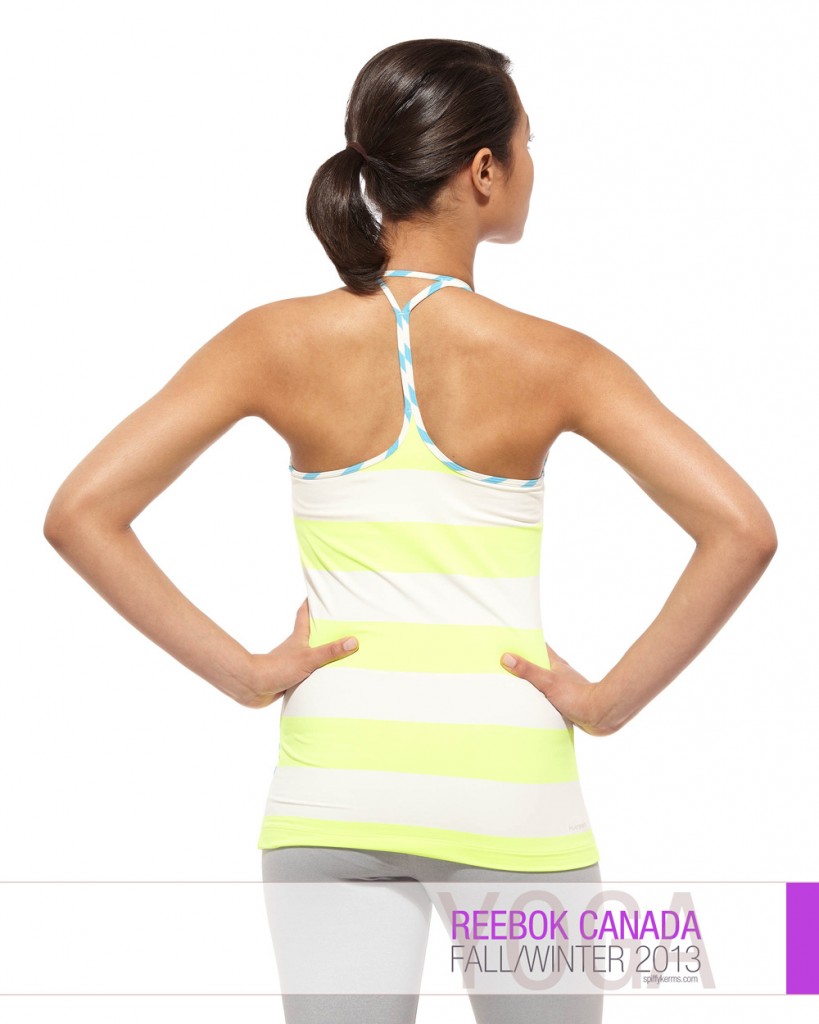 These are the Reebok One training shoes. I'm assuming they're the shoes you can wear to CrossFit. I bought a pair of yellow nano 2.0's online when I was doing my Paleo challenge. These babies will be $109.99.

There's also some sneakers for the runners out there. Love the colors of everything! They have three-foam midsole to maximize performance. One running shoe is designed for comfort and stability, and the other is the pronator version which has a flatter arch. (L-R: Reebok One Guide $139CAD, Reebok One Cushion is $129)
And of course since the colder months are inevitably upon us. I live in thicker leggings at CrossFit when it's cooler out. Even those these are geared to more runners. Sports Essentials Tight — $49.99.
Can't say no to a good sports bra. This one is called the Sports Essentials Short Bra Top and it'll retail for $29.99 CAD.
Saving the best for last. The awesome Reebok ONE Training Women's Jacket is $79.99. Super unique looking and the colors again go so great together.
Back to reality. My CrossFit Wods from last week:
[older crossfit journal entries]
______________________________________________
year 2, week 25, day 1
5 rounds
3 jumping pull ups with 3 second pause at top, and 3 second decent
3 kip/butterfly pullup practice

I alternated between using no bands and just the bar and using the red band when I wanted a break.
AMRAP 12
8 supine pull ups
30 second v-out hold
8 wall balls 20/16lbs
I ended up completing 5 full rounds, plus the 8 supines and 30 second v-out. I used a 14lb med ball for the wall balls.
______________________________________________
year 2, week 25, day 2

EMOM 8
3 dead lifts
6 burpees over bar
I used 135lbs for the dead lifts! By the time the 7th & 8th round was done I couldn't finish all six burpees :(
AMRAP 10
6 wall balls
6 med ball burpees
12 med ball OH lunge
I completed 3 full rounds. It was a tough one, even though it doesn't look too bad on paper.
______________________________________________
What workouts did you do this week?
Have you ever tried CrossFit? If not, what is your workout choice?
Out of the whole Reebok Canada collection for Fall/Winter, what is your favorite piece that I showed?