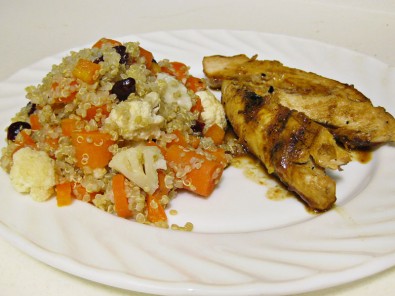 Today? I'm going to show you guys how to make this scrumptious meal!
Was anyone else adding an extra hour onto your work/school day? Due to the time–change I kept thinking to myself when it was 1:00 but really, it's 2pm and all day I was like that! Especially yesterday since we didn't set the clocks back yet. It made the day seem extra long which is so wonderful being that it was Sunday.
We had a pretty low key day yesterday, because on Saturday we drove to Toronto to check out the Dinosaur exhibit at the Royal Ontario Museum.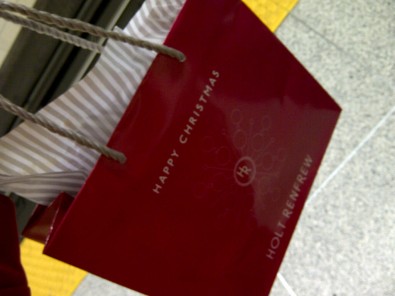 I also stopped by one of my favorite stores. You'll have to wait and see what's inside this pink bag!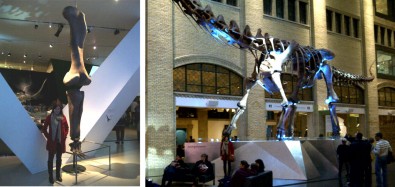 It was like my childhood dream came true. I loved the exhibit and I loved imagining the dinosaurs coming to life and stomping on my head, or scooping me up like King Kong. I'm so excited to share the photos with my nephews, they're at the perfect age right now and know much more dinosaur names than I do, so it's pretty impressive.
We decided to get out of the house for a bit and stock up on some sale items at Sobeys.
Cereal sale! Time to get an abundance of it.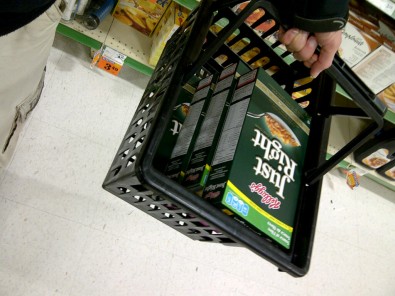 Don't be fooled by those 3 boxes. We picked up I think 11 in total. Hey, a deals a deal. Gotta stock up when you can grab them for a great price, right?
Cheese was on for $4.99 — cheapest we've seen the bricks in a while.
Since I had all the time in the world to cook a meal that evening I've decided to whip up some random concoction and pray that it tastes good. Plus, doesn't hurt to surprise those tastebuds once in a while.
I've been on the hunt for new recipes to make in the kitchen, and it couldn't have come at a better time when I was chosen to be one of the bloggers to shop at The Beer Store and cook up something with beer, and share it with you all. Perfect opportunity to change things up in the otherwise typical meal.
Dang straight I'm including beer in my recipe with you guys today. Let's get crack-a-lackin'.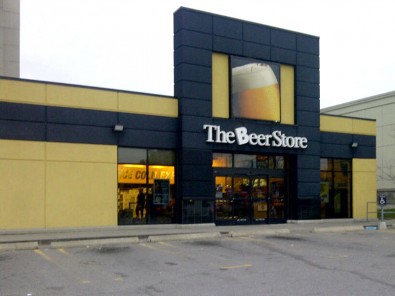 First up, I have to be honest. It's been more than a few years since I've stepped inside a beer store. I do have to say I was a little disappointed that I wasn't ID-ed. Guess I'm past the age of looking 25 of younger. Shame.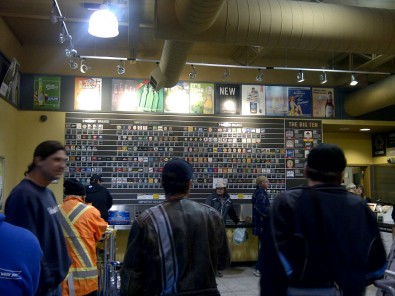 When I walked into the store I got in the wrong line up immediately. This one above was for returns to get cash back from your bottles/cans. Ha, oops!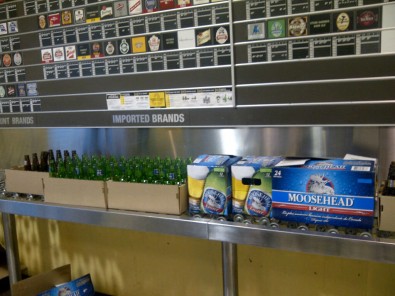 Standing alongside of the beer returns aisle, you could get closer to see the selection of beer choices to buy. Whether it be in cans, bottles, or tall boys.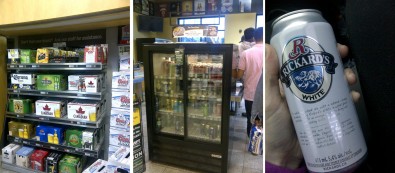 I didn't know you could buy just one beer, singly. The middle photo posted above had a cooler full of them. Kinda neat, especially if you're a lightweight or just don't drink all that often and want just one or two.
Here I am waiting for "The Beer Man" (heh heh) to bring us out the beer we ordered and paid for. The boyfriend was with me, so he ended up choosing Rickard's White tall boys.
Cooking with beer? So easy. If you have a recipe that calls for water, and want to add a bit more flavour — substitute it with beer!
I think this would be a great recipe to bring to a holiday party. Just the fun-factor of calling it Honey Mustard Chicken 'n Beer is enough to make me giddy. I'm sure a lot of the guys would love it too.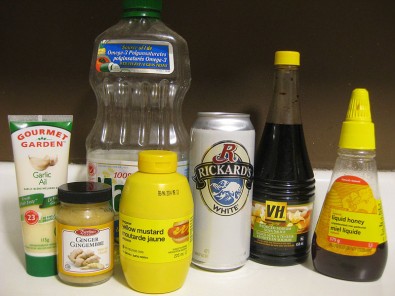 That's all you need!
I honestly would've never thought this would've tasted as good as it did. I lunged into the Boyfriend arms as soon as he came home from work, telling him that it was RESTAURANT QUALITY. I don't know how to describe the taste other than semi-sweet, and one of the better meals I've made.
Honey Mustard Chicken 'n Beer:
1 tbsp oil

1 tsp garlic

¼ tsp ginger

1 tbsp honey

1 tsp mustard

1 tsp dijon mustard

1 ½ tsp soy sauce

2 cooked chicken breasts
You'll notice there's two kinds of mustard in the mix. I found dijon mustard in the fridge, as I was putting away the yellow mustard, so I added it in!
Directions:
Cook chicken (I used a grill) and set aside but keep warm.

Heat up your oil, garlic and ginger

Add in honey, mustard, and dijon mustard and whisk it together in your pan.

Add the soy sauce then beer

Cook it all together until it starts to bubble
Add in your cooked, sliced chicken breasts, keep the heat on medium-medium high and flip your chicken when you feel like it (after 5 minutes or so)

Make sure your sauce has coated the chicken and serve!
The sauce was very runny so if you want to add thickness to it add 1tsp of corn starch with a drop of water to a glue-like consistency, and then add it to your sauce mixture. This will shine up the sauce, if you were having guests over and wanted your presentation to be pretty ;)
It was so easy! I served the chicken with some quinoa and a spinach salad.
Whaddya say, folks? Dig in.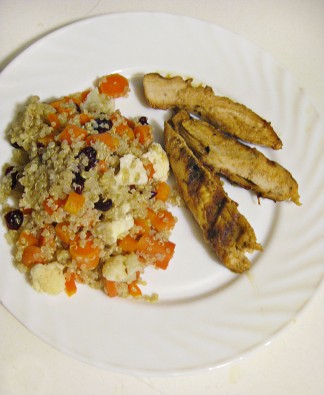 I added a few more pieces of chicken to our plates after I snapped some shots of my wonderful creation. Ahh… the perfect way to end the weekend, am I right?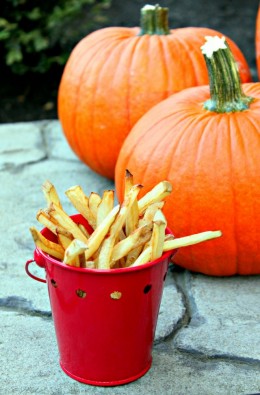 (Baked Garlic Beer Fries from Life & Kitchen)
If you're feeling beerave (ha, see what I did there?) you could also make these Baked Garlic Beer Fries I found online too. Since I didn't want too much beer flavours happening in my mouth, I decided to stick to just the Honey Mustard Chicken 'n Beer concoction and add a bit of quinoa and spinach salad to the mix.
Super easy, super flavourful and quick prep & cook time!
Have you ever cooked with beer?
What is your favourite type of beer?
I am a member of the Collective Bias™ Social Fabric® Community.  This shop has been compensated as part of a social shopper insights study for Collective Bias™ #CBias #SocialFabric. All opinions are my own.