As mentioned, I went to Toronto on Saturday to meet up with Priya at Luminato where she was there working with Vichy.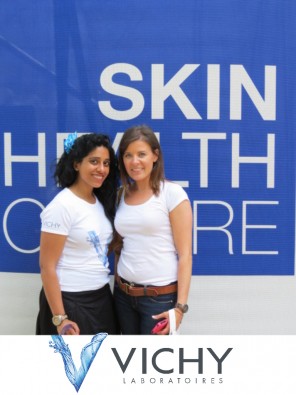 Yay us!
After our meet-up I ended up going back towards the downtown core of Toronto and shopping mostly at the Eaton Centre. Normally, I'd head straight to Yorkville and do shopping there. But that routine usually happens the same way every time I visit the city. So I decided to stay at the mall for the majority of my day. Until I got lost a bunch of times. Then I had enough and went home ;)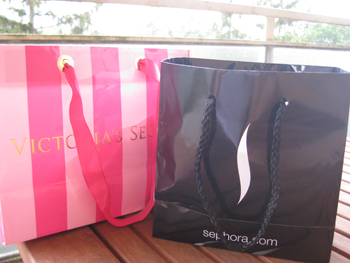 I've never tried Victoria's Secret cosmetics before, but due to me popping into the store unexpectedly during their Semi-Annual sale, I scored. Scored 50% off their makeup. Sweet. No welding equipment here, just beauty and cosmetic things!


All of the purchases. So many purchases. Unnecessary. But so fun.

VS Beauty Rush blush: dollface  // VS Concealer palette.
I have yet to try the blush, but the concealer palette is pretty waxing and difficult to use. I'm not sure I like it. Right now I'm using Sonia Kashuk hidden concealer palette that I LOVE.
VS Beauty Rush – Dazzleshine lip gloss.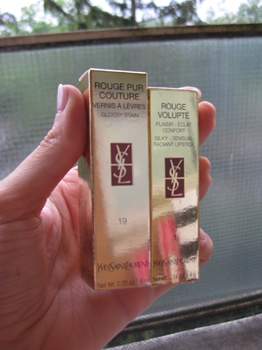 Yves Saint Laurent lip products. So luxurious.

Glossy Stain and Lip stick, but reversed when swatched on my hand.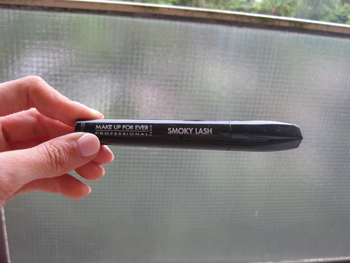 Make Up For Ever Smoky Lash, my go-to mascara.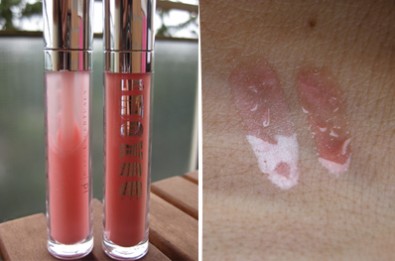 Buxom lip glosses in the shades Katie, and Bunny. I've used so much of this lip gloss up that I thought I'd buy another shade. It has a really interesting formula on your lips. It gives a cooling sensation to the lips! Such a nice feeling.
The colors next to each other again.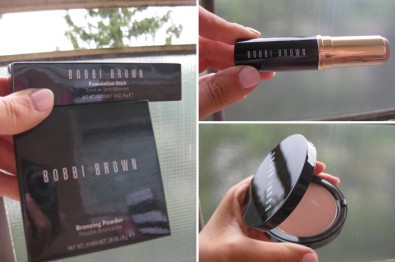 Bobbi Brown foundation stick and a bronzer! I have the Bobbi Brown Luminous foundation which I now wear on a daily basis. It has a nice dewy natural finish to it. The foundation stick is a little more long-wearing and has more coverage.

Anastasia's Brow Wiz in the color caramel. On the right you can see the smallest of strokes you can create with this. Last year, a guy at Sephora filled in my eyebrows and I liked the look so I decided to finally pick this up. He must have been a pro at it, because I can't re-create this look at all. I'm questioning myself now to whether or not I picked up the correct color. I purchased Caramel, and I looked on the Anastasia Beverly Hills Brow Wiz site, and I'm confused. Maybe next time I'll pick up Medium Ash??
If there's anything you want me to elaborate more on, regarding my cosmetic haul. Let me know!