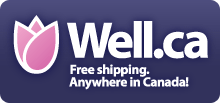 This is my first time working in conjunction with Well.ca, and they have graciously allowed me to host a giveaway for you guys! Just to give you a little run down, Well.ca is Canada's largest online health, beauty, and baby products store. So basically an online place to shop for basic necessities, or … chocolate! You know I found that right away.  The site is designed to access things easily. For instance, you can navigate by brand, or even by medicine cabinet!
Well.ca would be optimal for people such as my Brother. He has a family of six, so his life is always incredibly busy with four children. Forgetting to purchasing things like q-tips, and hygiene products are often forgotten if they're not on the grocery list. Well.ca is always available to shop online!
The best part about Well.ca is that it's a Canadian company that has free shipping with no minimum orders to almost all locations in Canada. But we don't forget about our American neighbors, there's free shipping in the United States for orders over $99 Canadian. Well.ca also accept returns of unopened products up to 60 days after the date of purchase. Pretty exceptional service if you ask me!
As I stated above, I'm hosting a giveaway for you guys! It'll be a $50 gift card to Well.ca. As I'm sure everyone knows, tomorrow is Black Friday. Well.ca has some very exciting promotions starting then and ending on Monday the 28th (Cyber Monday). During this time period, they're giving  customers the option to choose 1 of 5 "free gifts" when they place an order of $100+. The gift options include chocolate, a very popular board game, natural cleaning products, teeth whitening products, and a beauty gift set. The gifts are valued between $25-40 each so this is a fantastic promotion for shopping for Christmas presents.
Once the promotion goes live tomorrow, all of the information will be available here: http://well.ca/blackfriday. If you make a purchase on Well.ca while the $50 giveaway is live,  you will still be entered to win the $50 as a credit-back on your order. So don't hesitate to take advantage of the Black Friday/Cyber Monday deals!
How to enter?
Contest ends December 2, 2011

Good luck, and enter away!