Mid-November. Making it 2.5 months until my due date. There will be another PERSON in our household. Not another animal, a person… that we're responsible for. I feel like with all my years of babysitting experience that this is (obviously) going to be 100% completely different. I'm not nervous, or scared. It's just kind of surreal right now, and so hard to believe it's actually happening.
I've had a bit of a scare last week. Okay, so since Alfie's been sick I basically never (really, I never) leave the house without him. Last weekend I decided to meet a blog friend for a coffee date downtown and low and behold everything that could go wrong, did. Unfortunately.
Scott stayed home with Alfie, but Alfie had gotten ill that morning after a long stint of being so "normal" and well. I wanted to cancel but there wasn't much time and didn't want to be that person who bailed last minute. So I drove the fancy $80K Lexus RS F downtown and parked. Walked with my friend to this new spot where we wanted to grab coffee, and I tripped and fell over the lip of the sidewalk that was lifted up (lawsuit, lol jk). I sat on the ground and bawled… kind of embarrassing but I knew I wasn't supposed to fall while pregnant!! My friend kindly cleaned up my hands (I didn't land on my belly, just the knees/hands got the brunt of it). I canceled out coffee date and headed straight home with wet eyes and mascara running down my face – what a sight. But not before I curbed the hubcaps of the eighty thousand dollar vehicle I was driving.
Just fantastic.
At least bad things comes in threes, and three things happened. Nothing else was bound to happen, right? Luckily that was it. I started getting a bit nervous and feeling worried that I was having decreased fetal movement so the next day: Sunday, I called the after-hours ObGyn line and my OB just happened to be on call that day and told me to drive into the Labour + Delivery ward for further assessment. Better safe than sorry. Everything turned out okay and it only took an hour for me to be in and out of the hospital but at least now I know where to go when I'm in labour? That's the plus side I suppose, hey?
So the last few days I've been back to my routine. Hangin' around at home, with Alfie. Still organizing through the baby's nursery and taking it easy. Since I've been sharing multiple OOTD's with you guys lately, why not share another.
But first!! Some cute nursery things.
Baby has possibly more shoes than I do at this point. Red mocc's and green sneaks are from Jack and Lily, a Canadian company!
Continuing onto the Canadian theme, I was sent some Tervis sippy cups. I looked through their website and they had Ottawa Senators, and a Canucks one so I requested those to be sent over. Many might not realize, but our sweet pup Alfie was named after an Ottawa Senators player!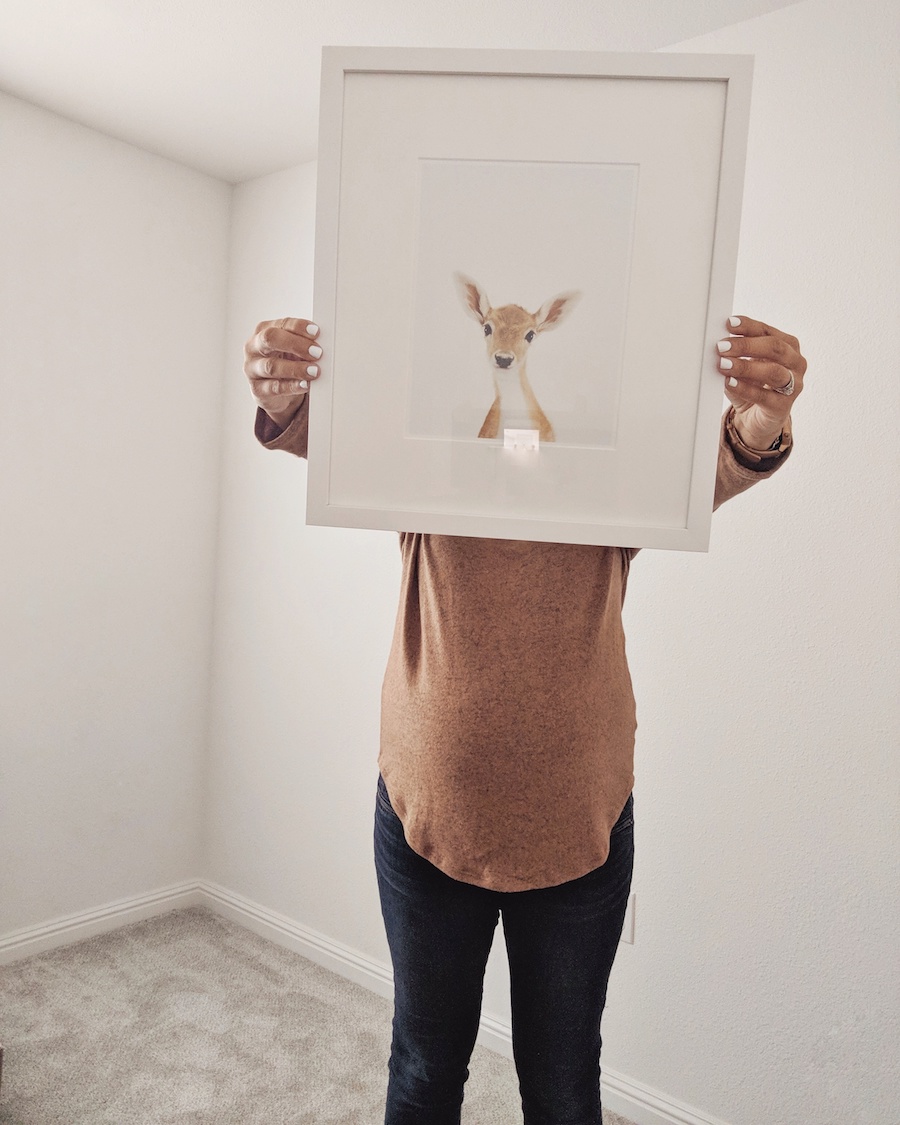 I have three adorable prints ready to be hung when we buy a stud-finder. They're all from The Animal Print Shop. I'm SO happy with them.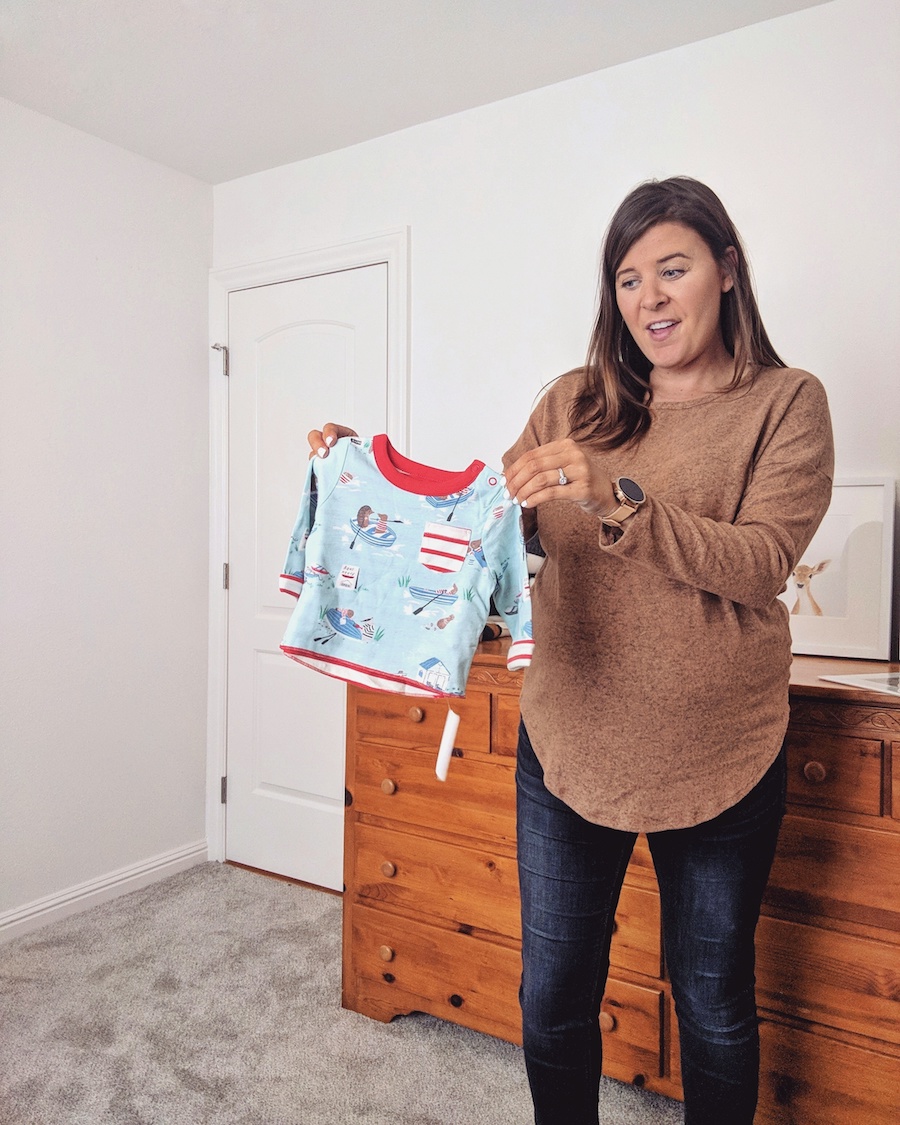 And finally, an adorable iddy biddy top that I bought on clearance on Nordstrom's website. The top is reversible, cool hey?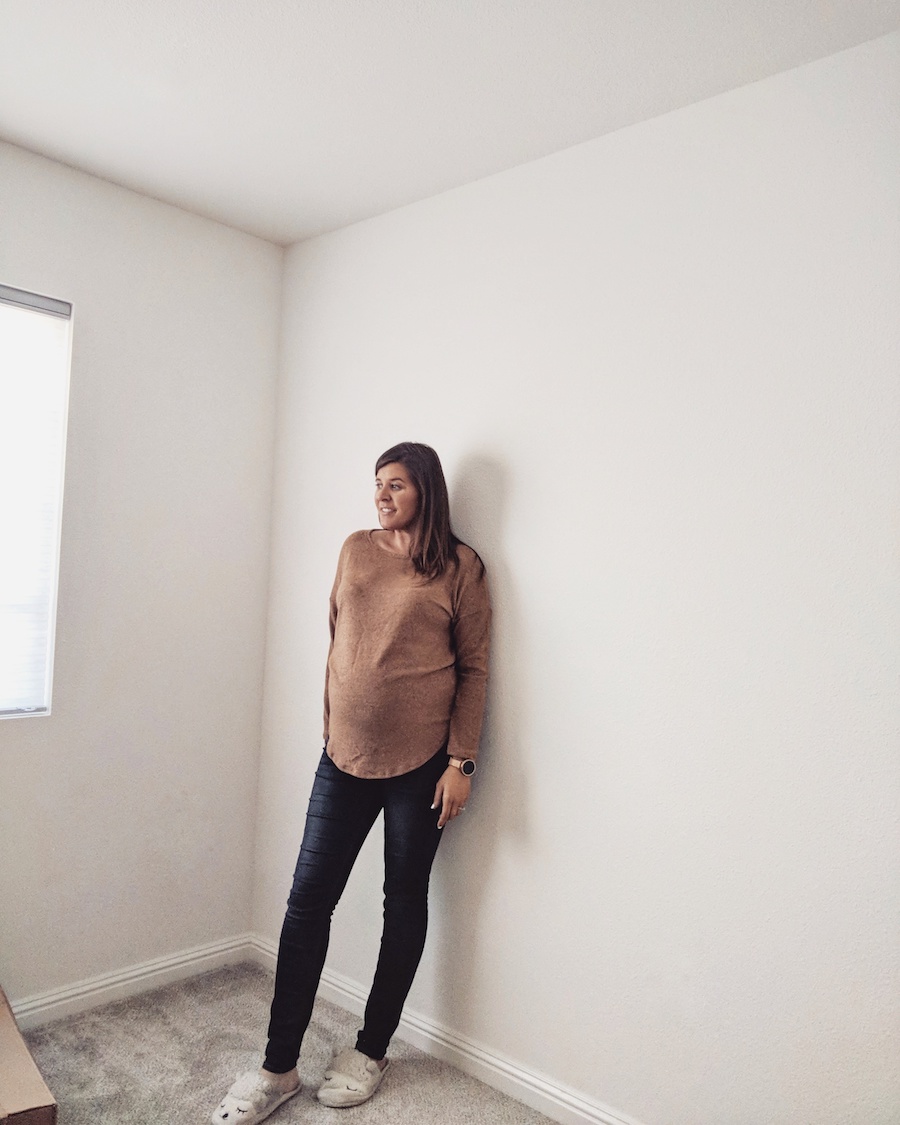 Wearing:
PinkBlush Mocha Heathered Soft Knit Long Sleeve ($36)
H&M Mama Super Skinny Maternity Jeans ($35)
I like wearing basics, and especially now that I'm pregnant, I stick to colours I know work, and I don't have to think about matching, Not that I ever cared to match, to be honest. Hee hee!
What do you think of the nursery thus far? There's now a stroller in the nursery room that I pieced together a few days ago. But we still have to put together the crib, which I'll show soon!
Disclaimer: Huge thanks to my pal Megan for hooking me up with PinkBlush to be an ambassador with them too! As a PinkBlush Ambassador I get a point for each piece of clothing to review. Each time I post = 1 point. I did not receive monetary compensation for posting about the brand.