I have to say, one of my best makeup bag purchases has to be the Prada Nylon Makeup Bag I picked up at the Outlets in Livermore last year.
I had been eyeing it for yeaaaaaars. Honestly! I remember going to my hair stylists house after hours and spotting the same black prada nylon bag in his bathroom and thinking it was so simple yet super lux. It had been on my radar for over ten years, but I could never justify the retail price of it.
So I've had it for basically an entire year now and I can tell you I haven't gotten sick of it nor have I wanted to swap it out for anything else. It sits all pretty on my bathroom counter beside my sink, and I keep all my daily makeup in there at all times. Each week as you may know, I swap out whatever makeup I'm using for items that are in my collection. You know, to spice things up, and of course try and use up the makeup I have! Can't waste'er!
Who knew there were luxurious fancy brands at outlet malls? Better yet, 50% off. Also, yes I've watched the CBC Market Place on Outlet Shopping Secrets. But ya know what? Doesn't even matter, cause I love it and not all places are evil and create lesser quality products for their outlets.
Do you really need this name-brand makeup bag? No It doesn't have to be prada, obviously. But a nylon makeup bag that you can simply wipe clean after any spills (god forbid!) or makeup residue from the last few months. Give it a wipe clean and you're good to go. Could I have done with a Joe Fresh nylon makeup bag? Absolutely. But sometimes you just want to spoil yourself once in a while, and my way is beauty items. Lol.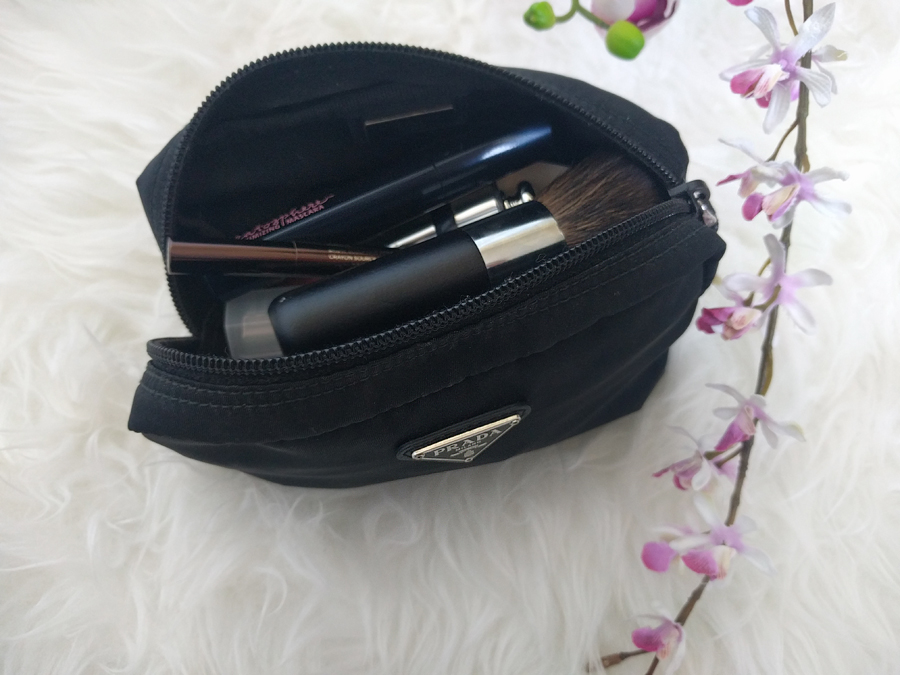 I've been loving it. No regrets!
How and where do you store your daily makeup?