What's new in the beauty world for Spring, you may ask? Well have I got some answers for you. I thought this would be something nice and different apart from the review-after-review-after…. ya'know? While some of these might have been released a while ago, they're still new-to-me, and it's Spring, so I thought the title was pretty catchy, right?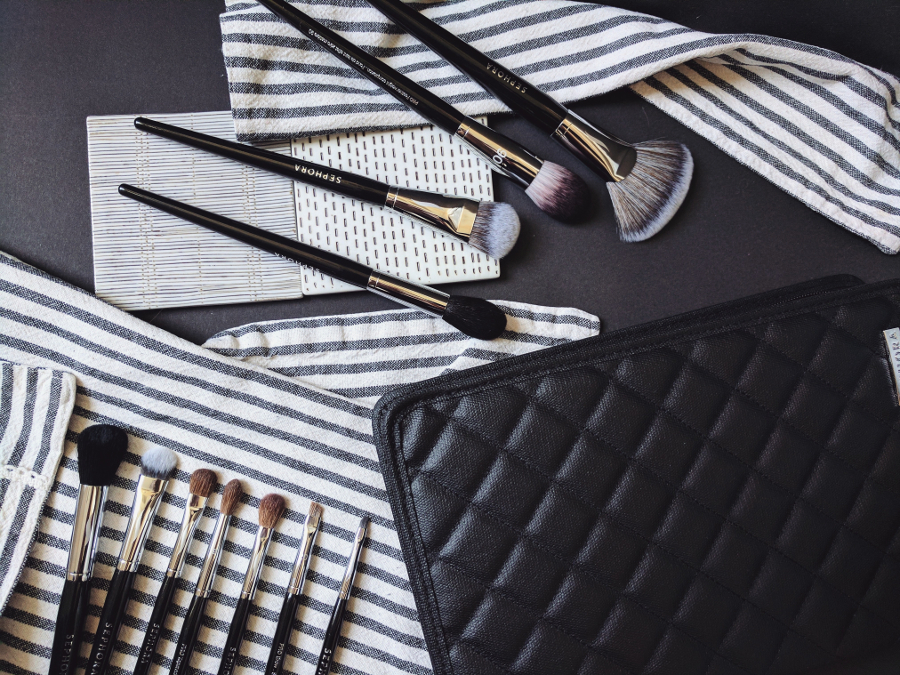 Sephora| The fine folks at Sephora sent me another box (!!!!) full of Spring goodies from the Sephora Collection line. Guys. I can't even believe I got a shipment from my favourite makeup store, ever, ever. Sephora. They know about ME? That's insane and I kinda love it. I'll dedicate an entire post about the products, but I did want to mention they have the Sephora Pro brushes that come in a quilted zippered case (packaged so well, with tissue paper wrapped everywhere (delightful!). There's 11 brushes in the kit, and retails for $175 (a $312 value) — it's limited edition so if you want it, get your hands on it now.
Bobbi Brown| Art Sticks in liquid form! My blog pal Melissa from informed me that Bobbi had pencil art sticks, and this is their 'second' launch of the art sticks, this time in liquid form. . If you've been watching me on Snapchat or Instagram stories, I've told you about my love of the colour Naked Pink that I've been rockin' ever since I busted out the PR parcel that came my way. See my lip swatch video and a blog post about these!
L'Oreal| I'm not sure I've ever talked about L'Oreal goodies on my blog, eep! The L'Oreal Infallible Paints Blush Kit is a fantastic bang for your buck. The four diverse (i.e. not all pink – spy my coveted corals?) shades in the palette are all powder and easily blendable making it easy to wear. Don't be afraid of trying such saturated colours – apply with a light hand to achieve a natural blush of the cheeks. Or go to town and build up the colour to make those cheeks pop come summer time. See my friend (also from Newfoundland!) Samantha's YouTube video about it.

ColourPop| Corals and peaches never seem to stray too far from my makeup collection. I much prefer a peach-toned blush with my skin tone and playing around with a glowing complexion. ColourPop launched their Nectar Collection not too long ago and I'm digging everything I've tried so far, and best yet — it's super affordable. So you don't need to stress about the price when all these brands are coming out with their newest launches.
Too Cool For School| This is a new-to-me brand, and I've only seen it at Sephora recently. It's a Korean skincare line, and most (if not all?) of the products are made from egg white and egg yolk extracts. If you're going to pick anything up from this, get the cleansers or masks. I feel like they could improve on their moisturizers. Although I wanted to love them, they're a miss for me — they leave a film.
Pixi Beauty| This is another brand I'd suggest you look into now that it's both available in the USA and Canada (it's at Shoppers Drug Mart, folks!). I'd say Pixi products are most known for their glow mist or products with glycolic acid (a mild exfoliator that makes your skin hydrated and dewy). But they also have makeup, and makeup removers that are gentle on the most sensitive skin (i.e.: mine). I recently got a PR parcel from them with four of their makeup mist sprays, and while I wanted to share the love with the other sprays with my friends, I kept the hydrating milky mist, for my dehydrated skin (shown above). The products above are the ones I'm lovin'.
BECCA Cosmetics| Besides skincare, a bronzed complexion is my favourite when it comes to anything makeup related. I achieve that with using multiple colours from the new BECCA Sunlit Bronzer Collection, they're gorgeous and have a slight hint of shimmer. Perfect bit of warmth on your skin come summer. See my blog post about BECCA Bronzers here.
Are you guys interested in these kinds of series? I can do them for future seasons, if it's something you enjoy.
Disclaimer: Products were sent for review.