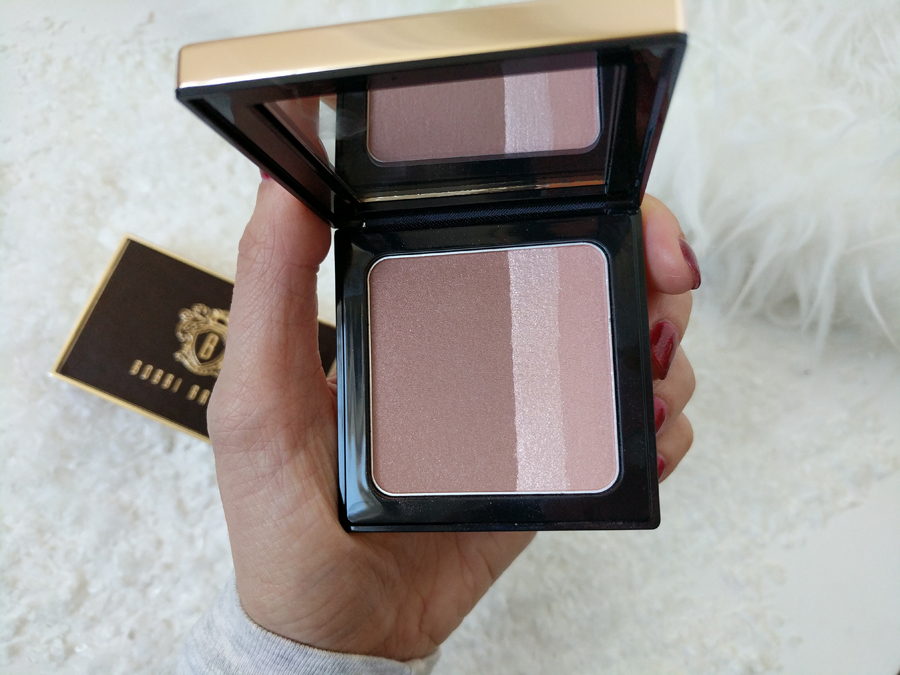 I mentioned in yesterdays post I'd show you what the Bobbi Brown Brightening Blush in the shade Pink Truffle would look like on. It's equally pretty as both a blush (which is what I did in this look), or as a bronzer. It's totally universal and can be worn year round for a warm fresh glow to the skin. It's something I would've looked past at the store, not sure how to wear it. But I love how it looks on my cheeks! You can use the three shades as a blush and/or highlighter to brighten, depending on the look you want to go for. The shade on the left is a sheer natural looking blush with a soft sheen finish. I swirled my blush brush around the entire compact and popped it onto the apples of my cheeks. Although looking a bit glittery in the pan, it doesn't look that way on the cheeks, especially once its all blended in together.
I've been fairly consistent using the Burberry Cashmere foundation since I got it back in October (see my first post about it here). So I thought I'd do another look featuring the foundation I love and enjoy so much, but with a bit more variety.
Face|Â 
Burberry Cashmere Soft Matte Foundation in the shade Honey
Bobbi Brown Brightening Blush in the shade Pink Truffle
Hourglass Ambient Lighting Powder in Dim Light
Eyes|
Bobbi Brown Extra Eye repair cream
Burberry Cat Lashes mascara in Jet black
Dior Diorshow Brow Styler in Universal Brown
Lips|Â 
Burberry Kisses Lipstick in Tulip Pink
Burberry Kisses Gloss in City Pink
Disclaimer: I know people aren't huge fans of them… but I wanted to tell you! The links above are affiliate links. I'm new to affiliate links and I earn $0.05 a click, so friends definitely don't be afraid to click on them. I made a whopping $2.00 so far. Lol.