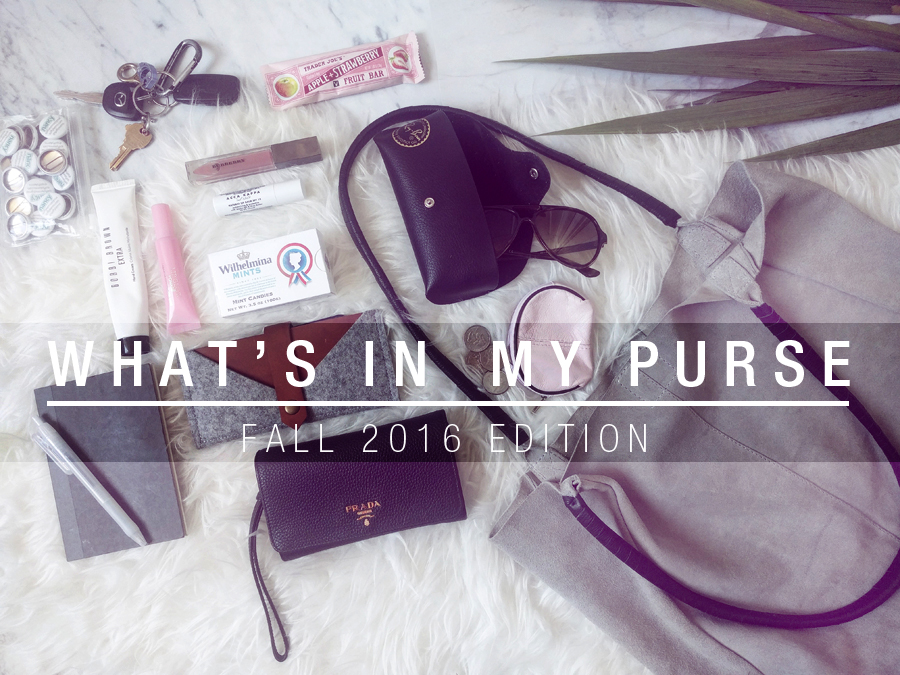 I'm always curious as to what other people carry around with them in their purses. I've done these sort of blog posts in the past and they've always been a big hit. Now is a good time as any to show you what's in my purse – for Fall. On an every day basis I mainly keep this bag incredibly empty apart from the wallet, sunnies, keys and phone. But this week has been a busy one and I needed a few more things. So, while it's still chalker-blocked I thought I'd dump everything out in a neat flatlay and show you some products worthy of checking out!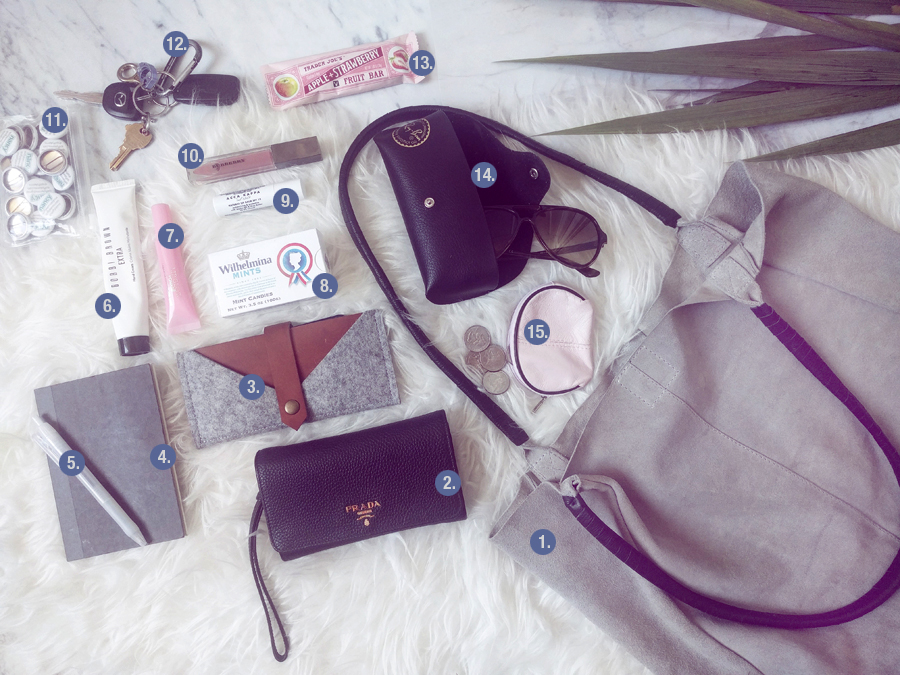 No. 1 | I recently purchased this large suede unstructured tote from ASOS. I've been loving it! Although it's much larger than I usually carry (say, a cross body) it's still pretty handy to have around. 
No. 2Â | For my birthday this year I headed to the outlets and purchased myself a Prada wallet (for much cheaper!) that doubles as a clutch. There isn't too much in there, but I do love how sturdy it is and of course… incredibly well made.
No. 3 | This is a custom made minimalist wallet that I received from The Navis on Etsy. I reached out to them a while back and asked if they wanted to collaborate together, and they agreed! There's another photo below, but I selected the colours I wanted my wallet to be, and they made it specifically for me to fit my new Nexus 5X phone (since it was a listing for an iPhone sleeve). I've brought it along with me to coffee shops and strangers have walked up to me asking where I got it from! Since it holds my Nexus 5X well, it also has room for a card or cash, and when I'm running out the door to do an errand or two, I grab my keys and this, and I'm set. No fuss!
No. 4 | My plain muji notebook. It's slim + lightweight. /// No. 5 | Gotta have a pen to write in the muji note book! The clear ball point pen is also from muji. /// No. 6 | Bobbi Brown Extra hand cream. I try to buy this at the outlets since it seems to be a few bucks cheaper there (but not always available). /// No. 7 | Dior lipgloss! /// No. 8 | Mints from World Market (they're not amazing) /// No. 9 | Lip balm from Acca Kappa that I bought at Home on Water in Newfoundland.  /// No. 10 | Burberry Kisses Gloss in Nude Beige /// No. 11 | Muji case + business card buttons for spiffykerms.com /// No. 12 | Gotta have car keys for the wheels! /// No. 13 | Trader Joe's snacks /// No. 14 | Sunnies that got scratched up (fell off my face and on the concrete) when Alfie was attacked back in April :( No. 15 | Quarters for meters (in a Daiso zip pouch).
I hate it when I have a ton of miscellaneous products just floating around in my bag like wild. I tend to usually consolidate them all into a makeup pouch so they're not competing for my hand when I reach in to grab an essential – my phone, or wallet when paying for something! That's not pictured here because I forgot to include it. Oops. But you get the drift.
What do you cart around in your wallet?
Disclaimer. While I did receive product, this is not a sponsored post by any means. I reached out to Roma and Alona from The Navis on Etsy so I could bring more attention to their Etsy shop and help out a small business owner!