I never thought the day would come when I would openly blog about that time of the month (and no, I'm not getting paid to promote any of these brands. I reached out to them).
I don't know why, but I still hate walking over to the tampon aisle of the store each month. Why don't I ever consider buying them on sale, and stock piling them? Why do I feel the need to rush out immediately after it starts and grab a box then? Alternatively these days we can order products online via Amazon and even Google has those services (at least, here in the Bay Area). Regardless of that, it's still pretty crappy to forget what week you're on and unexpectedly get that not-so-friendly visit from that Aunt Flow of yours.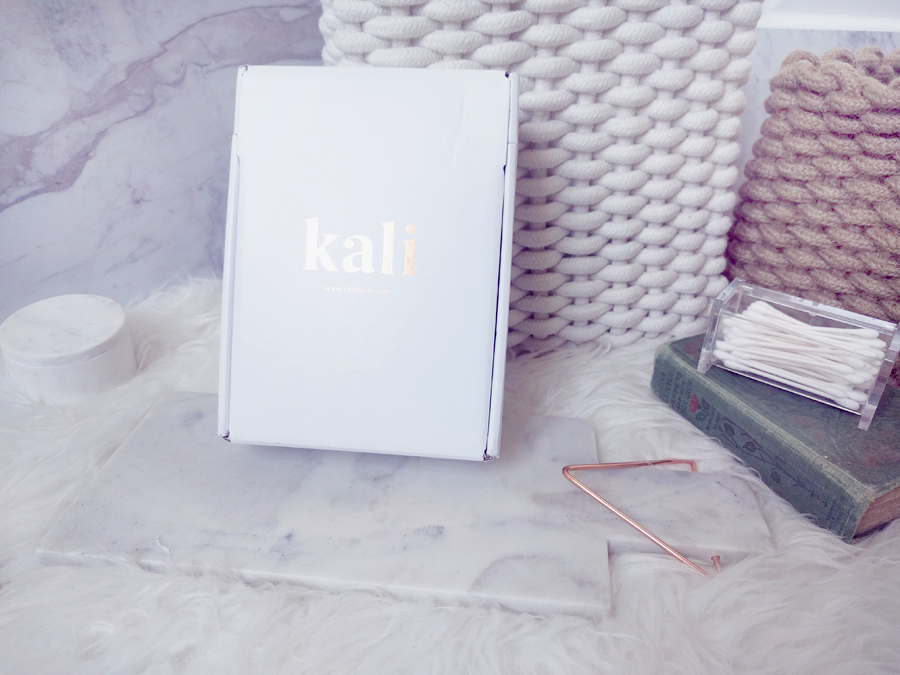 Subscription services are everywhere these days. From beauty boxes, candy boxes, men's razors, and now period boxes. Here are 5 self-pampering subscription boxes that are new-to-me that I thought I'd introduce you to as well. In case you weren't already aware of this awesomeness.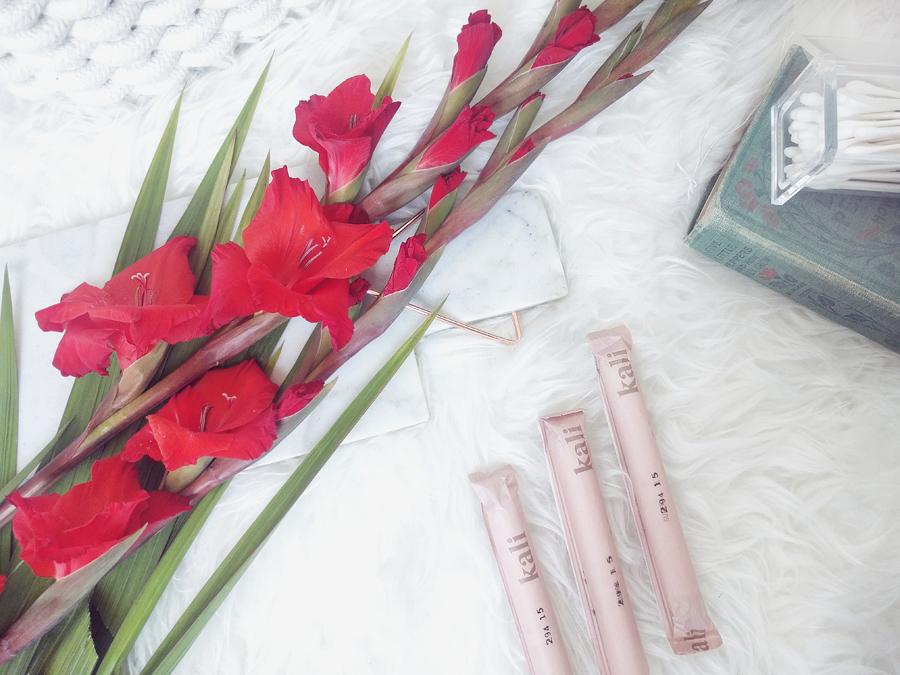 I don't mean to get all hippy on you, but… I want something that is organic, and made of non-toxic materials. There are tons of chemicals and nasty ingredients sitting on those shelves at your big box stores. Treat yourself — and the environment right. I'm sure you'd rather a healthier alternative with organic and hypoallergenic tampons right? It definitely means a lot to me, considering I'm much more conscious of what I put on/in my body, after a yearly outbreak of unexplained hives. Not to mention these are so much nicer (and instagram worthy – hey it's true) than the one's sold at our regular stores.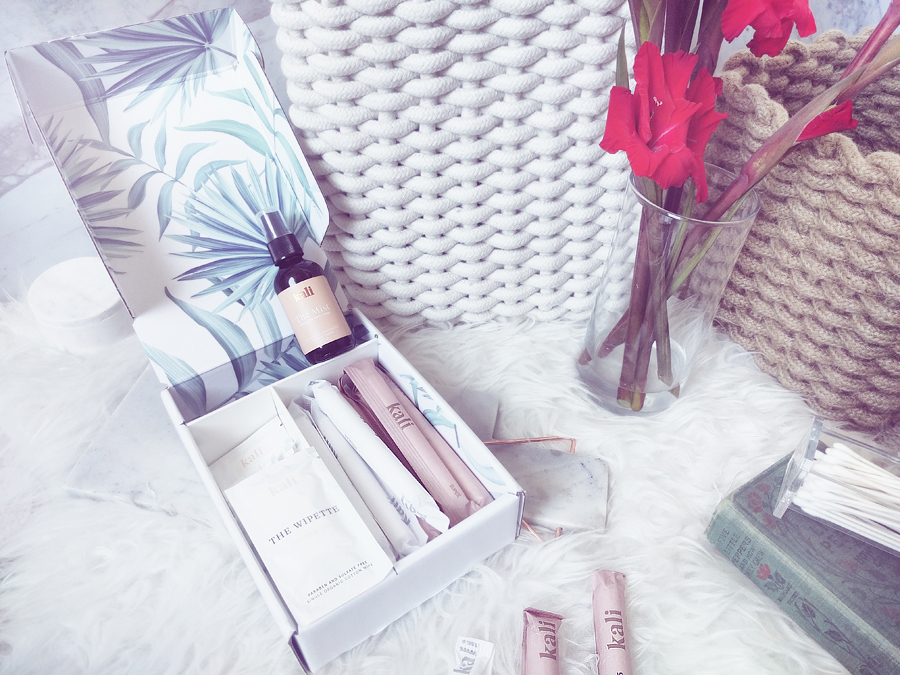 1 — KALI|  $19.95/month Kali has organic tampons and the subscription (I have the Kali Gift Box) comes with a beautifully presented box that has organic cotton feminine wipes, and an relaxing hydrating rosewater toner. Note: Kali has the option for you to select 3 different boxes and whether or not you want to do monthly/every other month, or tampons only (which is bi-monthly).
2 — CORA|  $10.00/month CORA uses 100% organic cotton tampons with BPA-free applicators. I want to display the perfectly designed and discreet box of tampons. Black and white! A minimalists dream. They're probably the most stylish one's of the bunch and I kind of want to share them all with my friends. The package even comes with a vegan-box to cart your tampons around with you, not only that look at the little black box that you can store things (well, tampons I guess too) in – stylin'! No more hiding my tampons under the bathroom sink, have them out for display even — no one will know what the heck they are! Probably the fanciest period subscription box out there with a amount of product to cater to each individual. Each box your purchase, CORA gives back to the community and gives plant-based, biodegradable pads to women in need, in India. Plus, they're now available at Target stores around the USA! Congrats to them. I also have a bit of a discount for you guys, sweet. Get $5.00 off your subscription using the code CORA5NANCY (valid until November 2016).

3 — LOLA|  $10.00/month LOLA tampons are made with 100% organic cotton, and have BPA-free applicators, you'll also notice they're colour coded in shades of blue. That way, it's easy to grab a light/regular/or super sized. Note: LOLA has the option to buy 1 box for $10.00 or 2 boxes for $18.00
4 — MONTHLY GIFT|  $10.00/month A fantastic play on words considering they actually gift you goodies you want during your period. Chocolate? Yas please. To get started you fill out a profile about your cycle, and which products you prefer to use. What's excellent about Monthly Gift is that they also can include CHOCOLATE in your subscription. However, you can opt out, by why would you? Note: Monthly Gift has 3 payment options (yearly, bi-yearly, or monthly) the $10.00/month box is if you sign up for 1 year.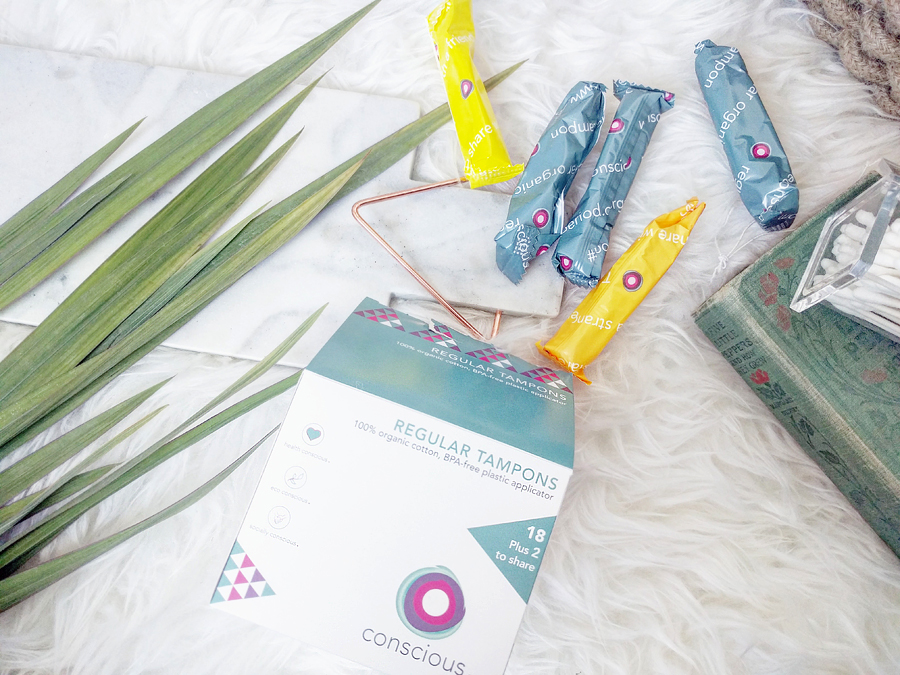 5 — CONSCIOUS PERIOD|  $8.50/month Conscious Period uses 100% organic cotton tampons with BPA-free applicators. For every box of Conscious Period tampons sold, they donate a box of organic biodegradable pads to a woman living in homelessness in the USA. Conscious Period plans to provide these same women with employment opportunities to produce and package the pads to fill shelters' long-term needs. Each box comes with 18 tampons, plus 2 bonus tampons that are maked with "share with a friend" and "share with a stranger."
What do you think? Think you'll ever switch from the brands that you've known forever, and over to any of these brands? I'm loving that they're finally being recognised by huge stores — like I stated above, Cora is now available at Target!