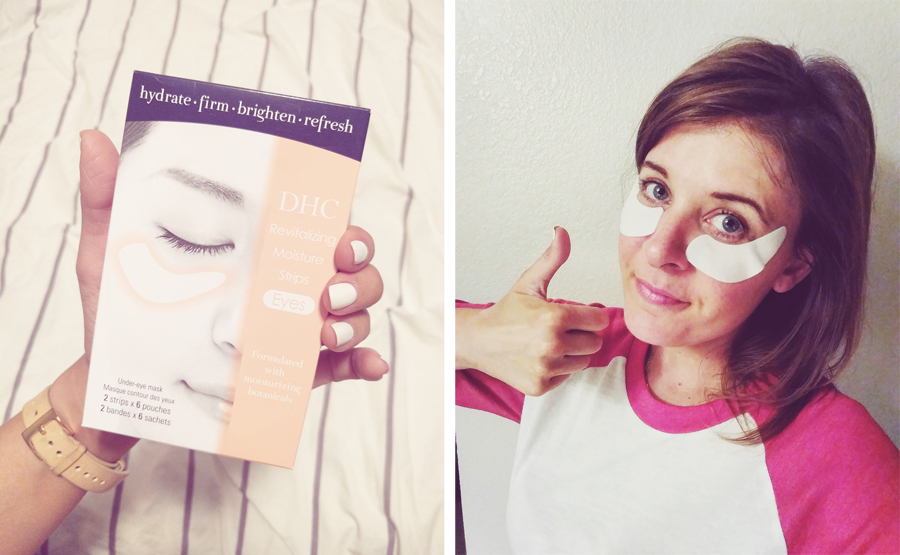 Ahh, spa night I look forward to you. I try to have a pamper session once every two weeks, and last night was one of them. I popped on some DHC revitalizing moisture strips under my eyes and left them on as long as possible. It says on the box you could wear them 20-30 minutes, or leave them on overnight. I wore them a bit in between. Stuck them to my face around 8pm and kept them on til I went to bed around 10:30.
If you're wondering how comfortable they were, I didn't notice any irritation on my sensitive skin. My under eye area is extremely dry, which is why I need to use my Bobbi Brown Extra Eye Repair cream twice a day, but cannot afford to do so, so I only use it once a day lol.
I don't get sucked into marketing and hyped up key phrases for making any wrinkles or lines disappearing. But I do enjoy how they make my under eyes after I remove them. They are definitely more hydrated, and feels a bit cooling to the under eye when they're on. They also stick really good to the face, I wasn't laying down at all when I was wearing these and they didn't fall off. They weren't hard to remove either it's not like it's a piece of tape stuck to you or anything. It felt super soothing on, I almost left them on overnight.
DHC's description of the moisture strips say that it helps the appearance of fatigue and fine lines, which is a fair statement for the first part. But I don't think many if any products will help make fine lines disappear if we're being honest.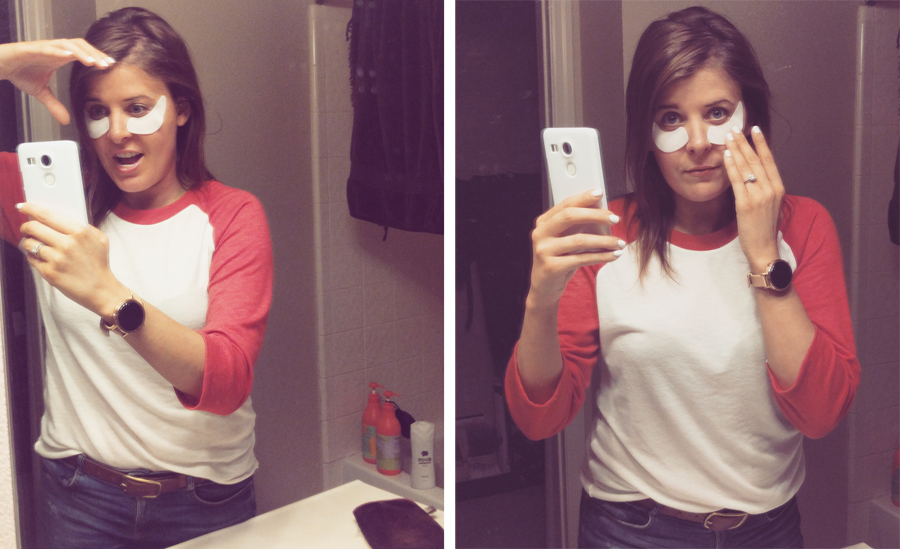 Don't ask what I'm doing in the left picture. I'm not even sure myself!
If you use it according to the package (once per week) it will last you 6 weeks. It's one of the cheapest yet most effective under eye patches I've worn, plus you can't really beat that $9.00 price tag.
DHC is Japan's number one direct beauty brand, and it's no surprise. I'm excited to be reviewing more DHC products in the future, including their number one best seller, DHC Cleansing Oil. You might've seen a lot of people talk about it on YouTube, that's where I first heard of it. I mean, ya know it's a good product when one is sold every ten seconds worldwide. If you're in the Bay Area, I've also seen a few DHC products sold at Mitsuwa, in San Jose. You can also buy online — their American HQ's is located in San Francisco too! Not too far from where I am.
Pick up someDHC revitalizing moisture strips here for $9.00 USD.
Product was sent for review. Opinions are my own, and I was definitely super excited to try the brand out as I've heard tons of good things about them!