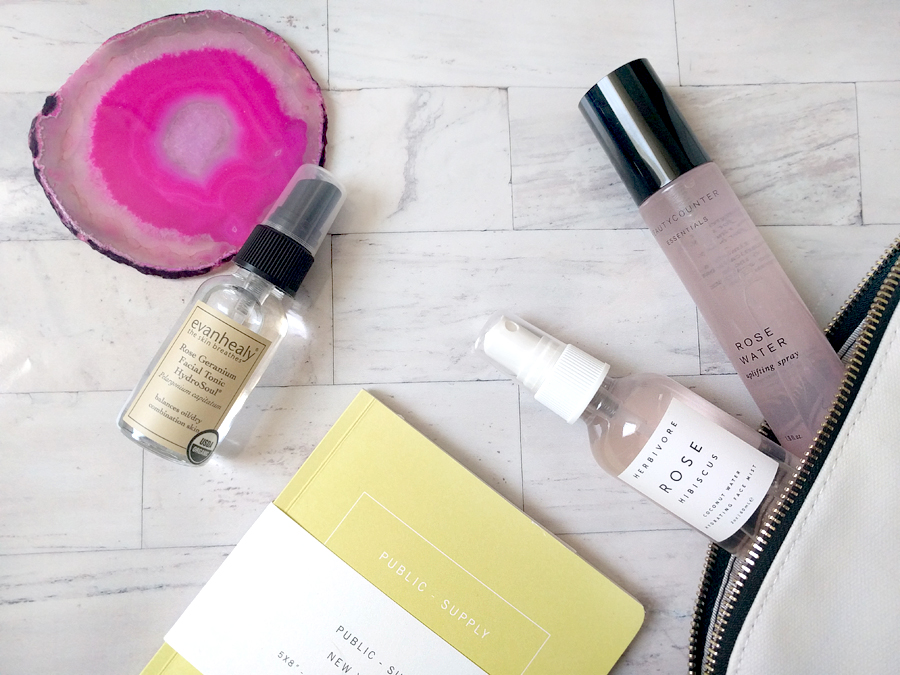 Over the course of two weeks, I received three different rose water sprays from goodie bags, to PR samples. And you know what? They're all totally different than one another. I mean, there is definitely a difference between the sprays, the scents and how they feel on the skin. So I thought I'd explain a few of the ones I have.
I suppose if you want to get right to the point, it's no different than putting a bit of water into a spray bottle and mist it on your face to feel hydrated and refreshed on a hot day. But Rose Water sounds fancier, especially with all its ritzy packaging. Lessgitintoit.
Rose Geranium HydroSoul ($24.95USD 4oz) Available at Whole Foods
Website description:Â 
Rose Geranium Facial Tonic HydroSoul helps prep your skin to absorb beauty oils and serums. For all skin – especially dry, oily, combination and teen. Features a soft and delicate rosy-leaf fragrance. Gentle and slightly astringent. For maximum effectiveness, pair your oil with a gentle, alcohol-free toner.
My thoughts: I smell more floral, than pure rose scent. It's USDA organic if people are interested in hearing about that. The packaging could be nicer, it's a bit basic looking if we're getting into the nitty-gritty. Although it is in a glass spray bottle, and the mist is the finest of them all. If you're looking for a gentle floral spray, this is the one to buy. However, I would say this one is the furthest from a pure rose scent so that's why it's getting last place, due to it having more flowers added. Lol. The strange decisions I have to make b'ys.
Herbivore Rose Hibiscus Coconut Water Hydrating Face Mist ($32 USD 4oz) Available at Urban Outfitters
Website description:
Recommended for use after cleansing and before applying moisturizer. A hydrating toner featuring coconut water, Bulgarian rose, and hibiscus. Rose Hibiscus Hydrating Face Mist is created with pure plant actives and no fillers. A base of coconut water is infused with youth-boosting hibiscus flower petals and moisture-enhancing Bulgarian rose to tone, hydrate, and soften all skin types.
My thoughts: This will soak your face if you don't hold it far enough away from the face. I'm not sure I'd use this after makeup application due to that face. However, I love the glass bottle, the simplistic logo, and the bottle is the perfect size. This one gets second place by a hair in my books. The spray is gentle (although sprays a little too much for my liking), and the scent perfectly reminds you of a rose garden.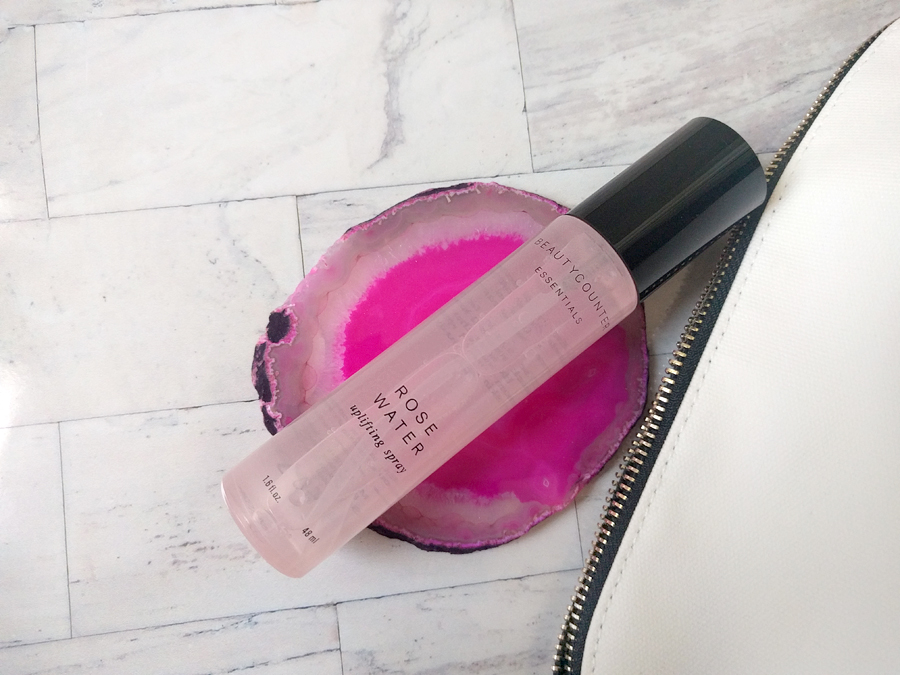 Beauty Counter Rosewater Uplifting Spray ($35USD 1.6oz) Available at Beauty Counter
Website description:Â 
Wake up your complexion with our skin-softening toning spray, made with organic rose essence, purified water, and moisturizing sodium hyaluronate. Spritz it on to set makeup or whenever your skin needs an instant pick-me-up.
My thoughts: Oh my gosh the spray needs to be fixed! This is the prettiest looking bottle of them all, and I love having it out on my bathroom counter but the spray is a little rough and unexpected especially during the first spray which I caught on Snapchat (and then my laughing reaction shortly after). The scent is my favourite, and do I notice a difference in my skins hydration when using it? No. But, this probably is my favourite one out of the three … but the spray! I'd say give it a go though, but be forewarned on the spritzing affect. It'll splash ya! BeautyCounter is launching in Canada soon, and this is one of the products that will be available for my Canadian pals to purchase. More on Beauty Counter coming up on the blog this week, so stay tuned.

Three photos completely unedited with all three sprays misted onto the back of my hand at equal distance apart. You can see how much product comes out of each one. Thought this might be helpful for the review, too!
Overall thoughts:
Would I re-buy any of these? Probably not. It's a fancy hydrating mist/toner/whatever they want to classify it as, and although it's nice to use and I'll continue to use the three products up, I don't think it will become a staple in my beauty routine.