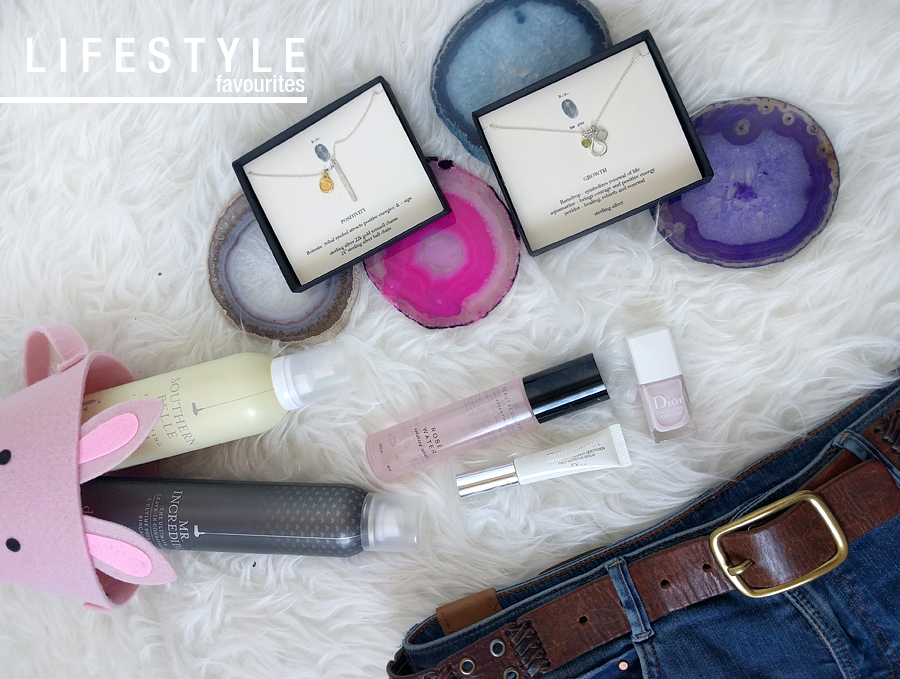 I'm going to try and make this a 'thing' on my blog. Monthly favourite videos are quite a hit on the ol' YouTube, and I never seem to film them in the nick of time. I thought it might be easier to snap a few photos and write it out, rather than make a long video with not the best quality of a video camera.
So here we have it folks. My first instalment of my monthly lifestyle loves. It'll include an array of items, jewelry, clothing, agate coasters… you know. Lifestyle things. Let's keep it fairly simple this month, just to test those waters. Ya know?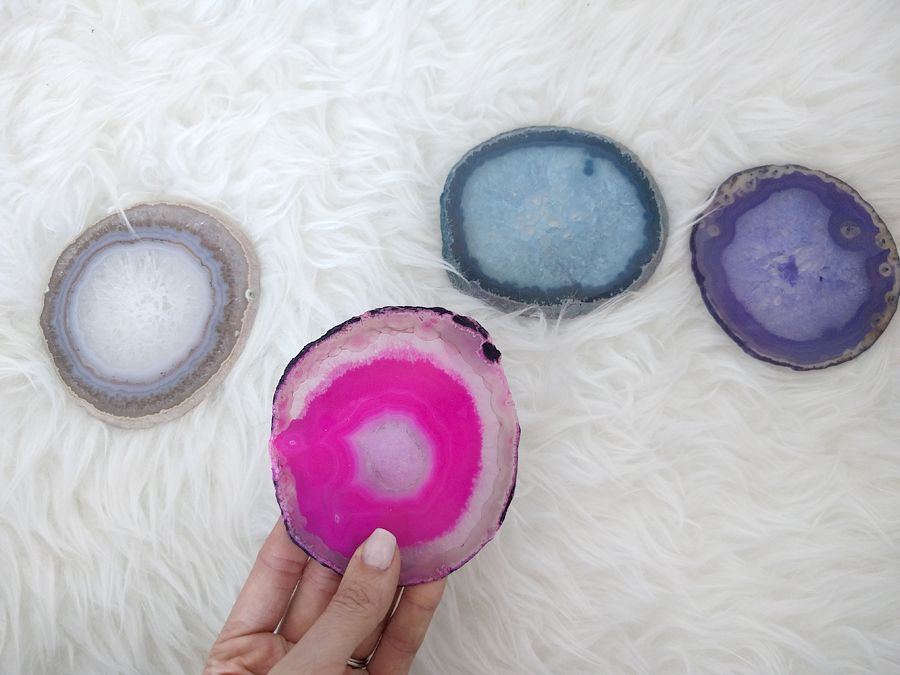 Agate Coasters: These have been on my radar for the past few years. From similar ones being sold at Anthropologie, to Chapters in Canada, I've always picked them up and wanted to buy them. I just never had! Since I love putting together gift baskets for friends, I think these would be an excellent addition for any occasion (birthday, new home, new baby!). These agate coasters are from a fun website called Uncommon Goods. They're made in the USA but the agate rock itself is from southern Brazil. If you didn't know this about me (now you do), I used to have a rock collection — like a real one, since my geologist neighbour back home travelled the world and always brought me back little samples. How funny is it, that I married into a family of rock lovers too? So I'm super stoked to have my cuppa tetley tea sit on the pink and white ones the most, on my all-white-desk.
Zara jeans: Despite the look of the worn in features of these jeans, I only purchased them in February. Since I'm getting to be granny-status, I ended up patching up some of the pre-made holes in the jeans just so they wouldn't rip further. I love the subtle distressing on them, but don't want them to become too obvious. Zara jeans always fit amazing.
Dior Diorlisse Abricot (soothing perfecting nail care): Whenever I take off my shellac polish, my nails are horrible looking. I swear by this Dior soothing perfecting nail care and I have no idea whats in it that makes my nails heal after 2-3wks of wearing shellac, but it does. I can simply have this on for 3 days and remove it with polish remover and my nails are a BIT better. Obviously not going to revert to its pre-shellac days right away, but it helps. Note this comes in a few different colours and I have the pink version. When I went to teh Dior beauty store in my local mall I noticed a peachy toned one too.
Dior Huile Abricot Daily Nutritive Serum: I recently purchased this when I noticed the stand alone Dior beauty store in my local mall, and had to buy something. It was between this and the thicker one called creme abricot nail cream which comes in the same type of pot as Diors popular lip balm. I went with this as I like to apply a lighter one in the day, and I'm already thinking of going back and getting the thicker one, to apply at night. My cuticles are always a mess, no matter how often/little I get a professional manicure. The nail serum with the little brush applicator reminds me a lot of the one Sephora used to have, but for some reason discontinued it.
(growth)
(positivity)
Positive Energy Necklace and Growth Necklace are made by Mary Steratore, an archaeologist turned jewellery maker and they are for sale on the Uncommon Goods website in their jewlery section. The Growth Necklace is a 16″ extendible to 18″ length and is my favourite out of the two. I picked out the items shortly after my Fathers passing, and enjoyed the saying and meaning behind this one: Raindrop – symbolizes renewal of life. The aquamarine brings courage and positive energy, and the peridot is healing, rebirth and renewal. Something that resonated with me as soon as I spotted it and brings me happy vibes. Positivity necklace is another great one, and although I'm an optimistic, super positive person, it's sometimes nice to actually wear something that may subconsciously attract more positive energy. Am I turning a bit hippy on you guys? Sorry! Aren't they so pretty and delicate? I love them.
Dry Bar: I'm obsessed with anything Dry Bar does. From their detox dry shampoo, to these two products above. Southern Belle volumizing mousse is something I have been using for the past two years, and now their new Mr. Incredible leave in conditioner which launched this January. I wash my hair around 2-3x/week and I have to use these two products in my hair in order it to last that long (and of course a bunch of dry shampoo which I should have included in here). I have limp, dry hair so using a volumizer when I brush my wet shower-fresh hair then applying the leave-in conditioner on the ends makes my hair so big, yet healthy too. What do you guys use in your hair??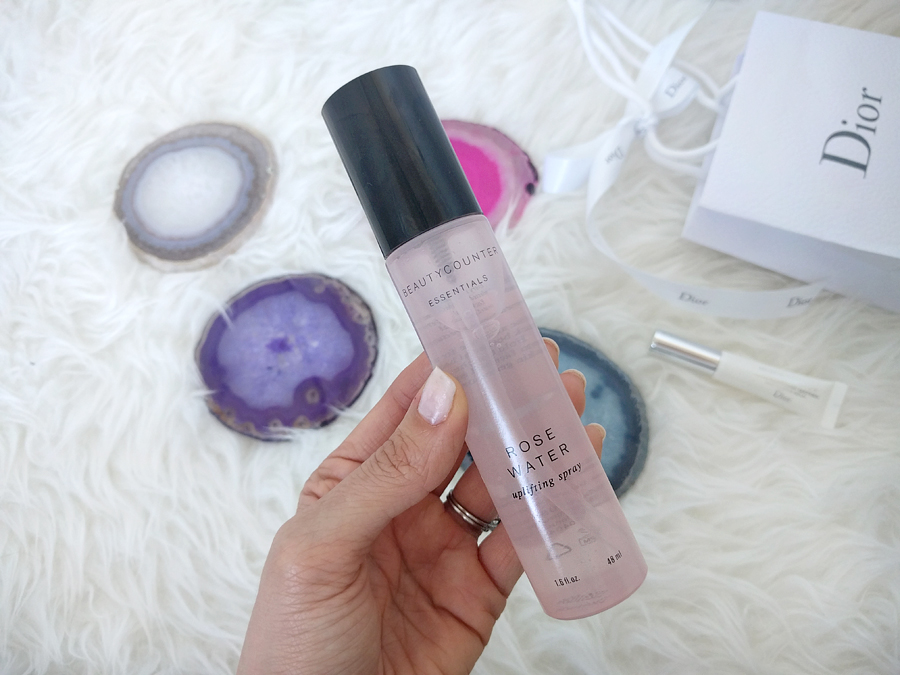 Beauty Counter Rose Water spray: Although I reviewed it in my previous post, I can't help but bring it up again. I gave myself a mini-facial this evening (using a facial cleanser, then a scrub, and then a soothing mask afterwards) then spritzed some of this on my face and I felt like I've been to a spa. So nice!!