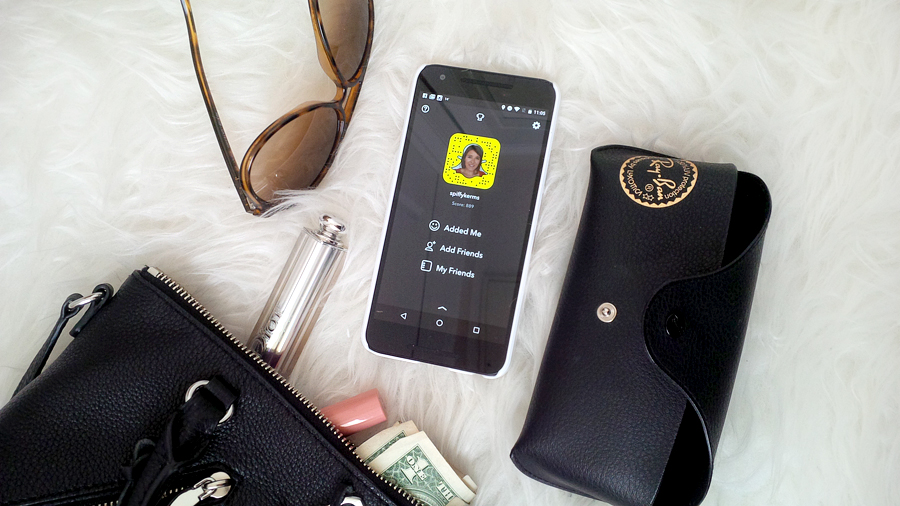 I'm so obsessed with Snapchat (follow me! I'm over @spiffykerms) that my blog, youtube and all other forms of my social media are failing. It's like a kid who never got to watch television, and they're over at their friends house glued to the TV set.
That's ME. I'm glued to Snapchat! I can't stop.
Scott (not my husband Scott, another Scott my friend from the East Coast of Canada also, Scott — that got confusing for no reason.) suggested I blog about my love affair with Snapchat. And, so that's what I'm doing.
Like I mentioned in my previous blog post — for the longest time thought it was for something else, but it's not any more! You don't have to even sign up to view my snapchats 'cause I overflow my Twitter feed with the ones I personally find funny. I mean. Like I said before, I don't even need friends on there, I literally cackle-laugh multiple times per day at my own filters and dances.
Basically, snapchat is a free-for-all for me to let loose and be exactly the way I am in person offline. Just never really showcasing how crazy-silly I can be. My husband says that snapchat was really made for me. I love seeing him laugh super hard in the evenings when he comes home and I show him my snap-feed from throughout the day.
I'm kinda glad the snaps only last for 24 hours and then they are gone, because otherwise I probably wouldn't let loose as much, ya know? Anyway… I asked my friends for their snapchat usernames and added them. Then I went on a hog-wild mission to find celebrities (even had to UNfollow one of them, they were a bit annoying. Kinda like my own snapchat hahaha).
What you'll find on my Snapchat:
daily snapdance (where I dance to a different song each day and ask people to join. It's a hit lol)
Alfie (a lot of alfie)
fun coffee shops
behind the scenes of what's to come on Instagram and da blog.
me lip syncing to the most ridiculous tunes and face filters (it's what people come for, I promise)
Basically there's my child-like humor still lingering in my body acting it all out and having a great time lip syncing all day with random clips of Alfie. Right snapchatfam? It's a whole different ball game than what you'll see on my Instagram/Twitter/Blog feed! This is my real personality lol.
Just so it's not all about me here on Snapchat, here are some people I think you should follow:
Bloggers/YouTubers
Celebrities
Calvin Harris: @calvinharris
Jessica Alba: @jessicamalba
Hilary Duff: @ohheyhilary
Lady Gaga: @ladygaga 
Nicole Richie: @itsnikkifresh
Basically all the celebrities I follow are either pranksters and/or super hilarious.
Other:
Jen Gotch of Ban.do: @jengotch
Are you on Snapchat? If you are, write your username below so we can follow each other!