The past two weekends in a row, my husband had been gone (first weekend: Santa Monica biking with his Canadian pals, and this weekend he went to NYC to run the half marathon). Truthfully I was a little nervous being on my lonesome for the first time, since my Dad passed away. Usually when I'm bored, I called my Dad for a chat in the evenings, since my Dad stayed up much later than my Mom. Well, now that he's not here any more, I knew for sure I would get a little stir-crazy in the evenings and feel the loneliness kick in.
While I think it's okay to mourn and be sad, I don't want to live in a state of sadness or sink into a slump. Sure, I have heavyhearted moments where I shed a few tears, thinking that I won't see/speak to my favourite person in the world any more (in fact writing that made my eyes tear up a little, geeze). But like I said I had made big plans for the two weekends, and kept busy.
I'm in the process of editing some photos from when Lauren and I went to Fort Funston off leash dog beach with our two pups, and our two Lexus cars to review, I had a blast, and literally had to cross my legs because I thought I was going to pee from laughing so hard. Lauren is hilarious, and I love that she moved closer to where I live. That means we can hang out as often as possible. Yay! By the way, I can't wait to share the photos from Fort Funston with you guys. It's coming! I got a new phone and don't really know how to get the photos off it yet. Technology is hard.
Since I had the Lexus RX 450 to review for a week, I spent a full day having a bit of me time and drove to San Francisco to explore the city a bit, and browse some areas I was unfamiliar with. I scoped out Japan Town, shopped some art stores, went to a cool coffee spot, and then had an acai bowl at a place just around the corner from Dolores Park (which by the way, I witnessed a truly scary fight a few minutes after relaxing in the park. And ya knows now, this lil' newfie got the eff out of there as soon as THAT happened. Because: guns are allowed in 'Murica, and I'm frightened to death lol).
ANYWAY. I had a grand ol' time in SF, and even watched the sunset on the drive home. I mean, really. When is the last time you sat on top of a gigantic hill, and watched the sun set? It's so relaxing.
Another thing that kept me busy was Snapchat. Do you guys have it? Add me if you do: spiffykerms. When people asked me if I had it last year, I was all NOWAI, isn't that for hooking up? But apparently it's all changed now and it's fun and not weird. I'm addicted to it, and I think it's so hilarious. I don't even need friends on there, I just laugh at MY OWN snapchats all day long. It's ridiculous.
Then oh my gosh I compiled all my makeup, skincare, body care, hair care (you name it) into one big ol' pile, bought some famous MUJI acrylic drawers, realized I had an embarrassing amount of items (because I get PR samples all the time, and apparently don't go through them enough to declutter), and decided to keep a tiny bit, donate (Shauna, Krista — You coming down for a visit here any time soon? I'm keeping the bag just for you two to go through!) a shiz-ton, and throw out a few old pieces. I'm quite happy with the smaller size of makeup I now have, and it doesn't overwhelm me any more. I blurred the photo because I think I want to do a blog post about it. I filmed a YouTube video on it, which I've yet to edit/upload — stay tuned if you're interested.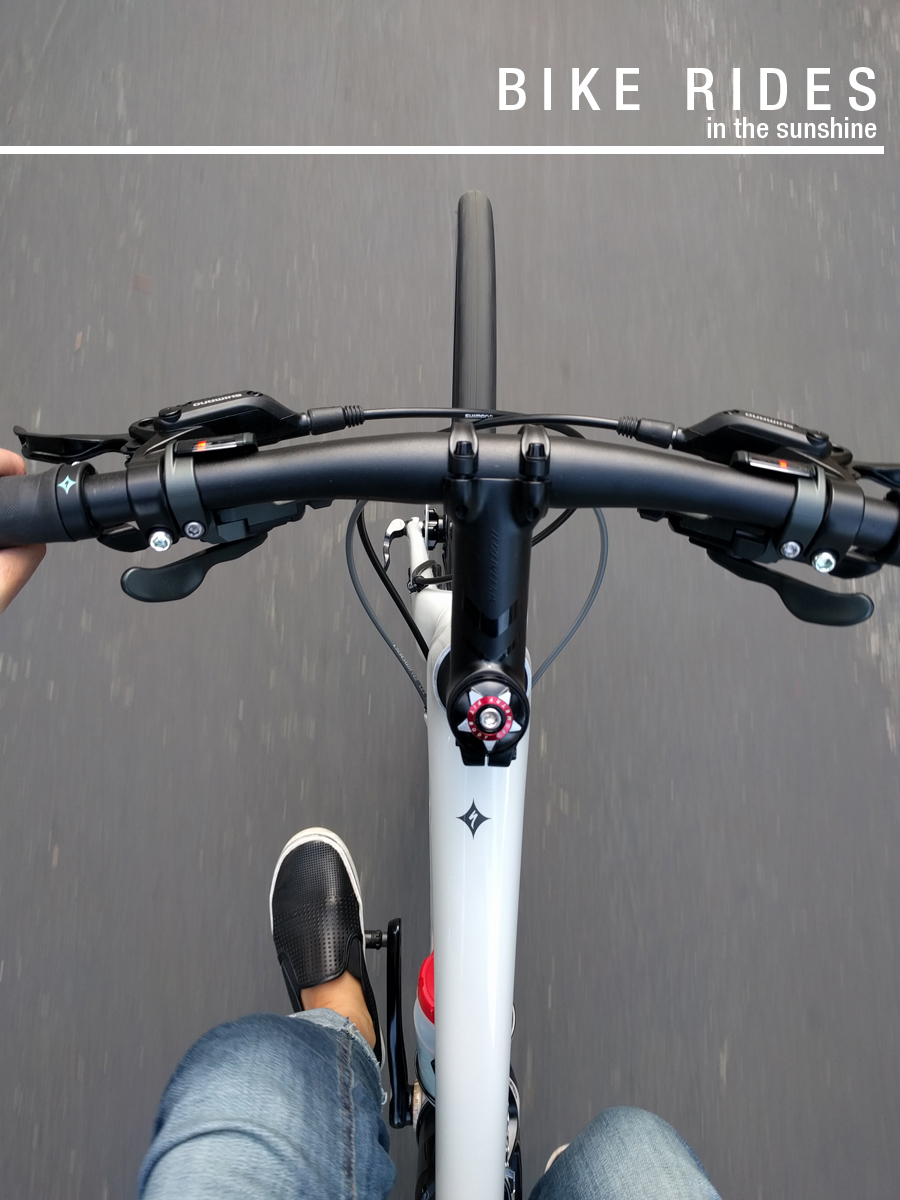 So all-in-all I would say I had a decent two weekends in a row. I did get lonely at times missing my husband, but that's what phone calls, bike rides, solo-runs with Alfie, and voice notes to Megan were all about. Staying in touch, verbally! It helped.
How have all you been doing lately?