The past year or so I've been getting bolder with playing up my lips and applying some colour to them.
Exhibit A:
Exhibit B:
Both photos shown above are in the colour Monroe by Annabelle TwistUp that I reviewed. I instagram'ed the first image and the response I received from everyone was great. They loved the colour on me!
Well, I'm daring to be colourful with the launch of twelve new shades of Annabelle TwistUp Retractable Lipstick Crayon. Annabelle's product has now doubled, with 24 shades available in some amazing hues. Here are the 12 newest shades, which launched during the summer. I know it's a tiny picture, but click to enlarge it:

They're basically everywhere. Even Target carries them which I spotted, and snapped a few shots of.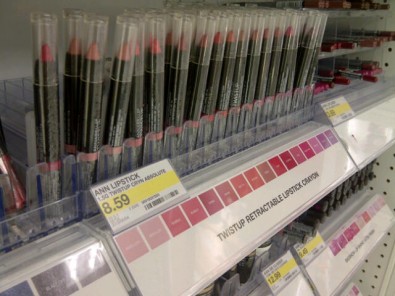 Pointing, in case you couldn't tell exactly where they were. Heh.
The lip crayon is in a twist up tube and requires no sharpening. Since it's creamy yet lightweight formula, it literally glides onto your lips like butter. Not that I've ever applied a stick of butter to my lips, but you get the gist.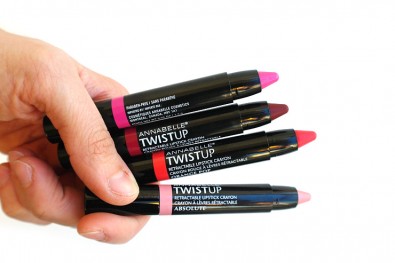 Starting tomorrow October 1, I will be participating in the #24Days challenge of wearing all 24 different shades of TwistUp  lip products by Annabelle throughout the next 24 days. All 24 colours baby, get ready for some colourful lips within the next few weeks. Hooo boy. Again, you can click to enlarge to view them better.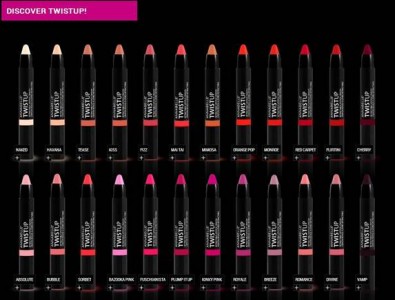 I've had some fun swatching the colours on myself before starting the challenge tomorrow, and all of the lipstick crayons are very pigmented but have this nice glossy finish to them. So there's no drying feeling at all. And since I'm a lip-licker, that matters to me. Hate the feeling of dry lips.
A new shade will be featured as a "Shade Of The Day" each day between October 1 — October 24.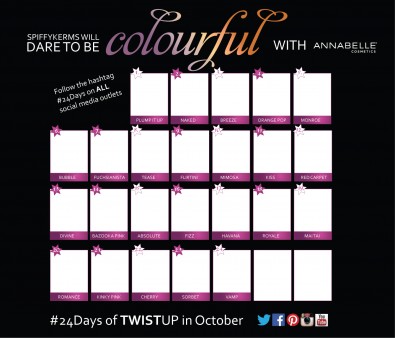 At the end of the 24 days I'll be filling out this calendar that I somewhat copied from Annabelle, but my FACE will be inside each of these little boxes. Cute right? I thought so. However, if you want to see me capture a different colour on my lips for the next 24 days, I'll be posting them all on my personal Instagram & Twitter, so be sure to get your follow on!

BLAM. My face, 24 times. Get ready for it. Er, you won't have to be getting ready — I'll be the one getting ready. Apologies for the mixed message. Just sit back and watch it all unveil. ;)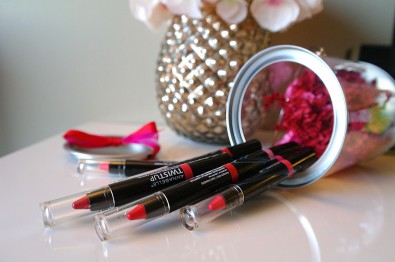 Join the great Canadian swatch fest happening through social media channels. Anyone and everyone is invited to participate in the #24Days with Annabelle.