You've seen a lot of new lip colours on me these past 21 days.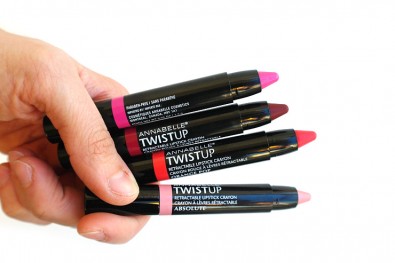 Have you had enough of me taking selfies on instagram for over three weeks? There's a reason behind it, I promise.
I've got three more swatches left to do for Annabelle Cosmetics with the #24Day challenge, which is sadly coming to an end. It was a fun little project to be part of and I even ended up meeting two other bloggers from the challenge, when I was at the BlissDom blogging conference earlier in the month.
Anjali, Michelle and I, all wearing the shade Monroe.
I even mentioned some of my favourite colours from the first ten days of swatching. But, I can't take part in all the swatch fest fun and not include you guys. Annabelle Cosmetics is offering up the chance for my readers to win a full set of all 24 shades of the Twistup Retractable Lipsticks. This giveaway is open to Canadian and US residents only.
For three more days all 24 Annabelle TwistUp lipstick crayons are on sale for $7.25 CAD each. Shipping to Canada is free over $25, and $50 for USA.