A few weeks ago I got an e-mail for the lucky VIB's that we get a gift with a $35 purchase. Basically, that's all I needed to hear and I was in. I printed off the e-mail immediately and my co-worker L and I headed off on our lunch break to the local mall and hit up Sephora.
Since I'm a huge fan of Philosophy's products, or is it the cute packaging that gets me every time? Either way, I picked up this terrific smelling body wash and body lotion set.
Despite me being a candy addict. I dislike anything that smells like food. Philosophy has some new body washes out that smells like Chocolate, and Fizzy soda pop – which smells good if I could eat it. But I don't thin I'd like to rub that over my body. Then again, I have no qualms about rubbing something that smells like a lime margarita over me in the shower. Who knows. Maybe I just like to stick to my citrus scents, and fresh scents.
This one leans more on the citrus side of things with Pineapple and Coconut infused in it.
I also picked up a nail file, and received some freebies in my bag with my purchase. Benefit Hello Flawless foundation and a Kate Somerville exfoliator.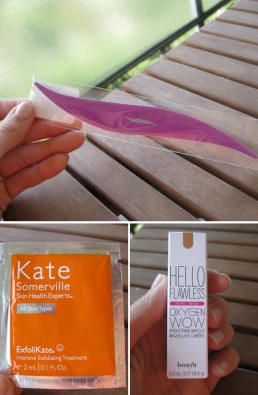 Now, onto the VIB goodie bag!! The most exciting part!
Oh buddy!
Let's see, what have we got?
L'Occitane hand cream
Algenist night cream
Sephora instant moisturizer
Sephora foundation primer
Smashbox foundation primer
Stella McCartney perfume
Murad radiance peel
Lancome hypnôse drama mascara
All tucked away into a little silver Sephora makeup bag. The bag isn't the best of quality, which doesn't bother me, seeing as I have a ton of mini make up bags. It feels like paper, and would rip in a second. I do love the striped lining in it though!
Are you a VIB? Did you pick up your Sephora VIB bag?