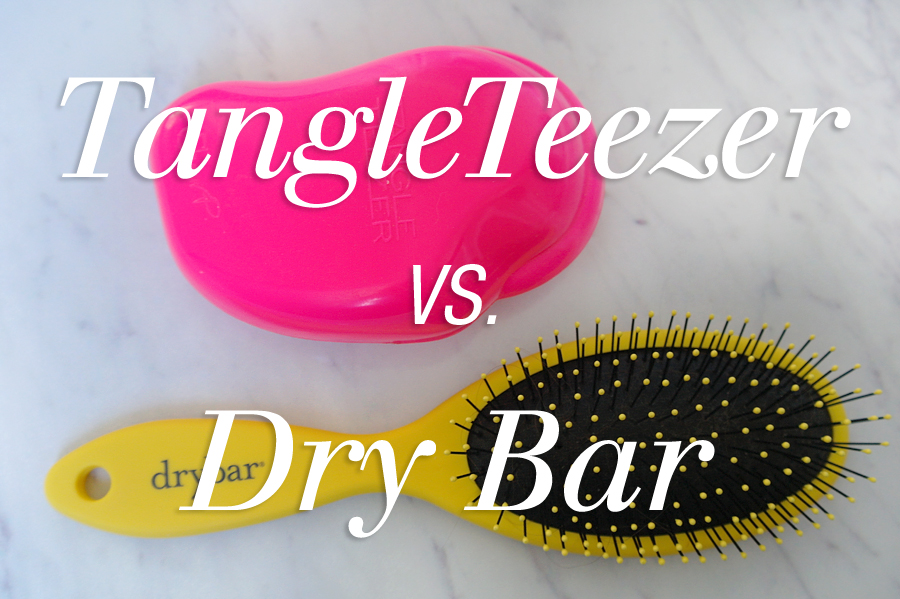 I'm overdue for a comparison post regarding the two (of three) hair brushes I own.
When I comb through my hair with a regular brush, my hair gets flat at the top, and fluffy/triangle shaped at the bottom. After the Tangle Teezer first came out, I sat back and watched the reviews come in, before I made my decision. I ended up buying one about 2 years ago at Sallys Beauty Supply in Canada. I don't know whether it was on sale, or the price tag was incorrect but I only ended up paying $8 for it, when it usually retails for $20 or so. I was pretty happy with the discount!
I was also a bit stumped as to how to hold the brush, and does it feel comfortable in the lefties hand? A bit of a strange feeling when you're not used to it. But considering I've had mine for a couple of years, I am used to it.
Notice the Tangle Teezer's various height sizes of the bristles?
No exaggeration, my hair is a rats nest when I get out of the shower and Tangle Teezer (TT) is the only brush I will use to get the knots out. The Drybar Lemon Drop (DB) is a brush you can use on wet hair but it's not as amazing for getting tangles out as the Tangle Teezer. Although once I use TT on my freshly washed hair, I'll swap it out for DB for blow drying and styling, along with my round brush.
Jeeze, I sound high maintenance! 3 hair brushes?
When I go to Newfoundland, I am only going to be bringing one hair brush with me. I cannot get my hair to blow dry with volume using the TT, so I will be bringing a travel sized Drybar Lemon Drop with me. I will just have to be a bit more cautious with brushing my hair when it's wet.
This comparison post is difficult for me to pick one or the other being the 'better' brush to buy. My only qualm with the Tangle Teezer is that it's thick and doesn't have a handle. It's easy to clean too since it's all plastic.
Which one would I suggest you buy if it came down to two of them? As much as I want to say the Drybar Lemon Drop, I'm going tohave to opt for the TangleTeezer. Mainly because you can brush from root to ends without issue with the TT, and usually that's a no-no! I just wish it looked nice (like the Drybar) or had a handle. That's not to say the Drybar isn't amazing. It totally is. It is perfect for everything else (it just pulls a little when you brush root to ends) and that is why it took second place. Ooooh :(
Have you used either the TangleTeezer or Drybar Lemon Drop?