I've talked about 100 percent pure a lot this summer; from a makeup of the day, a review of the lip colours + eye creamsticks, to facial masks. As I have stated in the past, I am not transitioning into 100% natural, or vegan makeup. But I think it's definitely a lot healthier for you, knowing what exactly you are putting into/onto your skin, so I like reviewing it for those reasons. However, I do still have my favourite brands I'll continue to use.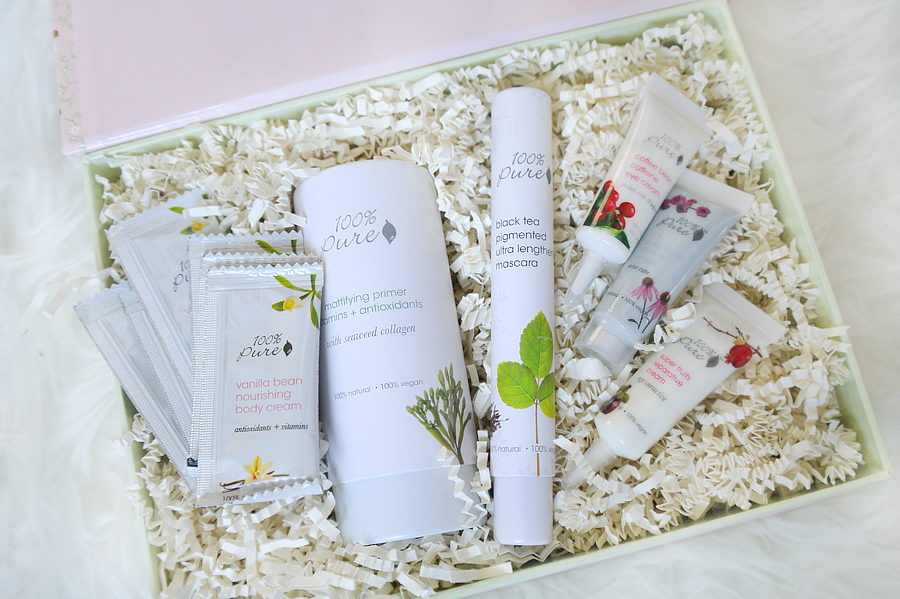 I have some good news for you guys. I received a couple of Pure Boxes in the mail a few weeks ago, one for me to keep and two to give away. Well, I know for sure that there were a couple of products that I definitely wouldn't use (mattifying primer + vanilla scented lotion), so I gave a bunch of goodies including her own separate box to my neighbour. The last box is for one of you lucky readers! I have it sitting next to me right now, unopened, ready to mail out to a deserving reader of mine :)
My favourite two items from the box is the coffee bean caffeine eye cream and the black tea pigmented ultra lengthening mascara.
A blob of the eye cream. It's almost like a lightly whipped eye cream, that glides onto the skin, and sinks in quickly. I can apply my concealer over top almost immediately. It's pretty awesome and smells not quite like coffee bit a bit like cookie dough. I ain't complainin'.
The caffeine eye cream gently rubbed into the skin.
Onto the giveaway! One winner based either in CANADA or USA ONLY will receive everything that is in the pictures above. The Pure Box will be launching November 1, 2015 and will retail for $40 USD for a box.
Each monthly box will have:
One full size products this is less than 90 days old (aka new launch)
One full size product from their catalogue's core collection
In addition to the 2 full sizes, there will be 3 'power packs' (mini products that retail for $11-$14 each).
AÂ hand full of packettes will be in the boxes, too.
Good luck! Giveaway ends Sunday night (October 11) at midnight PST (California time).
a Rafflecopter giveaway