Congrats, you've drank the climbing kool-aid.
Once you've decided you want to invest your money into the sport of climbing, and already scoped out the local indoor climbing gym, you're probably ready to commit to purchasing a few items to gear yourself up instead of renting the gear each time.
Climbing Shoes

Your rock climbing shoes should be well-fitted. Any climber you ask will be opinionated on what type of shoes work best (for them). For the most part climbing shoes will be uncomfortable and snug. For instance, mine are 2.5 sizes smaller than my street shoe, with my toes curled up so much I have to walk on the sides of my feet when walking around the gym. It's the way I feel confident and secure on the wall. On the other hand, my climbing partner doesn't like her feet mangled up in climbing shoes and prefers to have a snug fit, with her feet flat.
After 19 years of climbing, I've only bought 3 pairs of climbing shoes, and never resoled a pair. My first pair of climbing shoes were 5.10 Anasazi MoccAsym's, a comfortable slipper. My second pair, were a unisex shoe at the time, now marketed as men's, was the La Sportiva Miura's (shown above in lime green), which is much more of a high performance technical shoe, with crisp edges for stepping on tiny micro crimpy holds, or sustaining your foot holds on overhanging boulder problems: these shoes were/are my favourite. Last year I purchased another pair, this time the La Sportiva Katana's women shoe (shown with the Mirua's in baby blue). Less technical than the miura's but also a great shoe for bouldering, doing heel hooks and smearing.
Price range for climbing shoes: $50-$170
Harness
I will continue to support my Canadian companies, and currently I'm using the Arc'teryx Targa men's harness. I decided to put my climbing harness into permanent retirement after putting in a few good years of use. I'm onto using my husbands brand new climbing harness that has been sitting around unused for a couple of years. Even that needs to be replaced within the next year, as the webbing on the harness deteriorates after time.
Again, climbing harnesses are all personal preference. Head into a gear shop and try on a couple. You may prefer a minimalistic climbing harness with less padding, or you may enjoy one that is more substantial and has a ton more padding. It should be comfortable. I haven't a clue what type of harness I'm going to try on when I buy one within the next little while. Anyone have suggestions? What are your favourites?
Price range for harnesses: $60-$130

Chalk + Chalk bag
Half way up the wall with some sweaty hands? Dip your hands in a bit of chalk to dry them off. Chalk bags are meant to tie around your waist as you climb up the wall. But they also make a bit of a statement. There isn't any specific type of chalk bag I'd recommend to anyone, as it's all about personal preference on how it looks. For the most part, chalk bags are relatively the same size if you're tying it around your waist while you climb. Usually chalk bags get a lot of wear and tear, but I like to be relatively careful with mine as I've had mine for almost as long as I've been climbing. The climbing gym owner back home in Newfoundland made, and sold a bunch in the first few years.
I have a bit of a soft spot for my ol' yeller chalk bag.
Bouldering chalk bags are different. They're more bucket style to accommodate both hands fitting into the bucket completely and is designed to stay on the ground while you boulder.
As for chalk, there are two options for what you can use: loose chalk, or a ball of chalk. I prefer using a ball of chalk in its own sack inside my chalk bag bag so it doesn't spill out if I drop  it on the ground. I refill my chalk ball with this new brand I found through instagram. This is a sample of Unicorn Dust (awesome name by the way) by Friction Labs. I'm one of those weird climbers who rarely refill my chalk ball, because I don't feel it's necessary for myself to have chalked up arms all the way to my elbows. I only need to dry off my hands with a bit of a flick to the chalk bag. A bag of chalk will literally last me an insanely long time. I'd like to give this chalk its own blog post, or talking more about climbing gear in another post, because I don't want to get into a full review of it, as I'm simply discussing essential rock climbing gear today. I do have to mention it's pretty sweet, has both chunky and extra fine pieces of chalk in the bag. Best of both worlds.
Price range for chalk + chalk bags: $10-$20
Choice in clothing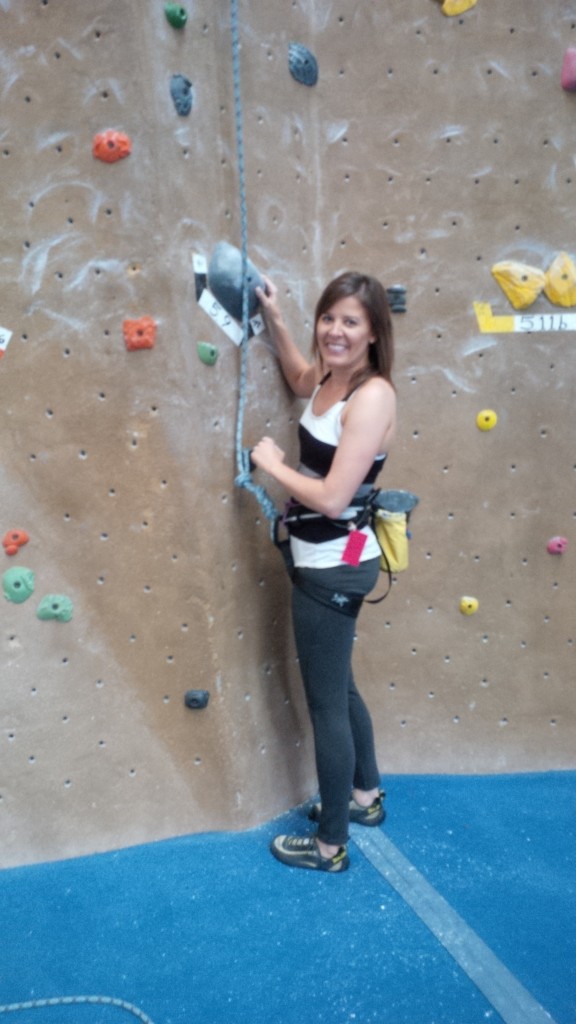 When I take first timers to a climbing gym, I advise them to wear comfortable yet durable workout clothes. I prefer to wear longer pants as I like to use my knees and legs against the rough walls when climbing. The climbing walls surface is unforgiving, feeling a bit like sand paper, which can tear lightweight fabrics. I've seen some people wear jeans but I like to have a larger range of motion and find that jeans are more constricting. When I head in for a climb I opt for a tank top and yoga pants.
You can find rock climbing gear at places like Mountain Equipment Co-Op (Canada), REI (USA), or Amazon.