I participated in an Ambassador Program on behalf of Millennial Central for MY M&M'S. I received product samples to facilitate my review and to thank me for my participation.
I mentioned in a previous post about how I'm a candy ambassador. So Sweet. Pun intended. When the doorbell rang I was expecting some household items The Guy ordered online the previous weekend. But there it was in all its glory. My dream come true: a huge bag of candy, delivered at my doorstep.  This is the beginning of planning our wedding reception back home in Newfoundland, towards the end of this summer. Since we planned our wedding in record time: 6 days, we didn't really invite that many people to witness our vows and the beginning of our marriage.
Last weekend we finally ordered our wedding Thank You cards, all 100 of them for the 20-something people in attendance. Hey, they're generic and don't say the date of the wedding on them, so I'm sure we can use them in the future.
As for our wedding reception, The Guy needs to get his arse in gear and figure out if he's going to do an Ironman this Fall. If he chooses to do so, we'll have to push our reception to July. If not, back to a day in August/September. Starting to stress! Even though it's not going to be a huge event, but simply a fun BBQ in my parents back yard with tons of loved one's. It still gives me butterflies, as I have no idea where to even start.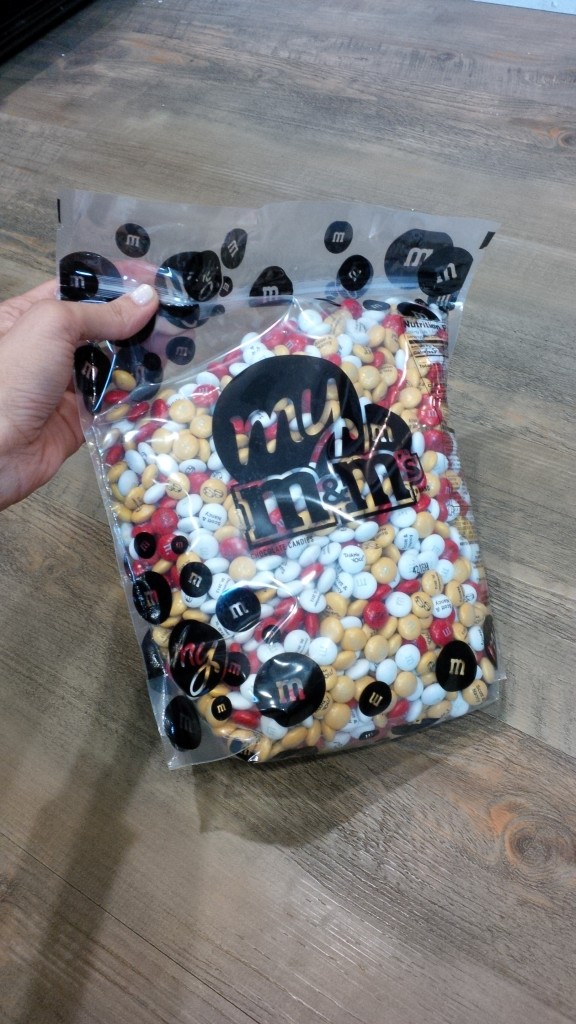 Hot diggity dang, that's a huge 5lb bag of candy that we're going to cart back home. The Guy asked me how I'm doing to do it, which I'm not sure yet. To which he replied "fuel for my biking?" That's something a triathlete would say, don't you think? No sir, this will not be wasted while you are on your bike. These candies will be appreciated!
You betcha bottom dollar I gave these M&M'S a taste test as soon as they arrived. No different than any other delicious M&M'S you've consumed.
I ordered them in red, white and gold as those were the colours we had for our wedding decorations. I think those are some classy colours that I won't get sick of. The yellow colour isn't what I expected as I was trying to mimic the colours of our Christmas wedding. It wasn't a pearled golden as shown online. It's a pure mustard colour. But hey, I think it looks pretty decent.

I've come up with a plan on how I'd like these presented as wedding reception favours. Either in gold tins, or in small white patterned paper bags. I mentioned this in my previous M&M'S post but if you want to have them pre-packaged when you order them, you can do so in:
Silver Favor Tins
Elegant Lace Favor Bags
Party Favor Packs
Bulk Products
Of course, I chose the bulk order, to get more bang for my buck. MY M&M'S are perfect for all aspects of planning and celebrating a wedding reception. From personalized favours to bridesmaid gifts to using MY M&M'S in wedding decor, the options are nearly endless for adding a special unique touch to the special day. And they ship to CANADA!