Last week I headed out to Santana Row for some Mother's Day (May 8!) gift guide ideas, but also keeping in mind the two pantone colours of the year.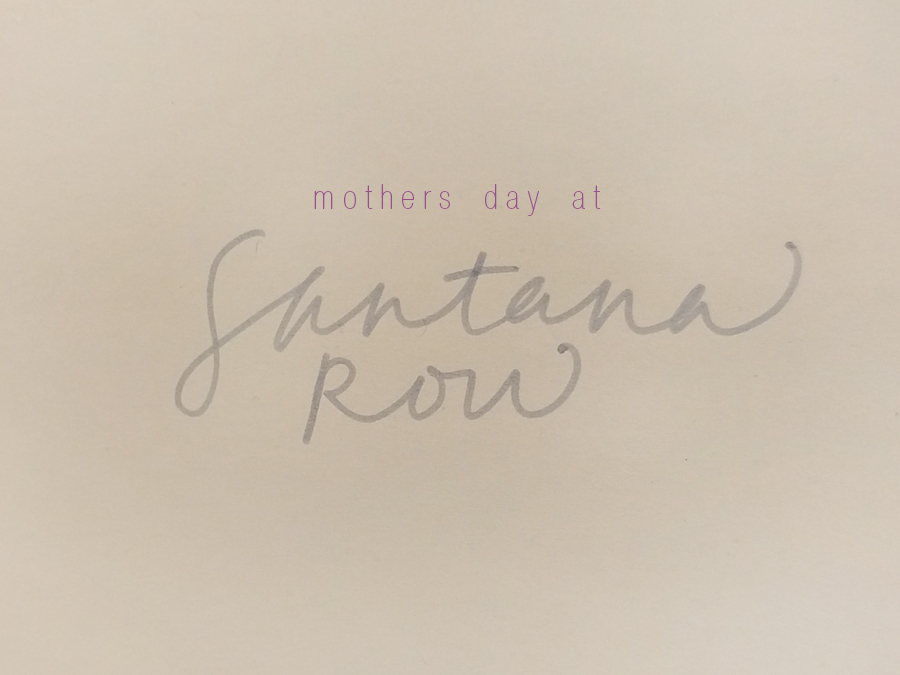 I tried to keep the theme of baby blue's and pink's going, but it was difficult at a lot of stores. Plus I gotta have a bit of diversity in there for people who aren't too fond of those colours (I personally love them and think they're "my" colours, especially the pink.) So for the most part I stuck with photographing soft colours and neutrals.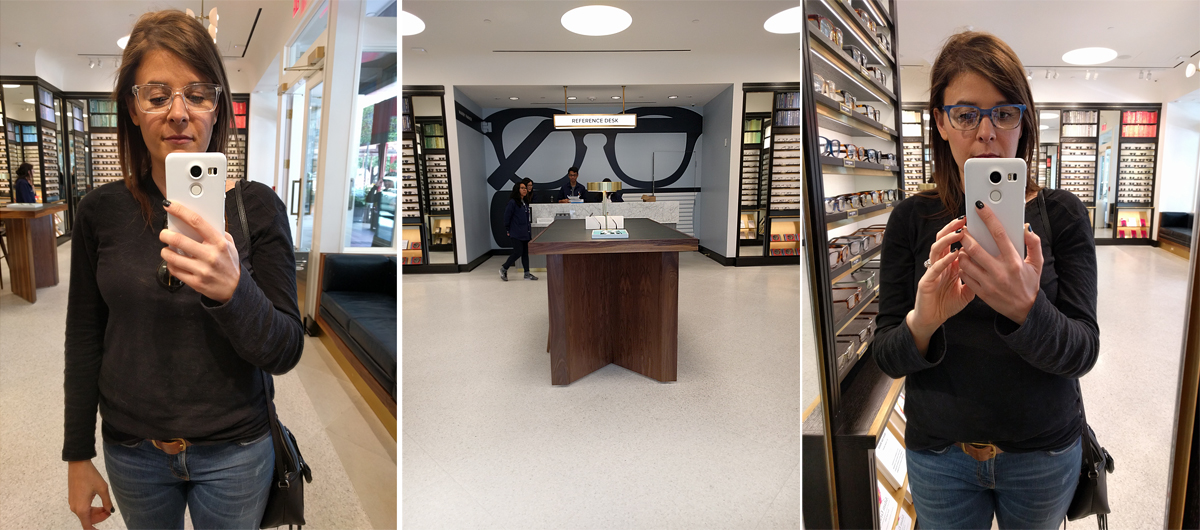 Warby Parker: This glasses shop recently opened in Santana Row and what a fun layout — kinda looks like a library! While I don't need glasses, many of the population do, including my own Momma. I had fun trying on glasses! I told the sales associate I don't have a need for prescription glasses, and she told me you can buy them simply for fashion! Fancy glasses for an accessory! Right up my alley, for those that have 20/20 vision, ha! I'm not sure I'd agree with myself if I did have a need for them. They're so fun though, you have to admit.
Vera Bradley: Can you believe I've never been in this store, ever? The store isn't entirely my style by any means but I thought I'd share some finds and wow their leather purses are so soft and came in a huge variety of colours and obviously different purse-types. Plus their makeup bags are lined, so you can wipe them clean. Â (Shop: crossbody purse, makeup bag, pens).
Anthropologie: While I wouldn't pair the first outfit together by any means (kinda looks soccer-mom-like eek!) I think the pink slouchy top would look so pretty with white jeans, and the blue crops would look great with nude sandals and a plain white v-neck. The perfume smells gorgeous, and the light blue/lilac tank is youthful and fun for summer. (Shop: pink blouse, blue crops, Happ & Stahns perfume, lilac tank).
Sephora: Always one of my first stops at Santana Row. The staff is always so helpful at this location too. I've picked out a few favourites to show you guys here from my visit. I've only ever tried samples of the Caviar hair products but never purchased full-sized due to the price. But Mother's Day is all about spoiling Mom, and I'm sure she'd appreciate the luxurious splurge. Not only does it make your hair feel soft, it smells incredible. The CC cream is my favourite from the Alterna line. Speaking of smelling incredible, look at these new perfumes by Derek Lam! So many new yummy smelling fragrances. A sweet addition to your Mother's Day gift, heart shaped makeup sponges! Adorbs. (Shop: Caviar products, Derek Lam, heart sponges)
Urban Outfitters: I recently picked up my first Gourmand fragrance (shown to the left) on my last trip to Urban Outfitters (Fleur Monoi hair + body mist is the one I bought!) but mine is a body and hair mist so it doesn't last long, but that's okay because I keep it right out in the bathroom on display and mist it on me any time I walk by. Mmm! I swear, Urban Outfitters is upping their skincare/body range of products. I come here to buy the Herbivore line of products (shown to the far right). And who doesn't love taking a nice soak in the bath. Imagine how good you'll smell after using something that smells of lemongrass, blue chamomile and vanilla bean. (Shop: Gourmand fragrances, sea of love, herbivore).
Kate Spade: An ideal way to spoil Mom, if she's into accessorizing with the cutest pieces. Kate Spade always has fun little trinkets or decorative watches to choose from. I personally love the mini hayden purse on the left. (Shop: mini hayden purse, heart plate, watches)
Sugarfina: If there's one thing my Mom and I have in common, it's a sweet tooth! I love coming here for a lil' sweet treat. Their decor is always decorated so sweetly, and each time I go in there's always a new display. So fun! (Shop: Fruity loops)
Lululemon: Is your Mom an athletic type who loves the Canadian brand Lululemon? They do no wrong in my books. Love their glass water bottles, and whenever I work out it's almost always in my lululemon wunder under pants, and a lululemon racer back, or swiftly tank. Everything I've bought from there has lasted years. I don't think I've thrown out/donated anything yet! (Shop: Water bottles, tanks, shorts)
Lou & Grey: Lou & Grey is another new favourite store of mine, because they always have Artians selling really neat pieces from cord keepers (shown in the middle) to super snazzy notebooks. Am I the only stationary fan around here, or can I get a high five all around here? Plus, their clothing…. every single piece I touch, is made of the softest fabric. I want my entire wardrobe to be from here. (Shop: notebooks, cord keeper, striped henley)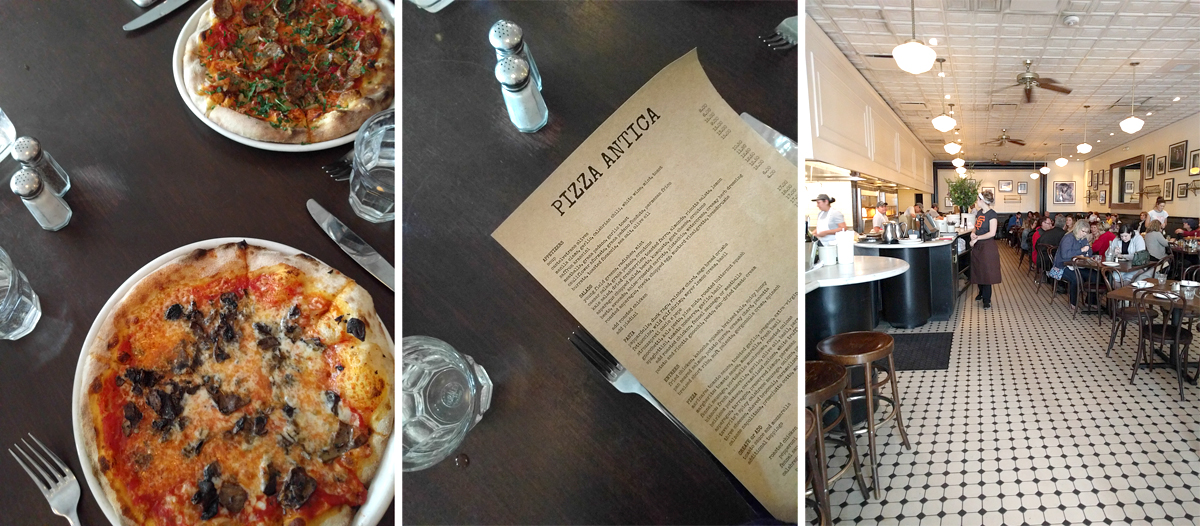 Pizza Antica: My pal Lauren treated to me to lunch, after we browsed Santana Row together earlier last week. So why not take your sweet Momma out for a bit of lunch after shopping. This is probably my favourite spot to eat in Santana Row, and maybe all of San Jose to be honest. Their wood fired pizzas are amazing. I always opt for the make-your-own with plenty of mushrooms and no onions. It makes me want to dance!