Shopping local is something I try to keep in mind not only at Christmas time, but year round. I'm doing a round-up for a Holiday Gift Guide for shopping local around the Bay Area here in California and thought it'd be helpful for those that live in the Bay Area too.
First up, my favourite spot in San Jose: Santana Row! It's an excellent source for all the things. Whether you're brunching with girlfriends, Christmas dress shopping on a budget or have the dollars to spend, they have it all. So I thought I'd do a themed Santana Row post based around Christmas dresses.
I always love visiting Santana Row around this time of year. They're always so decked out in twinkly lights.
Now, you'll never see me wearing a dress, actually that's a lie. You'll rarely see me in a dress, but I found some gems at Santana Row yesterday afternoon and I even got stuck in one of them in the change rooms. My body temperature definitely rose when I was trying to remove it, I'll tell you which one it is when I get to it :) But for now… here are some of the dresses that can easily be worn year round, and if you dig my style then you'll probably love these as well. Most of them aren't your traditional Christmas-style frilly red/green dress. It's my style. I mean, only fair I show you what I'd actually wear, right?
7 stores/many different looks. Let's get to it.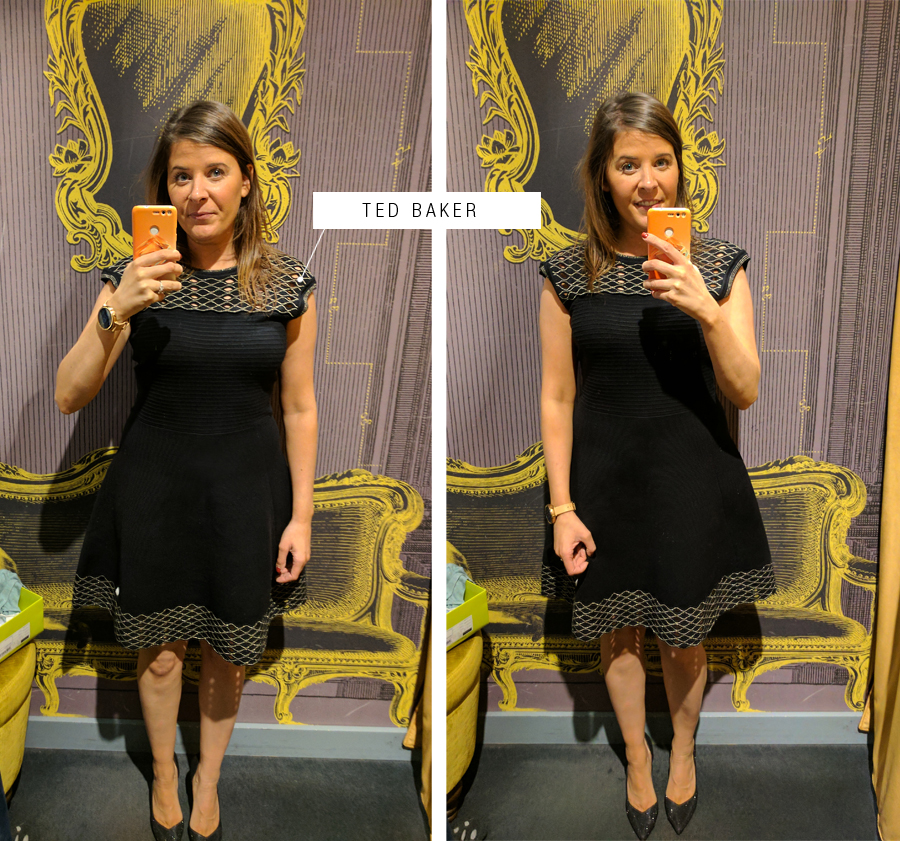 Ted Baker|Â $279. You know you're in a fancy store when they let you borrow heels for trying the dress on to see what it looks like. I think the dress is perfect for a Holiday party, and considering how pricey Ted Baker pieces are, this one is on the 'lower' end of his line. I'm digging the shape.
Anthropologie| $138. Anthropologie is such a feel-good store. A lot of the pieces fit me so well, and make me feel awesome. Plus, velvet has made an incredible come back this year and I'm quite happy about it. I've always had a thing for velvet, and to be honest I loved this plum velvet dress so much I was carrying it around the store with me for a good twenty minutes deciding on whether or not to buy it. I didn't :( I might go back for it though! I literally stole the fur vest idea from the mannequin that was showcased as soon as you walked in the store. It goes well, ya? :)
Anthropologie|Â $148. LOL. Can you tell I'm feelin' this dress? Sunglasses and all, hey I had to see if it worked with my ensemble! I needed to put Anthropologie in here twice. It's my favourite store in the entire world and their pieces are always unique. This dress is definitely me. Although perhaps too casual for a work Christmas party, you could easily wear this with a hint of red to make it more Holiday appropriate. Ooooh cute red leggings and some boots? Got it figured out. Isn't it cute?! I'm going to wait for this one to go on sale. It's a bit
Madewell| $118. Can't go wrong with a comfy knit sweatery feeling dress. This one was so cozy with fun almost-bell-like sleeves!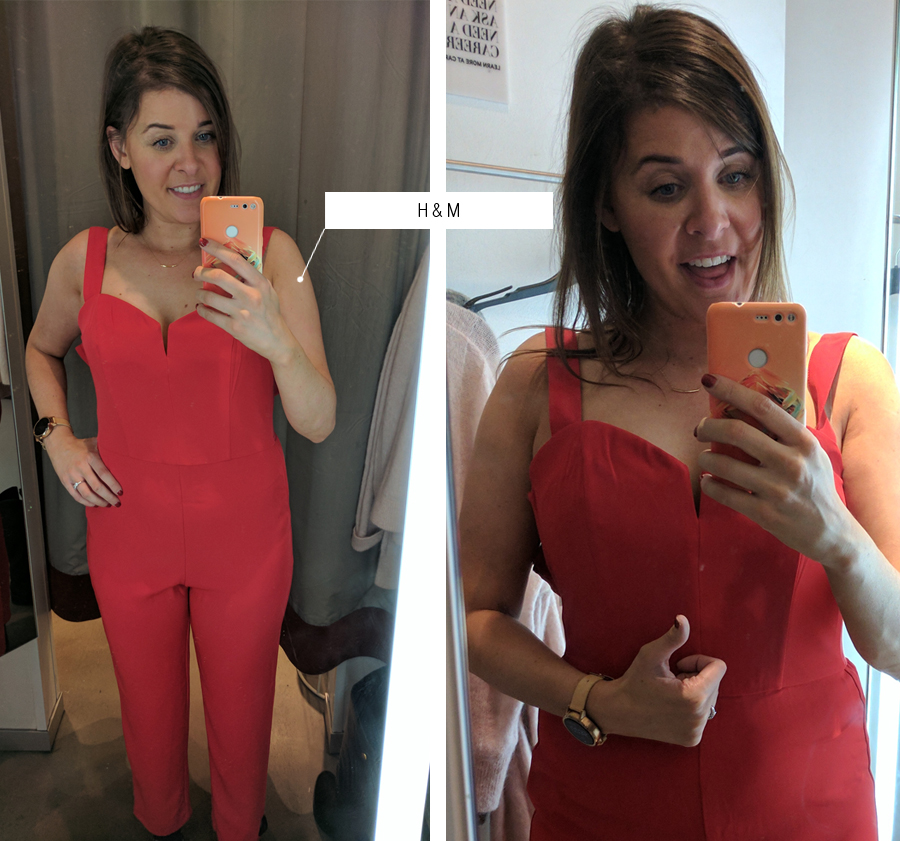 H&M| $49. I've yet to find a jumpsuit that doesn't make me look large around the hips/stomach area. I've always been bigger there than anywhere else on my body, and while this is a fun bright red jumpsuit with a flattering neckline, it was way too short! It didn't even hit my ankles. Weird. It was super fun looking, minus the shortness of it, heehe.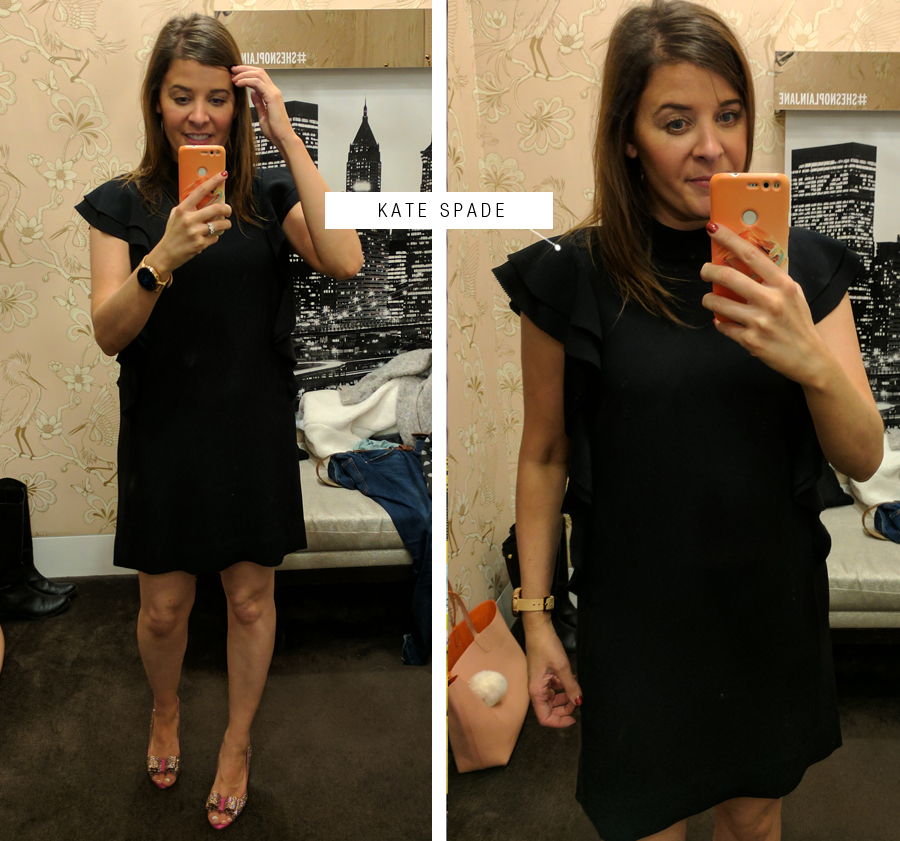 Kate Spade|Â $398. Kate Spade's dressing room is huge at Santana Row! I could do cartwheels in there. This dress is something I would wear to a formal event, and like Ted Baker, they allowed me to try on some fancy peep toe heels with the dress to get a feel for how it looks all prettied up. I wasn't sure how I'd feel about the frilly bits on the side, but it works out well!
Free People| navy $128/plum $228.Free people clothing are quite …. boobie. I don't mind it, just stating the fact. The dresses are also short. Maybe they're not dresses at all. But I kept my jeans on and tried to visualize what the items would look like with black leggings. I'm a huge fan of the velvet, as you probably already know from the Anthropologie dress above. The plum one had pockets! I really loved the fit of the two also, and both work well with jeans don't you think?
Urban Outfitters| $149. Such a statement dress! I love a good sparkle, and in one of my favourite bold colours, too. Red! Okay, so this is the sequins dress I got stuck in. It was a short dress hence why I cut off showing you where it ended on me. You know that sense of panic when you can't get something off your body when you're in a change room by yourself? Pretty sure my eyes went bloodshot and I have scratch-marks all over my shoulders from trying to remove the dress carefully but in a state of panic.
After you're done dress shopping you definitely deserve to relax at Burke Williams Spa in Santana Row, especially after that last try-on dress I did and panicing for a few moments. Remember back in October when I surprised my husband with a treatment for us both there? It was incredible.
They have holiday gift card packages which benefits YOU if you decide to gift to someone this season. Win win. Each gift purchased will include a coveted 3-Day Spa Pass as a special gift just for you. I mean, 'tis the season of giving and receiving am I right?
There are three holiday packages to choose from *note, packages vary slightly by spa location!*:
Introduction|Â (yes! that's the name of the package!)Â includes a luxurious 50-minute Pure Relaxation Massage or nourishing Spy Style Facial, and Spa Pedicure starting at $129 (regularly $169 and up).
Relaxation| is a rejuvenating escape that offers an 80-minute Burke Williams Massage or 80-minute Spa Style Facial with peel and Spa Pedicure starting at $179 (regularly $239 and up).
Transformation For Her| allows the ladies in your life to indulge in an 80-minute Burke Williams Massage, a 50-minute Spa Style Facial, and Spa Pedicure, starting at $279 (regularly $358 and up).
Transformation For Him| offers the special men in your life a chance to enjoy an 80-minute Deep Tissue Massage, 50-minute Men's Facial, and Spa Pedicure starting at $279 (regularly $368 and up).
Disclaimer: I was provided compensation from Santana Row for this Holiday post.