I'm sure if you're into make up at all, you're not a stranger to the BB, CC and DD creams that have hit the North American market within the past few years. It started becoming all the rage when us Westerners heard about the Asian BB creams — which usually have a higher SPF and are more thicker in consistency.
What is the difference of them all? To be honest, it's just a fancy way to market it all. They'll all colour correct your skin if you have enough coverage to the product. Some will be more dewy or matte than others.

Stila has a new Colour Correcting (CC) Foundation Stick and I'm pleased to report that I am happy with this product.
The PR company sent it to me and I usually wait to photograph pieces before trying it out. Didn't with this, I busted it out of its packaging when the FedEx box came to my door and swatched it onto my hands.
Before and after using Stila CC colour correcting stick. Probably should've worn a different colour hoody. I look like a jailbird ;)
At first glance you may notice that it has a natural finish. Then once it sinks more into your skin it looks more matte.
A word of advice when using this CC Cream. Exfoliate your skin, or it will cling to dry patches. Probably not the best suited for me since I have pretty dehydrated skin, especially once winter comes along. Nothing a little exfoliating won't help with.
This is the first face product I've tried from Stila Cosmetics. I never really walked into a Sephora or Shoppers Drug Mart looking for Stila products. It's definitely got a reputable name, I just seemed to have walked past it for all these years.
This Stila CC Foundation Stick and will be part of the permanent collection with 6 colours in total to choose from. I like stick foundations. They're compact,  sanitary, not messy, and great for lazy days when I don't want to pump liquid foundation onto the back of my hand, swirl my brush around in it and dab then blend onto my face.
With the CC stick, I draw on my face. Like I would with Halloween makeup as a kid. Except skin tone coloured. Let me back that up. It blends easily into the skin and provides a sheer to medium coverage of minor imperfections and redness.
Easy. Quick. I like that, especially when I'm tired. Easily blendable with your fingers (my first choice, on tired mornings) or with a foundation brush.
In the tube it's more of a creamy product but it dries to a matte finish. Some other mornings I swap out my makeup and use another BB cream (liquid format rather than a creamy stick) from Dior.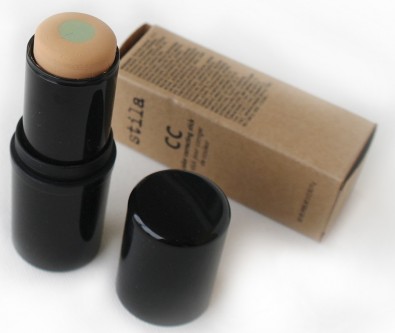 The green core acts as a redness reducer onto the skin. I thought I had red (and splotchy) skin without makeup. But I posted a makeup free faceto on my Instagram and people corrected me saying I in fact, do not have red splotchy skin. Huh. Anyway. Sometimes I think I wake up with rosy cheeks from sleeping on my face, and I want to give them some coverage. This works.
This isn't a revolutionary product, but it is a great product for those who are curious about checking out the latest hot beauty items.
Blending the Stila CC into my skin, with just my fingers.
Does it wear well throughout the day? You betcha. It isn't a full coverage foundation so it's not going to last all day. I never tend to touch up my makeup, because at work I sit in an office by myself on the computer doing my Graphic Design work, and see a handful of coworkers throughout the day. There ain't no need in impressin' no one, ya hear? But seriously. I guess you could touch up, if need be. I just haven't tried.
Want to buy it? It'll cost you $49 CDN exclusively at Shoppers Drug Mart or Murale in stores now as part of their permanent line.

How often do you wear foundation?
Where do you usually shop for your makeup? (Ie: Department Stores, Sephora, Specialty stores, Drug Stores?)
What is your skin type? Oily/Dry/Normal/Combination?