Do you remember the first perfume you ever purchased? I vaguely remember which was first, but it was a tie between GAP dream perfume, and Ralph by Ralph Lauren.
I went through endless amounts of those travel sized bottles of GAPs perfume. Why did they stop making them?
Each time I go into Sephora I gravitate towards that RL perfume. It brings me back to the years 1999-2004 when I wore it religiously. It was my signature scent back in those days. My best friend Jenna ended up receiving it as a gift, which ended up smelling just as good on her as it did me.

Ralph Lauren and essie have come together to create four limited edition collection which features one of the four  Big Pony Women Fragrances  and an essie nail polish to represent each perfume's "personality".  Each nail polish color is unique and designed exclusively for these sets.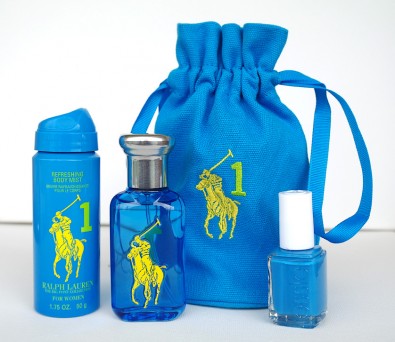 Set 1: Sporty
Set 2: Sensual
Set 3: Free Spirited
Set 4: Stylish
Since I'm more of a sporty person I received set #1.
The scent on this one just reminds me so much of Ralph by Ralph Lauren. Perhaps it is that scent. I'm not sure. But it smells great and perfectly me.
The summer nautical blue polish I received in the sporty set is just called #1 Blue. It will look fantastic on tanned toes in the summer. I'm bringing this polish with me next time I get a pedicure.
 Rita Remark, essie's Lead nail artist who created four amazing looks for each collection, does a "how to" on the unique nail looks she created. So fun.

Sets Available at The Bay and Sears (50ml fragrance & exclusive essie nail polish)

Sets Available at Jean Coutu in Quebec (30ml fragrance, 50g body mist & Â exclusive essie nail polish). Note, I received this gift set below which is only available in Quebec, exclusively at Jean Coutu.

Each set comes with a nice canvas tote to carry your items in.

Do you have a signature scent?
What was the first perfume you've ever worn?