I took my co-workers newest Fossil purchases that she bought from the Toronto Premium Outlet Mall just off the 401, and took some photos of me modeling it. Haha!! It never gets old, seeing everyone's new Fossil goodies.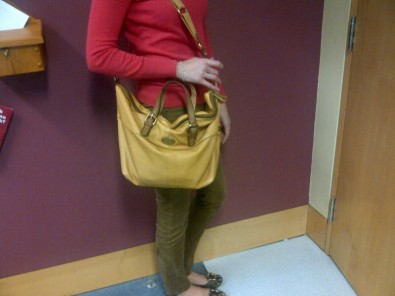 Love the slouchy-ness of it. I can never seem to pick a favorite colour when it comes to Fossil leathers. I seem to appreciate the colour of every one I see. I mean look at that buttery yellow handbag. You can just tell how soft it is, by looking at how it falls when it's on my shoulder. I don't know the name of this purse because I have never seen it in stores, nor do I know if they even still sell it in the stores in other colours. 
My co-worker also snagged this soft genuine leather iPad case for forty bucks!
I haven't made it out to the outlets yet because anytime I drive past them, the highway exit is just backed up forever from people trying to get in and shop. Seems like there's a lot gems to be found.
What do you carry in your bag at all times? Mine is my iPad, my new Michael Kors wallet (I bought it at the outlets in the USA) and my cell. Everything else is interchangeable.