I'm typing on my laptop right now as I type this. Which I haven't used in about a year – mainly because it's overloaded – which makes it SO SLOW and definitely needs to be cleaned up.
Last night I decided I wanted to fix the RSS feed on my site here. The computer engineer of a boyfriend of mine decided he'd take it into his own hands since I haven't had the urge to realllllly fix it, myself.
All my files were on my laptop. We (meaning, him) kept walking back and forth to both computers to do… computer things. Then finally after a half hour of backing up files and whatnot, Scott decides that I need to "define a site" on my desktop – the one I use on a daily basis. I couldn't believe I didn't set it up on my desktop before. But. It's been downloading my spiffykerms site since LAST NIGHT at 7pm. It's still going strong. So, nothing is getting fixed just yet.

Also? The BF ran the 30km Hamilton's "Around The Bay" road race today. He's disappointed with his time. I still thought he did pretty well though.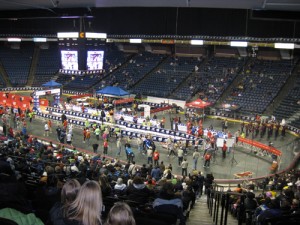 There was also a 5K race right after the 30K start – the winner of the 5 ended up coming in at 14:10, now tell me that isn't clippin'er. Holy fast. I also took a video of the guy coming in on the 30k with fireworks booming indoors for his first place marking. Wows. I think he came in at 1:32-something? Moses.
While waiting for the first place winner of the 30k, and of course for Scott to come in, I went walking around downtown Hamilton for a bit and took some pictures. lol yay.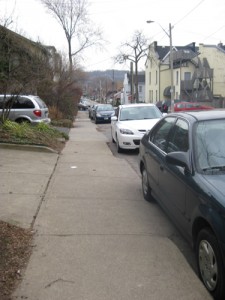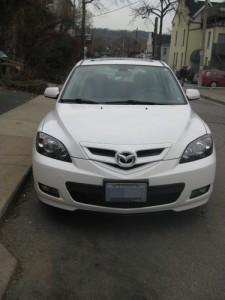 Hello beautiful auto car. Are you feeling alone in this strange city?
This may or may not be King Street.
Nice buildings though!
Totally random, and off topic? Alfie is starting to fart. Literally making little peeps out of his butt and stinking up the whole place. Naturally, the BF blames me. :( Sad day.
ps: I'll answer hair questions in tomorrow's post. I have to do laundry, cook supper and get ready to do my ttaxes.
Have a good night!