If you're anything like me this year and feeling a little ill prepared for Mother's Day gifts and the guilt has finally caught up with you, fret not! I have two very simple, very easy solutions for you. Even though I should've been prepared since I did a Mother's Day Gift Guide a while back.
Part one. Have a local Sephora around you? The mall is still open. Drive there right now and pick up a Philosophy gift set.
It's one of my "go-to" gifts for every one of my friends/family members. Philosophy can do no wrong in my books. Personally I like all of the scents that either have to do with regular perfume scents (like the Living Grace). Or, one of my favorites is the Margarita scented item. I'm not fond of any scents that remind me of food, but they sure do a good job at making it look cute, regardless if I dislike it or not.
Philosophy's Living Grace set is a Mother's Day limited edition "try me" set that you can pick up for $45 (I do realize it says $35 on the box).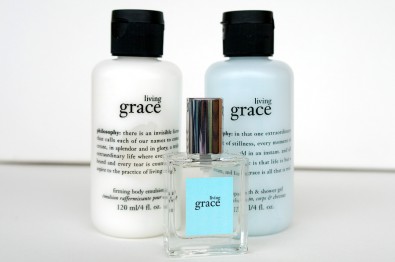 This set contains:
– 4 oz Shampoo, Bath & Shower Gel
– 4 oz Firming Body Emulsion
– 0.5 oz Eau de Toilette
It's quite a clean scent, and perfectly me. Which I'm going to keep since it's a little too late to give away to my Momma ;) The notes in the fragrances are fresh neroli, lily of the valley, and warm musk. I swear you can't smell anything musky.
To go along with that maybe you can treat her to a mani/pedi session at your local salon or at home? I will not touch anyone elses feet. Just a thing I have. I won't do it. So for me, I'd treat my Mom to a pedicure and supply her with these three gorgeous shades of summery pastel colors from Sally Hansen.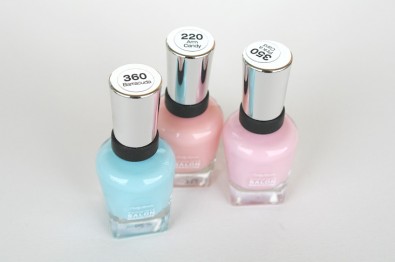 Nail polishes shown: Barracuda, Arm Candy, Pink a Card.
My Mom doesn't wear much mascara but perhaps yours does. This new mascara by Rimmel London Scandaleyes Show Off is something I've never used before. I've been taking a break from my holy grail mascara (Make Up For Ever Smokey Lash) and I've been using L'Oreal Volume Million Lashes which I've been enjoying. I decided to test the Rimmel one out this week.
You can see that there's a little ball at the end of the plastic mascara wand to get every tiny lash you have. The only issue I have with the mascara is that when taking the wand out of the capsule, there's still mascara at the end, so you'll have to clean it up. So far, I haven't had any issues with clumping or not going on too sparse.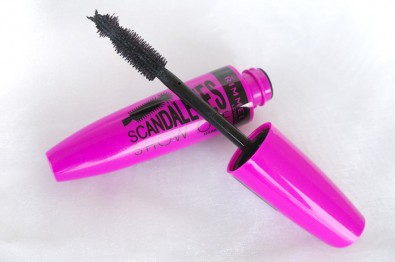 Before/After using Rimmel London:
Or perhaps you live nowhere near your Mother? I'm a three hour plane ride away. I do get to see her at the end of June, but Mother's Day doesn't get postponed by the weather. It happens. The second Sunday of May, always. How do I know that off hand? It's because I know for a fact I never had to share my Birthday with Mother's Day since my birthday is the 7th of May. Just a random tidbit there for you all. I don't send my Mom flowers all that often, so I thought it would be the perfect time to surprise her with a nice floral bouquet from a flower studio back home who luckily had a site where I could order online.
The online version.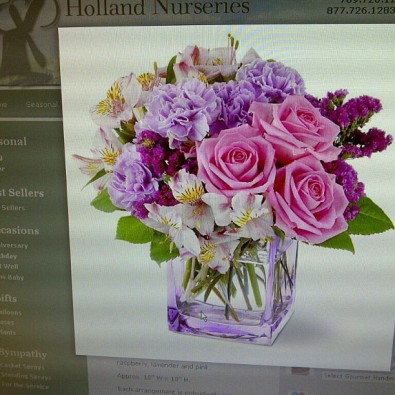 What she received.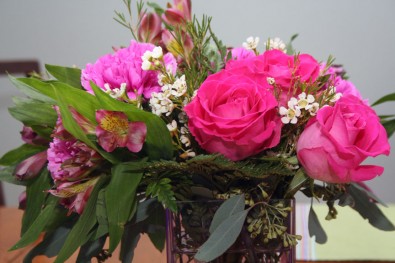 They were delivered to my parents house this morning bright and early, and yes she was surprised. Score.
What have you planned for your mom this Mother's Day? Or perhaps this is your very first Mother's Day as a mom yourself? What do you want? :)
Where to buy:
Philosophy Living Grace Set
Price: $45
Availability: Sephora and The Bay
Rimmel London Scandeleyes Show Off
Price: $7.99
Availability: Select drug and mass retailers across Canada
Sally Hansen Complete Salon Manicure nail polish
Price: $8.95
Availability: Select drug and mass retailers across Canada