Philosophy has been my favorite skin care line for the past two years. Ever since I went down to California and tried it at BlogHer'11, I've been hooked.You guys already know how much I rave about their purity cleanser (here and here). Well. I've got another favorite, product. Dear I say holy grail? Is that over used too much? Apologies if you're sick of hearing that term phrase. But it's my new favorite product.
I did not know that they made more than one hope in a jar formulation, however. That part was a bit disappointing since I bought the dry skin formula thinking it would be exactly the same as the normal skin type cream. I was wrong.
You can tell from the photo below that the creams are two very different in consistency. Also, on your face.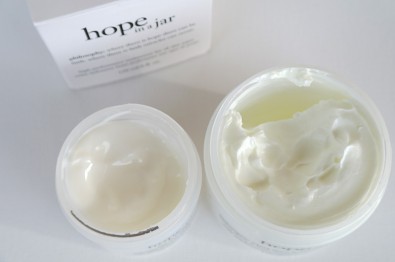 The one on the left is the dry skin, the one on the right is the one I'd like to rave about.
It's a lightweight whipped consistency that is a dream to apply. You only need a smidge of it and your makeup just glides on top.
I'm not the biggest fan of the dry skin forumula, because it's too hydrating for my skin. My makeup slips off and it's just a mess. I cannot return it to Sephora since it came in a trio set. Thankfully it's only the smaller jar and I've revoked its duties for my day time skin, and now I ocassionaly use it on my skin before bed.
Back to my fav product – Hope In a Jar for normal skin.
PROS:
 Soo hydrating on winter skin

Does not leave oily residue ontop of skin, sinks in beautifully

A little dab'l do ya

Smells nice
CONS:
Read the label before you buy it! (lol) – Make sure you're getting normal forumla, not dry skin.

It's pricy
I'm not sure how this moisturizer will be on my skin during the summer time. Since it's a light weight formulation, I'm excited to try it in hopes that it won't be too heavy. So, we'll see! I'll report back :)
OVERALL:
This is my favorite facial moisturizer for winter. It keeps my skin hydrated and plump. My makeup as I said above, just glides on like a dream. Using this in conjunction with my Clarisonic Mia2, I don't have any dry patchy skin. Then again, winter is pretty much over. So maybe it's the weather, ha ha. 
Try a sample out next time you pop into Sephora, and let me know what you guys think of it!