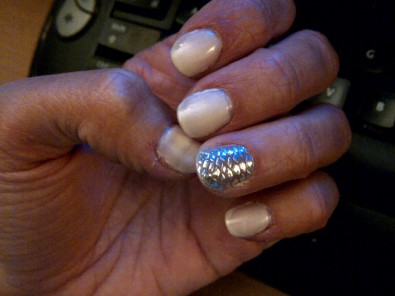 Like my nails and nail sticker? The nails are my favorite color everrrr (Sally Hansen Pink Slip, and Essie nail sticker).
Looks like I'm a big fan of neutral nail polishes ;)
Totally random picture before I jump jive and wail into this post…
I haven't used iTunes in about 5 years. Not for any particular reason, I just have been relying on the boyf's music for the past few years and never really had the urge to buy/download music, as I was pretty pleased with my play lists. Last year I sent my iPod back to Apple to get a brand new one for free (something was wrong with all of the original iPod nano's and we got new square one's for free). Since then I've been missing some of my music that I downloaded from the past.
On Sunday, I decided it was time to break out the old school tunes. I was always told I was raised in the wrong decade due to my taste in music. I absolutely love Fats Domino, Frank Sinatra, Ella Fitzgerald, and even a bit of Otis Williams. So rather than hunt down new songs to buy and make me broke, I decided to google "internet radio from the 50's" and came across this Tune In Radio. Gotta say, as soon as "Gumdrop – Otis Williams" came on I couldn't control my dancing feet and I'm pretty sure the boyf had a ball just laughing at me and … even joining me in a dance or two, whether he likes to admit or not! The music station isn't the best of quality but I don't really care that much. I just love that type of music, and it makes me want to dance.
I wasn't planning on talking about my Target purchases since I didn't think it was very blog-worthy but a few people commented and e-mailed me, asking me to chat about it a little bit.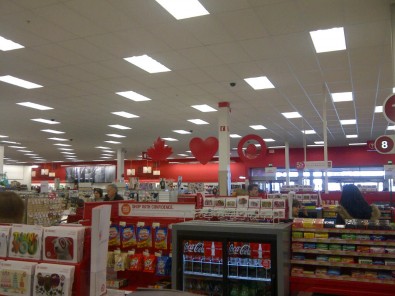 I went to two of the new Target Canada locations (Cambridge, and Guelph) and was not disappointed. Probably because I had my expectations set low due to the people reporting back saying it was not the best since a few things were out of stock. Well, duh – that's because it's only a soft launch and the grand opening hasn't happened yet. So I was prepped to not find my Sonia Kashuk hidden concealer palette.
I picked up these lovely copper toed flats (as my co-workers said). Heck man, they're rose gold baby! $19.99 at that.
I also spotted some inexpensive watches ($24.99 for the rose gold one shown below!). Mind you, it was cheap, but didn't really look like it! Looks like the Fossil one's.
Speaking of Fossil. The wallets at Target looked like a total knock off, of the wallets I spotted in Fossil recently. They looked the same, but they certainly didn't feel as soft and wonderful as Fossil wallets.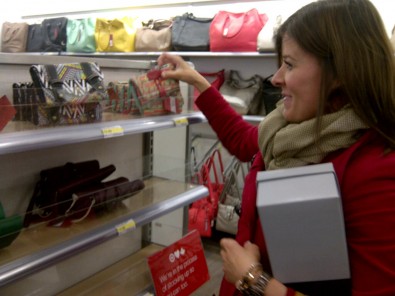 Have you been to any of the new Target Canada stores yet? I bought a few other things at the Guelph location when I was there 2 weekend's ago (striped pillow cases, cute jewlery and some nice looking placemats!).