Lately I've been loving the slim slender lines that skinny jeans, and pants give me. At work I tend to wear wider looking pants and not liking the style very much and keep trying to remember to get them hemmed to have a more straight leg, than a boot cut or even wider than a straight leg. Know what I mean? I like them to fit more snug in the thigh area and maybe a bit tailored looking towards the calf too.
I do like my work pants however, they just don't look like they fit me all that great. All of my work pants seem to come from one store, Mexx. I have one pair that fit like a charm that has never been tailored or hemmed. Perhaps I should wear that pair into my tailor and ask the little Italian man to make all my pants fit like that. I'm sure he can, right?
While I was shopping at the West Edmonton Mall, taking advantage of their 5% sales tax (13% in Ontario), I decided to try on a very expensive pair of jeans. Apparently they're Justin Timberlake's line? Who knew.
They're called William Rast, and in the style JERRI. Which I had no idea was "so last season" because I can't find them anywhere (cheap) online as they're all sold out. Lame!
Aren't they wonderful though? I loved the subtle green stitching on the back of the pocket.
While I was on the hunt for those William Rast Jerri's, I found another pair of WR's online that have the same flattering back pocket, but just above the pockets on the style above, you see it's shaped like a "v" that goes all the way around the hips. Well the one's I spotted online are almost exactly that style, but the "v" is turned upside down.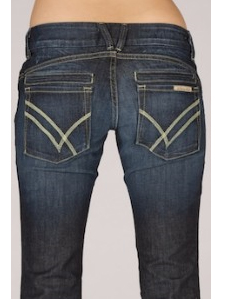 See? Ehh ehh? This is the Savoy Trouser, and I'm not sure if it's a skinny jean or not. But I love the arse on it. I need these.

Did you know I only own three pairs of jeans? I know!