Living in a 700 square foot apartment with two adults and a Pomeranian can sometimes feel congested. Literally and figuratively.
Our dog sheds invisible hairs that gets stuck on your eyeballs. I freak and run to the closest mirror thinking it's just an eyelash, but I'm oh-so brought to reality when I can't see an eyelash laying on my eyeball. So I'm rooting around for these darn pomeranian nearly invisible hairs! I'm sure some pet-owners can relate.
Thankfully he's a cutie…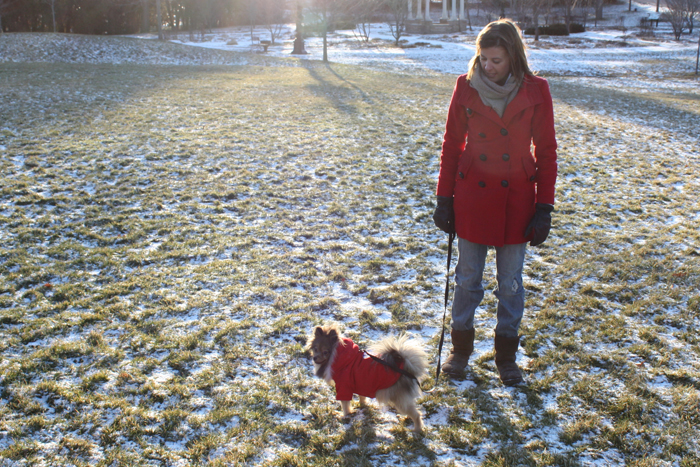 Twinsies! He told me he wanted to look like me, so I dressed to match, with his little red Canada Pooch jacket.
Let me tell you something, there needs to be a bit of circulation in the indoor air for everyone's lungs. No one wants to breathe in stale air in the winter, so that's where air filters come in handy. I never really thought about getting one until the Boyfriend explained its benefits. Air filters help reduce allergies like rag weed and pet dander, dust and even bacteria that cause colds. That boy is an encyclopedia that I will never try to understand. How does he store so much information in his brain?
It's difficult to get a bit of fresh air during the winter months in the apartment, especially since it's so bitter cold outside, and there's no way I will open a window open a crack. Some days I'm wrapped up in a scarf. Indoors! I'm cold-blooded.
We have a few air filters in our place. We purchased quite a large one in the "movie room", and recently received a Bionaire® Allergen Remover Mini Tower Air Purifier (available at Wal-Mart; MSRP $99.99) that has true HEPA filtration. HEPA basically means it's a very fine filter.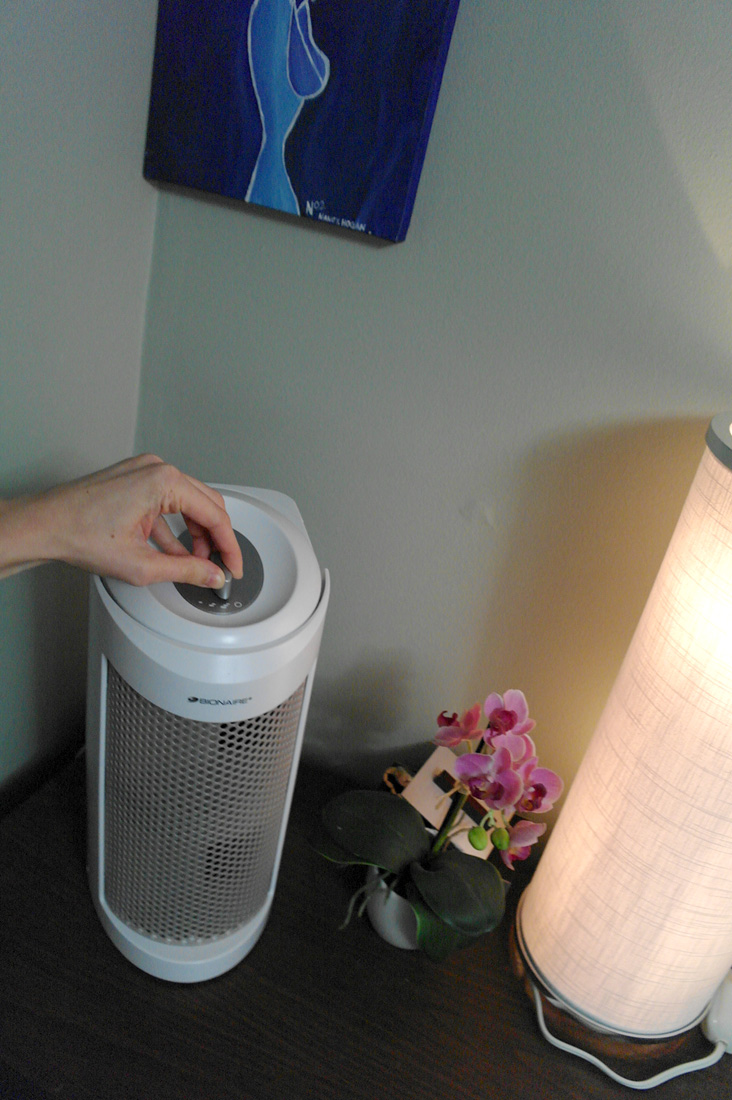 It has three speed settings and a digital timer.
It also has an optional ionizer, which helps assist in particle removal. When you turn that on, though, you can smell it. It's weird.  I'm not sure if it's the case for this one or not, but I've heard some ionizing air filters can give off small amounts of ozone that you can smell.
We have the filter in our bedroom, and though it's recommended for small size rooms (up to 80 square feet), our room is quite large at about 150 square feet. I don't leave it running during the night since we like it really quiet when we sleep. It's not that the filter is loud, but it is noticeable.
To be honest, it's hard to review an air filter. I have no idea if the thing is working or not (we aren't trying to filter cigarette smoke or strong smells), but it gives me peace of mind knowing we have two running in the house, cleaning our air for the two of us and Alfie,  who's home all day long. Plus, with me having (exercise induced) asthma, I'm sure my lungs appreciate a little fresh air during the winter. Happy lungs happy life, you know.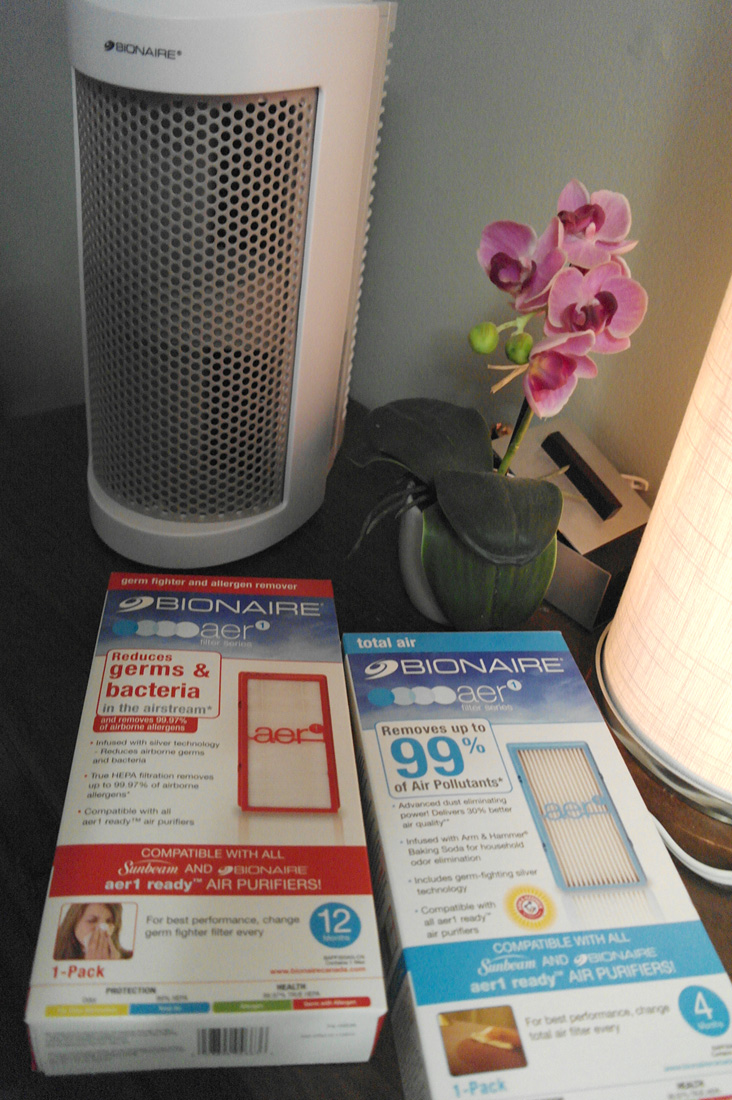 You'll notice the two extra air filters shown in the above photo. This is the first air purifier filter that is customizable. They have filters specifically for cold and flu season, for total air wellness, for odor control and for allergy suffers. It has all kinds of neat tricks!  I'll get a better idea of the good it is doing when I change the filter and see everything it has picked up in a couple of month's time.
I received the Bionaire® Allergen Remover  Mini Tower Air Purifier in exchange for a blog post. All opinions are my own.