Let's turn down this summer heat for a while and talk about something chilly. May I remind you that there are 161 days until Christmas?
I'm one organized girl when it comes to shopping in advance for Christmas presents. I honestly start mentally shopping for my loved ones the day after Christmas. It's not as hard (or as insane)Â  as you may think it is. I simply have an e-mail draft saved in my gmail account. It goes a little something like this:
Christmas 2012
Mom: gift idea 1, gift idea 2

Dad: gift idea 1, gift idea 2
Birthdays 2012
January xx – Dad: gift idea 1, gift idea 2

February xx – SIL: gift idea, gift idea 2
If it's already purchased it's in black. If I have yet to buy, it's in a bold red font. It's been a convenient way to keep track of ideas and since it's not on a piece of paper, I cannot misplace it.
Come to think of it, I should make a Christmas wish-list for myself. Ah-ah-ah (That's me, laughing like The Count)Â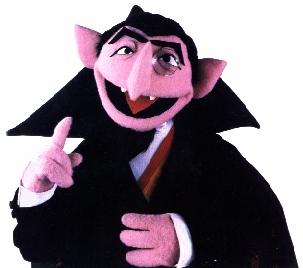 I've had a chance to take a sneak peek at the holiday press release from Bobbi Brown cosmetics. I already am a huge fan of Bobbi Brown products as they've been featured a number of months ago in my skin care, and make up routine's — which I've since added more Bobbi Brown products to. I need to do an updated version of that blog post.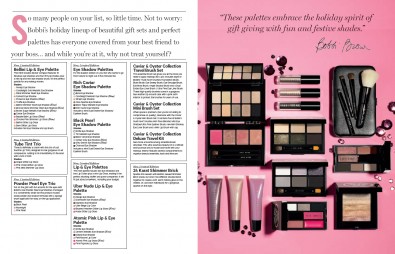 (click image to enlarge)
Bobbi Brown Holiday 2012

If Bobbi Brown's eye shadows, lip glosses and brush sets are anything like her foundation or skin care, I'm all about it. The eye cream that I use is incredibly expensive, but it lasts such a long time if you use the appropriate amount. I purchased a new jar of the eye cream in February and I'm about half way through right now, and I use it morning and night. A little goes a long way. My skin is so dehydrated, it loves to be quenched with a thick eye cream like the one I linked above. My skin also looks heavenly when I use the luminous foundation. It's not a dewy finish, but has a luminous healthy glow, as appropriately named, and lasts so well on the skin throughout the day. No wearing off in patches, on my skin at least!
Conveniently for me, Bobbi Brown cosmetics is now available through certain Sephora stores. The Eaton Centre carries Bobbi Brown, but unfortunately they do not carry my two favorite products by her; the luminous moisturizing foundation and the extra eye repair cream. Not a huge deal as my go-to place for Bobbi Brown is Holt Renfew on Bloor Street in Toronto, which carries a wide range of her products.
Will you be picking up anything from the Bobbi Brown holiday collection? I don't think I can wait until Christmas to get a few items from this collection. As it happens, it comes out in October for all you beauty girls out there. We only have to wait… three months.  :)