As most of you already know, my boyfriend of almost 7 years is a Triathlete. A hardcore Ironman competitor.
This will be his fourth year in a row competing at Ironman Canada. You can only imagine how hard and long he trains for such an event. Or what kind of appetite he has.
I rarely see him on the week nights as he's always gone swimming, at the gym on the treadmill, or even on the bike trainer at home. He is constantly on the move.
Fueling up his body for all the exercise he does on a regular basis requires a lot of food on hand to gorge on when he's finished.
As you can imagine, coming home from a full day's work, I don't always feel up to cooking a huge feast every night. When that happens, my Boyfriend usually gravitates towards a snack before we settle down to have dinner. He keeps two quickly accessible snacks to tide him over because he's like a bottomless pit. Never has a full stomach. The first things he goes for are peanuts, and the second is white bread (often with peanut butter and jam). Both are filling, but the white bread gives him more quick carbs.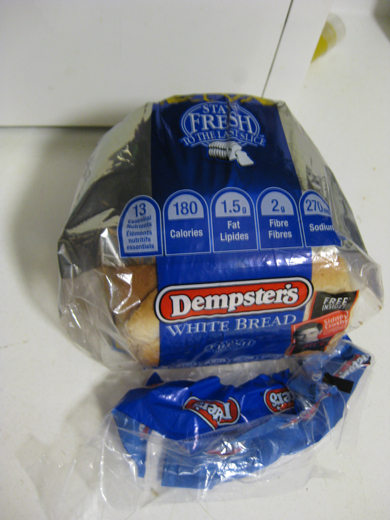 I don't eat much bread in general. I'm just not huge on sandwiches (unless it's paninis….yum) and if I did, I'd make luncheon meat sandwiches because those are delicious! But we don't have that meat at home because it's not the best for you. However, I will never say no to a good ol' homemade grilled cheese sandwich. The boyfriend is a pro at making those, so on occasion we have resorted to those kinds of suppers when both of us are too lazy to cook.
Dempsters doesn't only make sliced bread. They make those delicious tortilla wraps too. We always have piles of that at home, because I love making chicken wraps, and especially chicken quesadillas with them.
Sure we have the healthier bread options available to us at home and make other things out of it. But some things just taste way better on white bread than whole wheat. All in moderation, I say. Right? Plus, the reason why the boyfriend picks out Dempsters white bread is because is made with enriched wheat flour. So it's kinda got a little hidden whole wheat bread disguised in there.
Fun facts about white bread:
Over 60% of Canadians think sandwiches taste better when someone else makes them. (Heck yeaaah, get that boyfran of mine in the kitchen and make me a sammich!)

Canada's favourite way to eat sliced white bread is toasted (40%) followed by grilled cheese (16%) and peanut butter and jelly sandwich (14%).
I gotta say, I'm with the 16% who placed grilled cheese first. I'd have grilled cheese over a bitta toasted bread. How about you? How do you eat your white bread?
Dempsters has given me twelve coupons in total for free bread, 2 for me and the rest to share with friends, family members and even you guys out there — my blog readers! So be sure to leave a comment below telling me how you pair up your white bread and how you eat it!
I am a member of the Maple Leaf Foods Connects program. As part of my participation, I have been compensated both monetarily and with free product, however, all opinions and ideas share on this blog remain my own.