Sunday afternoon my Boyfriend asked me if I wanted to go see a hockey game, he had two tickets given to him by a friend. We ended up driving to Guelph to catch an afternoon game.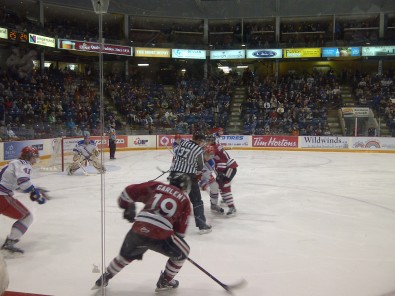 We had some crazy front row seats and had a blast watching the guys play. It was Guelph Storm vs. Kitchener Rangers. Those guys are rough and tough and I kept thinking the plexiglass was going to give out and they were going to fall on top of me. I couldn't count the number of times their bodies were slammed into the boards. It was exciting to watch, to say the very least. Guelph ended up winning 5-2.
Here's Scott taking a photo of us. A very rare one at that. He surprised me with this one, I mean he rarely likes having his photo taken which is why I don't ask anymore.
I had no idea the Quebec Street Mall was attached to the arena. I was mesmerized by it all. I love how pretty this "outdoor" mall is.
After the first period was over they had "Timbits" come out and play. I would imagine these kids were no more than five years old. It was super funny watching them all flock together in one big group trying to get the puck. Some would fall down randomly and take a few kids down with them. It was so adorable, but I couldn't stop laughing.
I love it when weekends feel super long, like this one did. It was jam-packed with busy things on the go. But that's always good.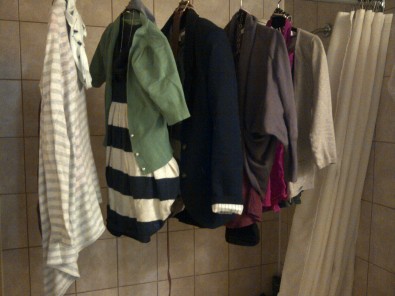 Then of course I had to get ready for the work week and posted this photo on twitter. My OOTWW is ready!
I didn't forget to have the draw for the Etsy Ring — I have decided to pick Stephanie's entry because humor always wins me over. Congrats Stephanie, I'll tweet you to ask you your ring size.
Have a good night all!