I really enjoy spending time browsing on Etsy and finding some really great shops like HelloBerry, FireDaughterClothing and now Kriya's shop. Back in January I found her Etsy and loved the simplicity of the jewelry she makes.
I ended up getting the Shimmer Ring which she sells for $11.00. As soon as my package arrived I ripped it open and put on the delicate looking piece immediately. My co-worker said it almost looked like there was little diamonds inside sparkling. I'm not one for loud pieces of jewelry and I think this little thing suits me quite perfectly.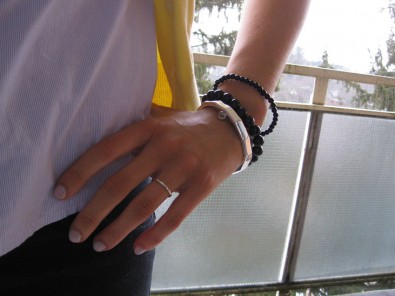 Here is the size 6 ring on my finger. Cute right?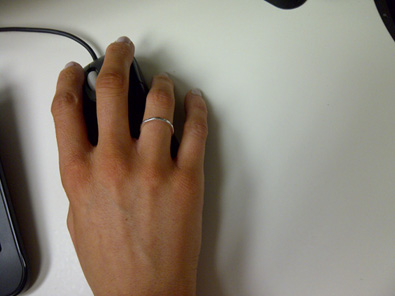 My graphic designin' hand put to work!
I really like that her pieces aren't over priced and are extremely reasonable. There are a few other pieces that she does as well, of course. Like earrings and other fancier rings. Check out Kriya's etsy shop and see for yourself.
Because I love supporting small sellers like this, I am willing to buy one of my readers a shimmer ring as well. Just leave me a note in the comments below and I'll randomly choose a winner who has the best answer for the best acrostic for R-I-N-G.
Example:
Really special
Individual
Nice
Glitz
Put your thinkin' caps on. I'll pick  a winner this Monday.