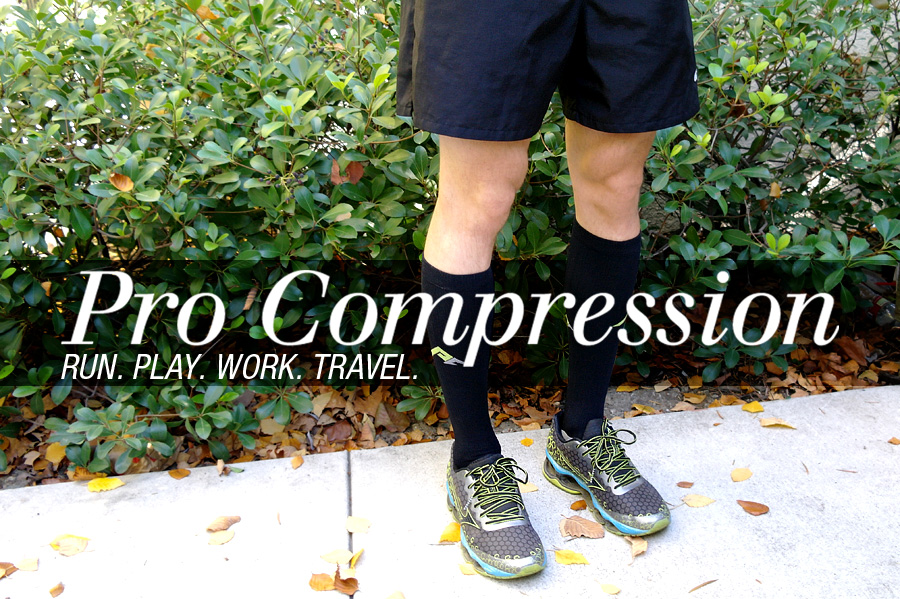 The Guy got a pair of pro compression socks to review, and he's had them for a little over 3 weeks. As I've stated many times he's a marathon runner, and a 5x Ironman triathlete, so he's no stranger to compression socks.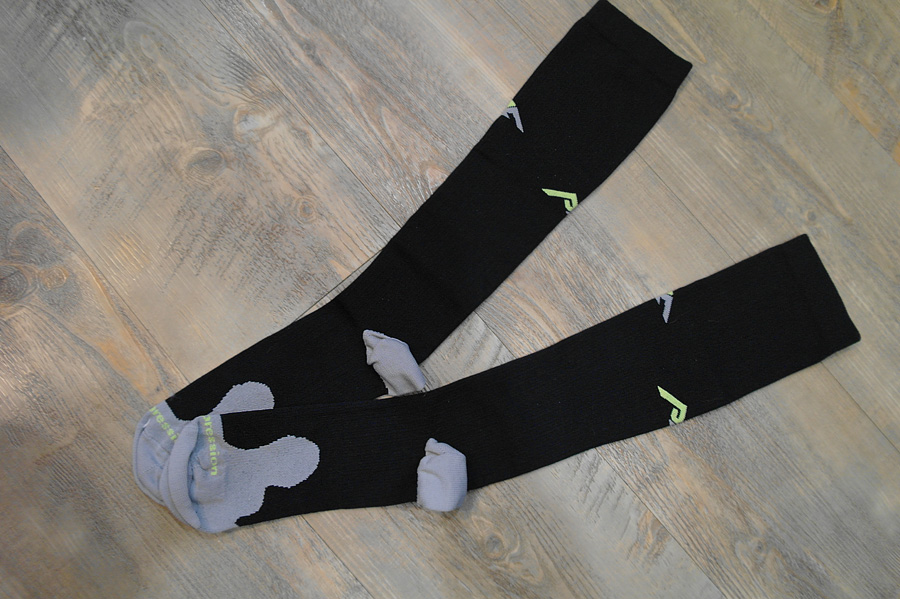 He went for the subtle black Marathon sock in L/XL, there's a sizing chart on their website so if you'd like a tighter fit than the already difficult sock to get on, get a smaller size. I can't imagine how much harder those would be to get on your legs. The Guy tells me that these have more compression than the other few pairs he owns. He said they'd be great to put on during a long flight or long car ride especially after a run. Knowing him, he'd pump out a good long run right before we get on a ten hour plane ride to visit our family in Canada.
Every Sunday afternoon he heads out for a 20+ km run and comes back looking for a belly full of food. He'll be wearing them when he gets back from his 30km run this afternoon — no big deal right? He only uses the compression socks for recovery, not during activity. Although some people use them for both, he simply doesn't like the look of almost knee high socks on him. These pictures are totally posed for the review, and normally wears pants when he puts on a pair of compression socks.
He was acting so hilarious one day when I asked him to put them on to see how they compare to the other brands he's used. He asked me (the person who hates feet, or even touching them) to put them on him. Oh the things we do out of love. They were so tight, even I couldn't get them on. I had his legs smooshed in between mine as if I was the one putting them on my own feet. I didn't realize how difficult they'd be to put on. Since, I've never did anything longer than a 10k distance on a run before, nor do I stand up for hours on end working. But he was saying stuff that made me laugh until I cried and snorted. You know I'm laughing hard, when. This guy, I tell ya — he's a funny one. And while it it had nothing to do with the review, I thought I had to tell you all about it.
I've also lucked into giving away a free pair for one lucky reader. You must be a US resident.  And for those who want a pair now, feel free to use the discount code BLG14 for 40% off Marathon Socks and Sleeves.