So I took the bus again this morning. We have two pets in the household, Alfie our dog and Boris the hedgehog. Boris isn't doing so great so my Boyfriend is going off to the vet with him, since I have winter tires on my car. They're renovating the bus terminal and I couldn't find my second bus today! Drama! Thankfully I was early and could track it down.

Didn't plan out my work attire last Sunday. I really hate doing that because I spend too much time during each week night evening trying to decide what to wear the next morning.
Yesterday I went to the other branch to market out company as there was a "Winter Market" type of event going on with vendors and booths set up. I happened to purchase this very fancy looking, ever so sparkly necklace. Don't you love?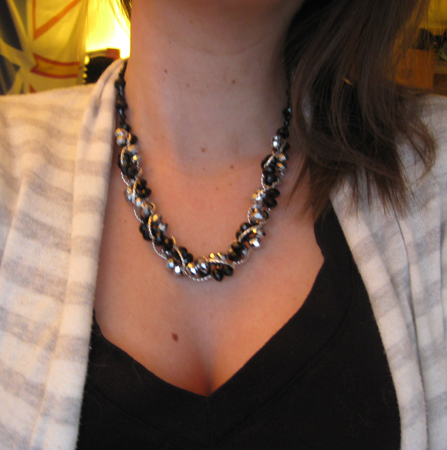 Here's the outfit of the week! Sometimes I wish I had better lighting, because Tuesdays' outfit was really nice. But in the photo it doesn't show the dimensions. The sweater is a nice soft a bit fuzzy/fluffy and cozy, and the pants and shirt are not one jumpsuit but rather a top and bottom, lol.

Less than two weeks and I'll be home in Newfoundland with my fam-jam! How exciting!