I always have to carry reusable bags with me, and a few months ago I blogged about getting a papaya colored bag from Baggu Bags. Since that's the colorful bag that I always grab for when using my reusable bags, I decided to go ahead and purchase more in October. They ended up taking a little longer than usual to come in the mail, because I checked the tracking and it was stuck in customs for a week or more! Moses.
As I mentioned before in my review back in April — these would be great gifts for people either by themselves, or even put your gift in the reusable bag. There's all sorts of different sizes and of course a ton of styles to choose from. Ugh, I think they're so adorable.
The 3-pack of stripes and bold colors were calling my name this time.
Three standard sized Baggu bags in a stylish zipper pouch. Sized small to keep in your everyday bag at all times. You'll never get caught shopping without bags again. (Not just for groceries.) Available in five color assortments. 100% Ripstop nylon. Machine washable.
$22.00 each
I ended up having to wash my papaya one a couple of times. The last incident I carried home a pre-cooked full sized chicken from the grocery store. The lid on the container ended up spilling, (from my erratic driving perhaps), but I plopped that baby (the baggu bag, not the chicken) in the washing machine with everything else and it came out spic'n'span. Now, I didn't put it in the dryer. I wouldn't even know if it'd shrink. It's nylon. Does nylon shrink?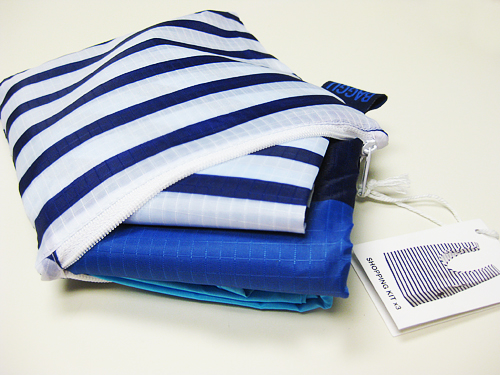 These are my bags, all folded up neatly — which I'll intend to keep all neat and tidy in this sac. It just never happens.
While I was in Newfoundland on vacation for Thanksgiving last month, I went to Chapters with my Mom just for a little afternoon date, and I FOUND baggu bags there!! I was so happy, because I mean — hellewwwh I had the chance to review them for free, spotted them at Chapters a HUGE chain, and then I ended up buying more because of it. Neato hey?
I think next time I'll get a smaller bag, to use for a lunch tote … with a print.