I wish I had of taken a photo of my supper the other night. Instead I had to take a quick photo in a tiny bowl that I had at work just this past week. Mmm leftovers.

Picture this: A pasta bake sorta stir fry that has some Teriyaki sauce in it. Let's make it photo-friendly with a lunchtime photo here, shall we?
I usually make my stir fry with Teriyaki sauce, pour some into your stiry fry (as much as you'd think you will need if you were ONLY using this).
Then I decided to get creative and splash in a few more ingredients, because I wasn't really feelin' the teriyaki that day.
A squeeze (I have a 'tube' of garlic in the fridge) of garlic… I have no idea how much it really equals out to. I'd say it was like 1/2 a teaspoon.

Dash of soy sauce – not too much because who knows if teriyaki and soy sauce really does go together. Don't want to ruin the whole thing you know?

Dash of sesame oil, because I seemed to remember that I mixed either (sesame oil + teriyaki) or (sesame oil + soya sauce)

Worcestershire sauce. I don't know how much to put in (I put in WAY too much) but it was still kind of tasty.


Splash of lemon juice (doesn't everything taste a bit better with lemon juice)
Holy moses let me tell you. You need to make this. It was divine, so delish. While the boyf and I were chompin down on our dinner I told him to guess what I put in it. Of course he's going to say he doesn't know since he probably new it was one of my testing concoctions. I said Teriyaki and he's all "It doesn't taste like teriyaki at all." Honestly folks? It just tastes like something you'd get at a restaurant, so many flavors in your mouth, but it blended so well together. I don't think I could pick out the ingredients if I didn't make it. I honestly couldn't taste it and say "hey, there's garlic, or lemon juice in this" I added chicken, mushrooms, carrots, broccoli, cauliflower, and green pepper. Mmm. Served on a nice bed of basmati rice.
I'm going to make this again soon, because it was that good. I'll take a photo of it and post it on my recipe page. I'll let you know when it's up!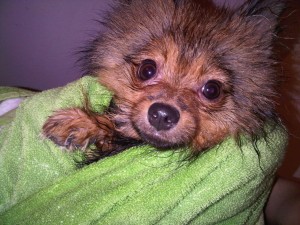 Also, I wanted to tell you all that it's my puppy's first birthday today! Alfie P. McDogg is one year old today. I think he deserves a trip to the pet store to get a treat, don't you think?