I had another chance to review an item from CSN stores. As I have mentioned many times before, it takes me weeks to pick an item out. Even though there are 200 CSN stores available online — I kind of want them to branch out into a Women's clothing line. More specifically: activewear. I have been looking for an inexpensive half or full zip running jacket for the chillier months running outdoors.
I had a voucher for CSN stores and I still had a hard time picking something out, as I want to get the best bang for my buck so to speak. With the exception of me paying International Fees — which varies for whatever you purchase. For example, I always admire the Dwell Studio line.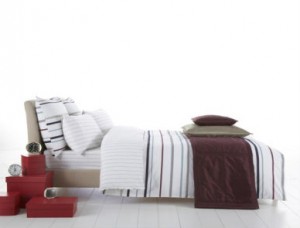 I was even lusting after this bed set. Except the full/double size bed we have — I'd have to tack on an additional $29 for the $99 asking price. No thanks.  Know what I mean when I say it takes me ages to pick something out?
Well it took me weeks but I did it.
What'd I get?
Alfie sure likes it!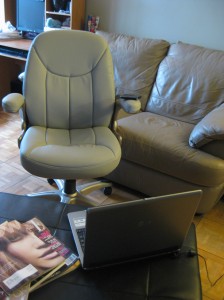 I ended up picking out this chair October 12, which was available on the website and it still says 30+ available, but it must have been back ordered somewhere in between and it only shipped on October 18. It wasn't a huge deal to me at all seeing as I already have had an old ratty computer chair. It shipped from the United States on the Monday the 18th and ended up getting to me at work on Friday the 22nd!
The boyfriend helped me assemble it on Friday night.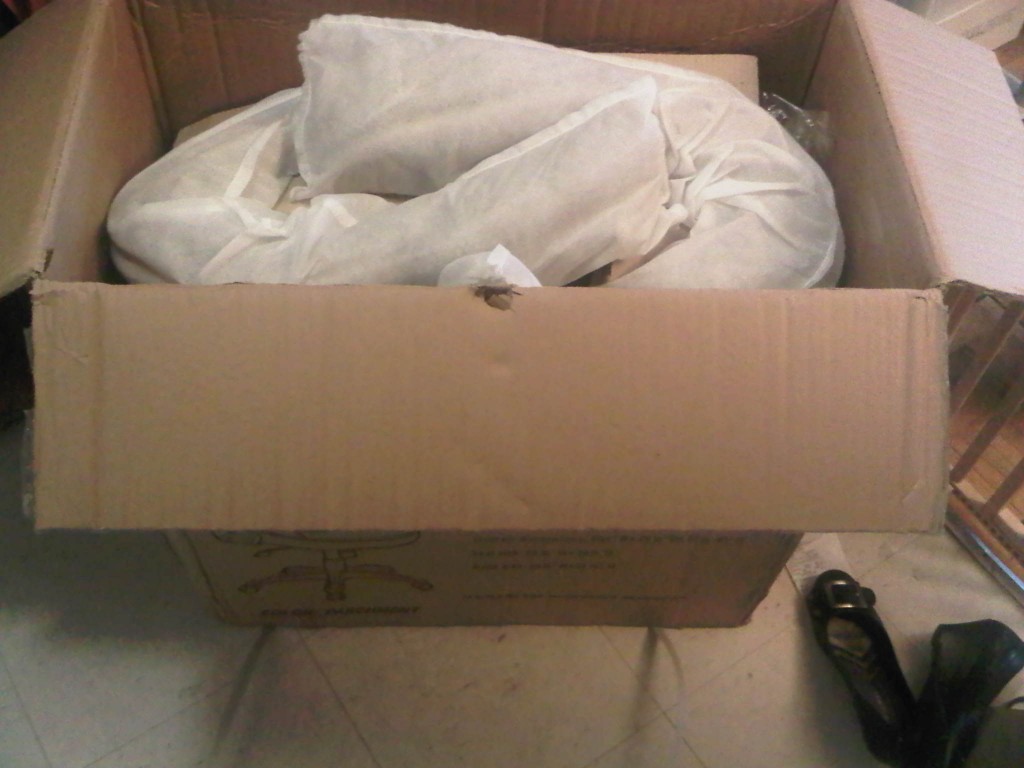 It was packaged pretty well with cloth wrapping around the arm rests. However when I opened it up I noticed a pink stain on it. Not a huge biggie, but still thought I'd mention it.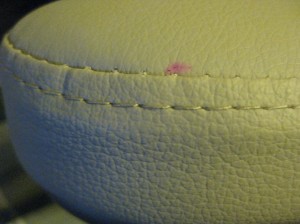 Here's the side view of the "chrome" looking finish.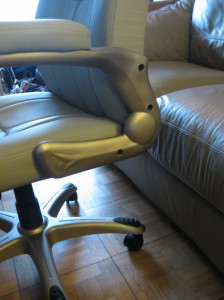 Love how fast the shipping was, seeing as the expected delivery dated was NOVEMBER.  It's luxurious and soft, and oh so comfortable on my toosh.  It has great arm rests too, my other chair didn't have those.

This chair was definitely worth it, even if I had to pay $30 worth of International Fees. Not a bad price for a leather computer chair. What do you think of it? Would you pick out a light chair like this? There's definitely a huge variety of chairs available on the site ranging from neutrals to blacks and dark browns.
I kind of want someone to push me down the apartment hallway on this chair. :)