When I moved to Ontario, I left behind a great set of computer speakers. I never really gave it much thought, and stopped listening to music, since I didn't have any nice speakers to listen to them with. I received some not so great one's from dear mom, that were I suppose laptop speakers really.
A few weeks ago, I started seriously looking for some new ones (with a sub woofer, because those are pretty wicked), and at Future Shop I spotted a ridiculously beautiful (and sort of expensive) pair of speakers that kept playing Deadmau5. It was just meant to be. music.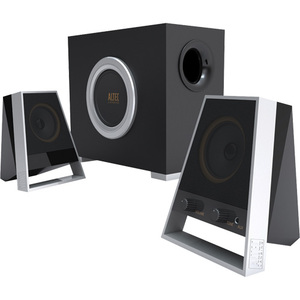 Aren't they lovely? A week or two went by, and we had planned another trip to Future Shop and I flocked towards the audio section once again and aww'ed at the sound.
Little did I know, when I was out getting my hair cut the other morning my Boyfriend was nowhere to be found when I returned! He wouldn't tell me where he went either, when we were messaging back and forth on BB messenger.
Eventually he came back with a huge box in his hands. He picked up the speakers for me!!! It was kind of a big deal to me. I thought that was so sweet of him <3

I set them up all by myself too (hey, be proud — it was kinda difficult).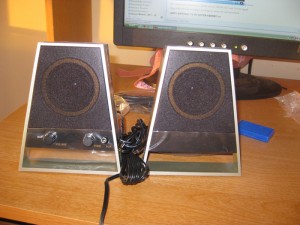 The sound coming out of these bad boys is glorious. I'm in love, and can't stop listening to Deadmau5 over here.