I haven't managed to upload my vacation photos to the computer yet, so those will be put on hold for the next little while. So we'll just talk about my wonderful supper last night. I intended on making chicken kabobs except I didn't have any skewers. It turned out perfect though. As I just grilled the chicken and yellow pepper.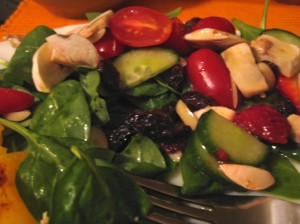 Side dishes were spinach salad, with cherry tomatoes, fresh mushrooms, cucumber, raisins, slivered almonds, and strawberries with homemade dressing*, and some roasted red pepper risotto (from a box but ohhh so good).
* Salad dressing:
3tbsp lemon juice

1 tbsp honey

1/4 cup olive oil

salt + pepper to taste

small bit of honey mustard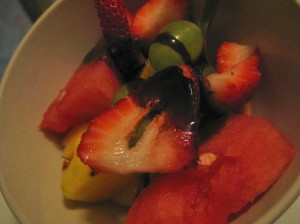 Then ended up having some sweet decadent dessert (by my standards) to go with it. Watermelon, pineapple, grapes, strawberries drizzled with a bit of chocolate sauce. Mmm.
Can you believe I had to photoshop those pictures of the food? My camera skills are getting out of hand! I need my tripod. Where is it!?
Have a great day all!!