We brought Alfie back from the vet yesterday evening and he was so excited but couldn't stop whimpering. It wasn't one of those happy to see you whimpers either. He had so much stuff done to him yesterday that I think he was just sore. We even had some of his baby teeth removed as they weren't falling out, so we decided to treat  him like a prince and give him wet food last night for supper so he wouldn't have to crunch down on his teeth. He must have been starving at that point because he hadn't eaten in about 21 hours by then, and he literally swallowed all of his food> I think he was afraid that I was going to take it away from him.
I laughed so hard that I was crying. It was sad, but funny to watch since he was being insane about it. I gave him a second helping and ended up putting it on the floor for him. See the little bandages on his feet? Those are from his dew claws, since we removed them. One was "hanging" off, since we got him in January, and they decided to take the second one off which I'm sure they had to dig at a bit, which is why he's favoring one of his feet. Poor guy.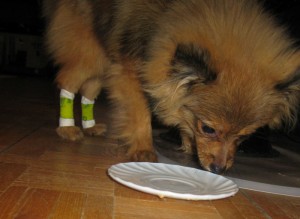 Since moving to Ontario 4 years ago, and the Boyfriend 5 years ago — we have never really taken advantage of our large balcony off the living room in our apartment. Over the weekend we decided we wanted to eat outside this summer! A few weeks ago we spotted a really cute (and sturdy!) bistro set at a Costco knock off store where anyone is able to shop without a membership. It was PC brand, so we decided to head to the grocery store to see if we could get it for cheaper. It ended up being the same price, but we didn't have to pay a cent for it.
We signed ourselves up for a PC Financial MasterCard last year, and ever since I've been getting free groceries with the points I have accumulated. Boyf never redeemed his, so we ended up getting all of our groceries plus the bistro set for free!
We He set it up while I laid down on the couch and coached him ;) Last night we finally got to eat outside, and it was WONDERBAR! Isn't the coloring of the bistro set awesome? I love that stained wood color.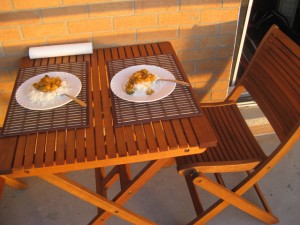 Boyf wanted butter chicken for supper, but we ran out of it. The grocery store didn't end up having any Blue Menu (healthier version) so we picked up some Korma. We were debating whether or not we'd like it since the third ingredient is ONIONS. If you know us, then you know we freaking despise onions. Anyway, we bought it. I had to say something to the boyf when I was eating it. It totally reminded me of cheese doritos! Isn't that weird? He even agreed with me!
In all its glory. Cheese dorito sauce Chicken Korma on Basmati. (No need for an orlando timeshare here. This balcony is where it's at!)

And a pint of milk to go with it.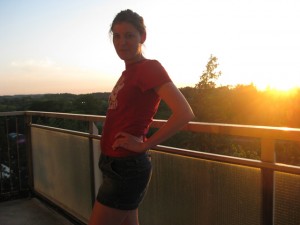 Modeling with food in my mouth and dirt hair thrown in up in a ponytail. Nooice.
After supper was finalized we decided to put in the air conditioner since it was this many degrees yesterday at 5:30PM…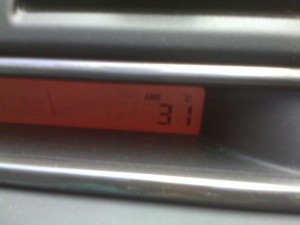 Wowzahhhs. Love it.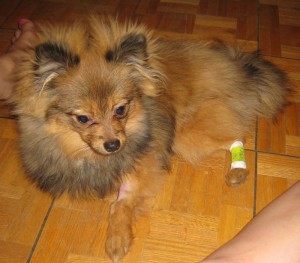 My job was easy, I didn't have to lift it at all. Once I was done doing my helping with the A/C, I hung out with pup til bedtime. Look at this! He's laying down – I've never seen him lay down more than 3 minutes at a time. This was record  breaking.