So the MagnaPod contest was insane with 215 comments. I drew the name this afternoon — since it's been such a busy weekend having both ups and downs. So I'm sorry if you were anxious to see if you won.
And the winner is……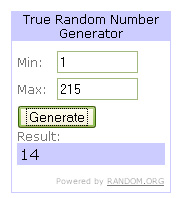 Congratulations Jordan! I will be contacting you soon for your mailing address.
Thanks again everyone. It was a fun contest, hey?