Are you a Lululemon Atheltica lover like myself? This Canadian company, has branched out to the United States and is also available internationally. Canadian and USA purchases are always given free shipping (score!). Lulu-what? Not exactly sure what I'm talking about?
Pronunciation: Lu-Lu-Lemon. Lululemon was created in the late 90's and initially started by designing great yoga wear, but branched out to other technical clothing line and apparel such as running, dancing and other sweaty sports. Men are also all about the "lulu" clothing too!
Lululemon is a bit on the pricey side of things. A pair of yoga pants will run you about $100. They use a special type of material called Luon which holds up pretty immaculately and my first set of Groove pants look just as new as the day I bought them — 5 years ago! You have to be careful washing Luon material and wash with likes. The boyfriend and I do athletic laundry together, and we never put the athletic things in the dryer. When I first bought them, I started putting it in the dryer and they may have shrunk in length a bit – but they still look great as I mentioned above. But now that I've learned my lesson, my other two pairs of Groove pants have never seen the dryer in their lifetime ;)
However, if you don't want to end up investing in some great pants that will definitely last you for years if you take good care of it, you can always purchase some headbands – which I used to be known for at soccer. I have an array of colorful headbands that keep my fly-aways and layers out of my face when I'm running from one end of the field to the other. I wish I liked the slipless headbands, but I think I have a huge head because it gives me a headache when I wear mine!

Lululemon is known for making "great butt pants" and that definitely holds up true to its reputation. It's quite flattering on anyone's figure. You'll see a lot of lululemon pants going around on people of all ages, and sizes — men and women alike. I love the staff too, they're so great and friendly! I tagged one of my favorite sweaters on flickr as "my favorite lululemon sweater", or something along those lines and I ended up adding the company as a flickr contact. After signing up for Twitter — I've been having a few one-liner conversations throughout the day with one of the staff members as well, mentioning my favorite items, and giving them suggestions as to what I would like to see available in stores: more long sleeved athletic tees!
Lately I've been finding myself visiting the loot (sale) section of their website, on a daily basis. Mainly because I scored some incredible deals on Boxing Day '09 and got some hot empower crop II's, and windsprint pants on steep discount (which are still available, but at full price again). I don't know what days they update their loot section, but it seems sporadic as I've seen items go up for sale daily. The US website, and the Canadian website, are different as well — when it comes to the loot section, so be warry of that. I ended up going to the US website (dot com) and found myself coveting a few gorgeous items, only to add it to my cart and couldn't purchase them. Waah! For instance today I purchased some cute towels (shown above) for 50% off! So keep on checkin'. Best yet? They accept PAYPAL you guys… and of course credit cards, as any other normal store would.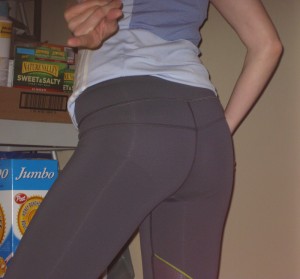 There's also a review section available on many items listed on their website. Most of the reviews have been quite positive, however for new lines of clothing I have seen a few negative reviews such as a sizing difference etc. In fact, I even reviewed the pants that I purchased on Boxing day on their website: one was positive, the other — negative. Isn't that great? I love finding TRUE stories and reviews. I love that a company isn't afraid to approve TRUE reviews, whether it be positive or negative. My empower crops run a little smaller than my groove pants would, because of the compression needed for running. No worries, I didn't dislike them enough to return them to the store, and I've been wearing them to the gym constantly and getting compliments each time I wear them! I may invest in some more, once they go on sale again that is.

Have you made the splurge yet? What are some of your favorite lululemon items?