One of my new co-workers came into my office the other day, from one of the other branches and she commented on this one painting I had hung in my office that I did in 2011. Back in December she ended up asking me if it was for sale as it would look good in her little baby girls bedroom. I didn't want to sell it then — but after a bit of thought, a few days ago I e-mailed her asking if she was still interested in purchasing it and I sold it to her! What do you think? I haven't painted since I did this last one in 2011. I miss it, I need to start up again.

The Guy got a new pair of Mizuno Wave Prophecy 3's. The three's are a new launch for 2014 and he's super excited to use them. He doesn't have a gym membership and he sure doesn't want to take them out in this blizzard we've got going on all week, so hopefully he can test run them soon.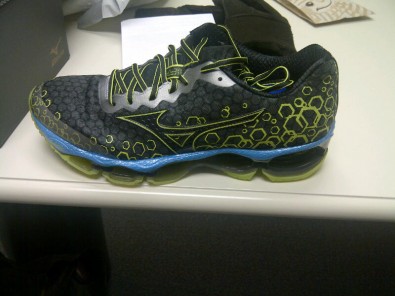 Over the weekend I went to visit my Mom's Aunt in Guelph. This is a picture of a picture that we took at her daughter's house in November. There she is featured in all her glory, online!