Make Up For Ever Aqua Rouge is a waterproof liquid lip color that comes in a variety of different fun shades. These aren't super new to Make Up For Ever but the color I received is a new one of five new colors for Summer 2013. In fact, Make Up For Ever first launched the Aqua Rouge liquid lip color last year (when I went to the launch of the event where I also met Madonna's make up artist) in the flattering-on-every-skin-tone red.
There's nothing I find more high maintenance in my mind, than carrying around a ton of beauty products with you to touch up throughout the day. Clearly I'm the type of person who puts on their makeup in the morning and leaves it at that. Which is probably the only reason why I don't fuss with lip products all that often. I just don't like to reapply.
These liquid lip colors by Make Up For Ever claims to be long lasting with an intense color payoff that lasts as long as a lip stain. While lip stains are a little more drying, Make Up For Ever's Aqua Rouge isn't.
It has a velvety finish and the color payoff is so opaque. It doesn't feeling drying on your lips so it's just beautiful to wear, especially when I have my self tanner on. I did have to apply the baby pink color in layers, and wait for it to dry. I don't like a matte lip so I wanted to apply the clear gloss over top.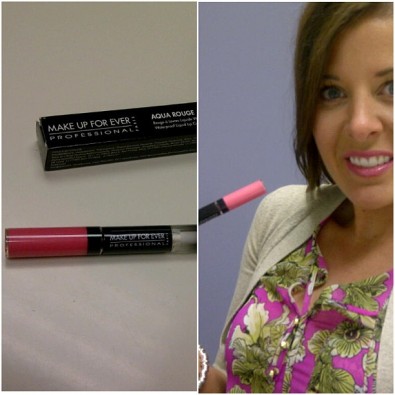 I first applied the product at 9:30am, and it lasted until about 1:00pm since I had an oily lunch (I topped my spinach salad with balsamic vinaigrette and coconut oil). Oil breaks down waterproof makeup. Plus, I'm a lick-lipper and products don't last on me.
Watch Judy's 5 minute video of the Make Up For Ever Aqua Rouge. She gives great first impressions of beauty related products.

 This summer they've launched a few new colors and now Make Up For Ever Aqua Rouge liquid lip color is available in 17 different shades at Sephora. It retails for $27 CAD (or $24 USD).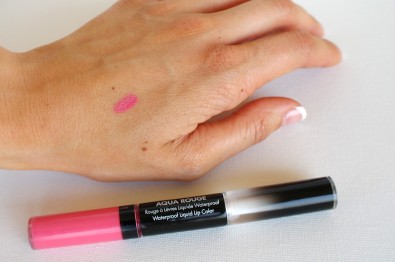 It's basically a watery lipstick consistency and it's so opaque. I absolutely love the  love doe-foot applicators. Shown below is the color #20, Baby Pink.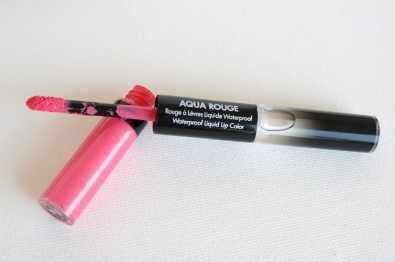 If you'd like to see a more in depth review, read the blog post on Jessica's site at Beautezine. She always does a fantastic job.
Full Disclosure: I was sent the Make Up For Ever Aqua Rouge to review.

I've come down with an annoying cold/cough that is keeping me up at night. I took yesterday afternoon off work took more cough medicine and slept for a few hours, then last night I was up again uncontrollably coughing. It's getting annoying! I feel perfectly fine, except that I'm exhausted because I'm not getting my sleep lol :(
Either way, I managed to sleep in today and get the OOTWW/Triple F Friday up this morning. Ha! Look at me go.
Fun, Fit and/or Fashionable feature Friday. How's that for alliterations this morning?
Jessica from Beautezine features an amazing Look Book feature: Dior Chérie Bow Collection. Her photos, her makeup skills – all stunning. Check out her blog, it's literally an online beauty-magazine!
Jennifer my twitter buddy shared a YouTube video of her and her hubby did a CrossFit WOD in the snow on New Years Day! I flipping love it, great video hey??
I've only recently started following Craig on Twitter and he seems to be such a fun fella. Give him a follow for #TripleFFriday sure!
http://www.beautezine.com/look-book-cherie-bow/Submit yourself to my weekly Fun, Fit, Fashionable posts. You can certainly submit your own, next week. Just shoot me an e-mail to spiffykerms@gmail.com. Just include any of the following:
Your name

Your URL, if you have a blog

Description of you being Fun, Fit or Fashionable

A photo, which is optional of course