This is a sponsored post written by me on behalf of UPPAbaby. All opinions are 100% mine.
A few months back, when I had yet to announce my second pregnancy, I put a question box on Instagram stories to gather up some Q's people may have regarding the two UPPAbaby stroller we own: the UPPAbaby VISTA, and the UPPAbaby MINU. 
UPPAbaby VISTA vs UPPAbaby MINU which is right for you?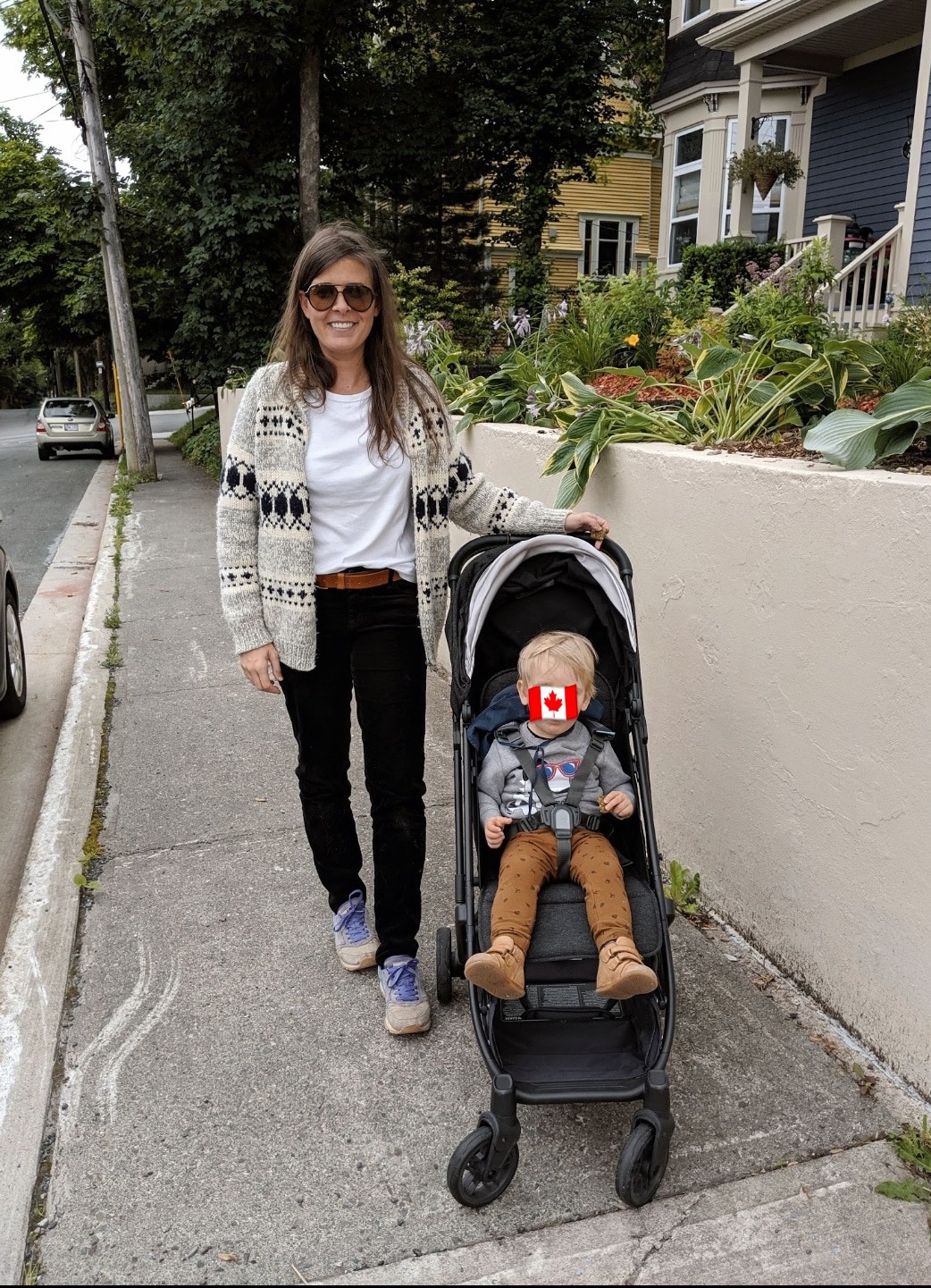 First of all, on any UPPAbaby stroller, any grey button will do something for you. Keep that in mind! Our UPPAbaby MINU is much more compact and a one handed fold that I've got down pat and can carry my toddler and do this one-handed fold with the other. Once folded it has a carrying strap that you can put over your shoulder. The MINU itself is 15lbs (VISTA is 25lbs) so it's not heavy. We've brought our MINU home to Newfoundland Canada twice and gate checked it both times using the travel bag. Tip, store some extra clothes or diapers in the travel bag to alleviate what you're carrying on to the plane! The MINU can be stored in overhead bin compartments on airplanes but I have yet to try that. I believe it to be the perfect city stroller to maneuver around town. It's narrow, but sturdy and has significant basket space. We keep our MINU in the back of my trunk at all times, so it's ready to go whenever we are, it obviously folds down significantly smaller than the VISTA, and in my hatchback car – all the trunk space is needed. Honestly I thought the MINU would feel like a true compact flimsy stroller, but it doesn't. The quality far exceeded my expectations.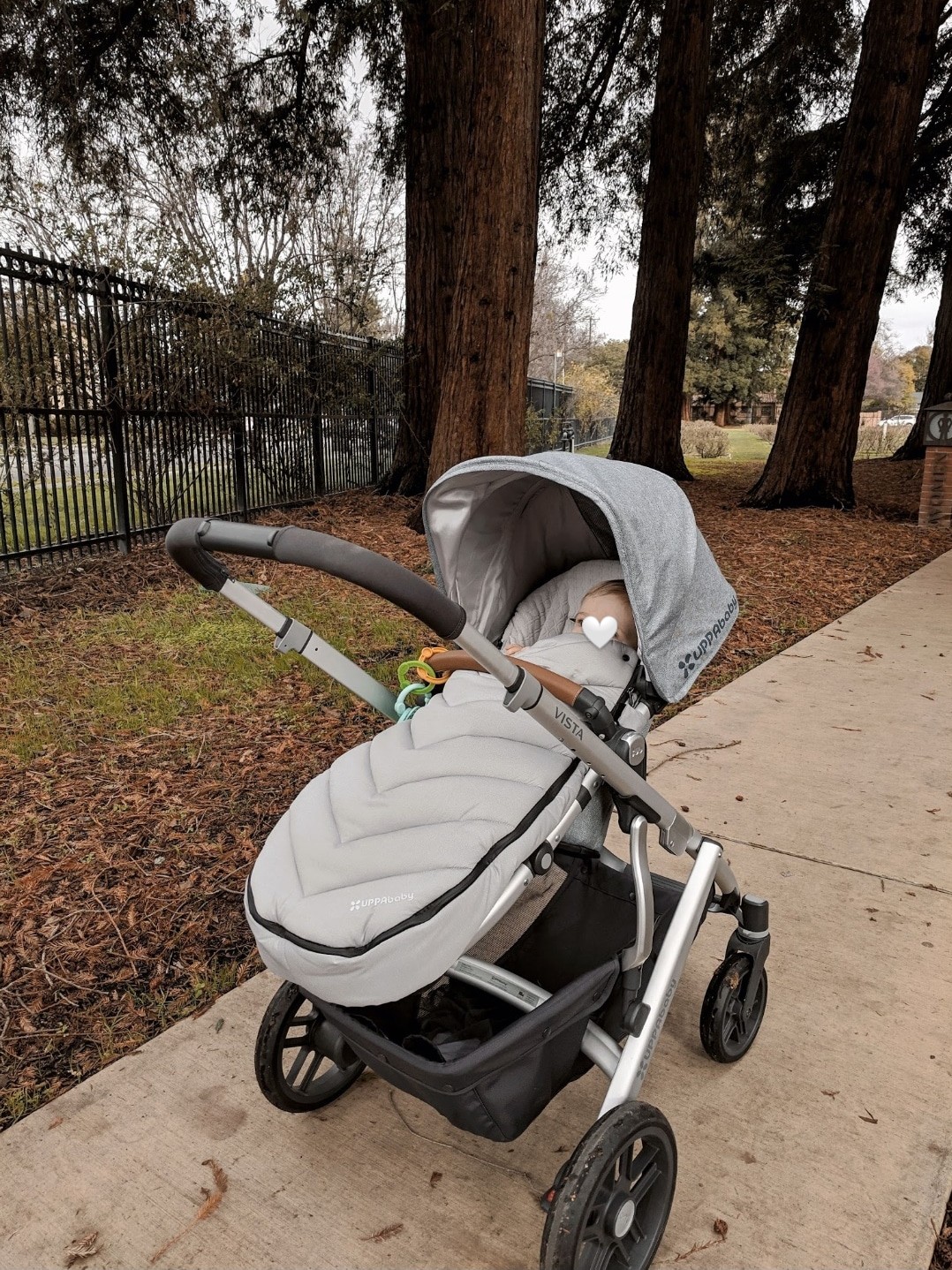 Our UPPAbaby VISTA is our ideal companion when it comes to our strollers. You can also fold this one into a standing fold with a few extra steps. It offers plenty of features whether you're exploring your city or traveling on an airplane. Both strollers have a nice smooth suspension when pushing them along multi-terrains. The wheels also resist punctures wounds, so you don't have to worry about changing tires. The basket in the VISTA can hold up to 30lbs, so when I was walking to our local grocery store you kow I took advantage of piling everything in there. This stroller I often use one handed as I'm walking Alfie with the other and he wants to take off sniffing on someone's front lawn, you know how some strollers have a mind of their own and just take right off? Not this one, this goes wherever I want with little effort.
So clearly, I could go on and on about these two strollers, their features and the reasons why I think you should invest in an UPPAbaby. But, I think you get the point. 
Now, down to the questions that I received  — which one is my favourite? Which one do I recommend for you? Which one do I use more often? I don't think I can answer that, because they're both quite different from one another. But I will tell you, if you're living an urban lifestyle and are seeking a secondary stroller for travel and errands than perhaps the compact MINU will be great for your family. If your family is growing, and whether you're a suburban or urban family the VISTA has many options to choose from (see my blog post here about our VISTA how it can grow from 1-2-3 kids). I love both of these strollers equally. We've been using our VISTA more during this world pandemic, seeing as we're simply sticking to our neighbourhood outings around the block. We go on walks twice a day, upwards to an hour each time. I have the MINU in the trunk of our vehicle for trips to the store, the park, etc. I hope this helps to answer any of your questions regarding the two. If you have any more, please leave me a message or questions you may have in the comments. 
Some quick facts about our two strollers:
VISTA:
Add a bassinet (good for babies from birth to 20lbs) which has an extendable UPF 50+ sunshade and the canopy unzips for added airflow.
Add a rumble seat to make it a double stroller (rumble seat is good for 3 months to 35lbs).
6 different recline positions on the toddler seat (which comes with the stroller).
MINU
Great for children age 3 months to 50lbs.
Multiple recline positions.
Easy to fold one handed while holding child in the other.
Add a bassinet (It's called From Birth Kit).
BOTH STROLLERS:
Has viewing window that has magnetic closure for checking on bebs.
Has UPF 50+ sunshades.
Leather handlebars.
Significant sized baskets for storage.
Both have a brake system. On the MINU there's two pedals.
Both have the option to add a carseat or a bassinet.
Make sure you register any and all of a baby purchases on their website. Their customer service is amazing with regards to broken parts caused either by airlines. We've had to replace part of the MINU canopy after our second trip across North America from our last trip to Newfoundland. UPPAbaby stands by their products, and want you to be a happy customer. Make sure to also follow them on social media they often have giveaways to win strollers and accessories.
UPPAbaby.com | UPPAbaby Facebook | UPPAbaby Twitter | UPPAbaby Instagram  | UPPAbaby YouTube | UPPAbaby Pinterest